July 15, 2017
Lehigh Valley, Pa. – The Philadelphia Flyers, parent club of the Lehigh Valley Phantoms, have signed goaltenders Anthony Stolarz and Alex Lyon each to a one-year, two-way contract. In addition, the Flyers have signed forward Cole Bardreau to a two-year, two-way contract, according to general manager Ron Hextall.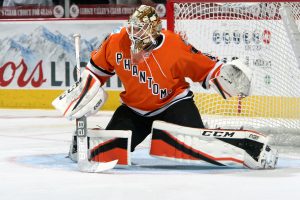 A 23-year-old netminder from Jackson, New Jersey, Stolarz recently completed his third professional season where he went 18-9 in 29 appearances with the Phantoms while compiling a 2.92 goals-against average coupled with a 0.911 save percentage. He made his NHL debut on November 27, 2016 in a 5-3 win over the Calgary Flames and notched his first NHL shutout on December 11, 2016 with a 28-save performance as part of a 1-0 victory at the Detroit Red Wings. Overall, Stolarz appeared in seven games with the Flyers last season going 2-1-1 with a 2.07 goals-against average and 0.928 save percentage.
In three seasons with the Phantoms, he's amassed a 48-40-11 overall mark to go along with three shutouts, a 2.87 goals-against average and 0.911 save percentage. A second-round selection (#45 overall) by Philadelphia in the 2012 NHL Entry Draft, Stolarz represented the Phantoms at the 2016 AHL All-Star Classic.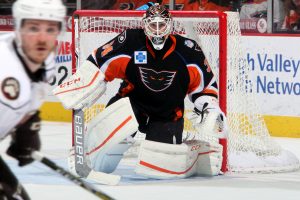 A 24-year-old goaltender from Baudette, Minnesota, Lyon is coming off his first professional campaign where he produced a 27-14-5 record in 47 games with the Phantoms to go along with four shutouts, a 2.74 goals-against average and a 0.912 save percentage. His 27 wins were tied for fourth among all AHL netminders last season while he finished tied for seventh among all AHLers with four shutouts.
Lyon earned his first professional win on November 11, 2016 with a 26-save performance as part of a 4-1 win at the Utica Comets and notched his first pro shutout less than two weeks later in a 1-0 win (28 saves) at the Binghamton Senators on November 23.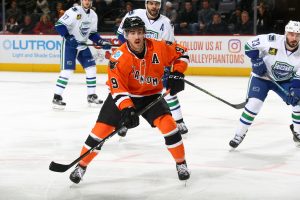 A 23-year-old forward from Fairport, New York, Bardreau recently completed his second professional season where he tallied nine goals, 15 assists, 24 points and 85 penalty minutes in 72 games with Lehigh Valley. In 141 career games with the Phantoms, he's compiled 23 goals, 33 assists, 56 total points and 141 penalty minutes.
He made his professional debut on March 20, 2015 and scored his first professional goal that evening as part of a 3-2 setback at the Hartford Wolf Pack.