Stolarz Records Season-High 44 Saves in Sold-Out Shootout Win Over Wilkes-Barre/Scranton
December 13, 2014
Lehigh Valley, PA – On a night when the Lehigh Valley Phantoms were wearing specialty jerseys in support of the high-octane offense of the Philadelphia Eagles, it was the defense that stole the show Saturday evening as rookie netminder Anthony Stolarz registered a season-high 44 saves as part of a 2-1 shootout victory over the Wilkes-Barre/Scranton Penguins in front of 8,687 fans at PPL Center. With the win, the Phantoms improved to 11-10-2-1 overall this season and have now claimed 17 of a possible 24 standings points in games played at PPL Center.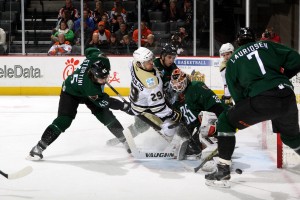 Petr Straka scored Lehigh Valley's lone goal in regulation and converted the team's first opportunity in the shootout before Taylor Leier and Nick Cousins both netted shootout tallies as the Phantoms skated in front of the largest crowd to enjoy a hockey game at PPL Center. Saturday's contest was the fifth sellout and eighth game to feature more than 8,000 supporters through the first 12 games at PPL Center.
"We make it exciting," said Phantoms head coach Terry Murray. "The fans certainly got their money's worth going into overtime and the shootout."
The Phantoms are now 7-2-2-1 in one-goal games this season and have now skated in five consecutive one-goal tilts at PPL Center. Meanwhile, Lehigh Valley improved to 2-1 in shootouts this season and remained undefeated in regulation time (9-0-0-1) when leading after two periods of play.
Just like the Eagles' fast-paced offense, the Phantoms struck early Saturday evening as a right wing snap shot by Brett Hextall produced a rebound on the left side that was promptly stashed into the back of the net by Petr Straka. Darroll Powe earned the secondary assist on Straka's sixth conversion of the year, which came just 1:15 into the contest. The goal marked the 11th time this season that Lehigh Valley has grabbed the game's opening goal. The Phantoms are now 6-3-1-1 when scoring first this year.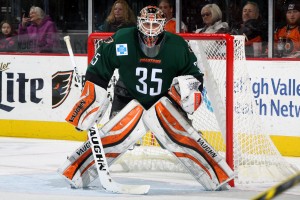 But the Phantoms' offense wasn't the only aspect of the team's game to shine in the opening 20 minutes. Lehigh Valley set a physical tone early finishing each and every hit through the team's first handful of shifts. That physicality boiled over just under five minutes into the first period when the 6'6″, 231-pound Steven Delisle dropped the gloves with the Penguins' 6'3″, 218-pound Adam Payerl. The two heavyweights exchanged a series of blows as Delisle enjoyed his second fight of the season and Lehigh Valley's 24th scrap this year.
The Phantoms' complete period didn't stop there though. Lehigh Valley's penalty kill was a perfect 2-for-2 in the first frame while Stolarz turned aside each of Wilkes-Barre/Scranton's 16 first-period offerings. The lateral movement of the 6'6″, 220-pound netminder was on full display in the opening frame as Stolarz authored one clutch save after another including a denial off his face mask on Barry Goers pinching one-timer from the right wing.
"He (Stolarz) was good," Murray said. "Right from the first period, they had two power plays. He had to be good on those two power plays. They probably had eight or nine shots on those two power plays. He was aggressive, he was square to the puck, he moved well laterally."
Lehigh Valley's 1-0 advantage remained through the second period despite a combined 19 shots on goal. Stolarz denied each of Wilkes-Barre/Scranton's 12 offerings in the middle stanza while Penguins' goaltender Matt Murray stopped each of the Phantoms seven shots that came his way in the second period.
The Penguins finally broke through Stolarz's force field with just over two minutes remaining in regulation when Jayson Megna spun a puck from the left wing to the top of the goal crease where it caromed off Jean-Sebastien Dea and just over the Phantoms goal line. Nick D'Agostino earned the secondary assist on the even strength strike that came 17:52 into the final frame.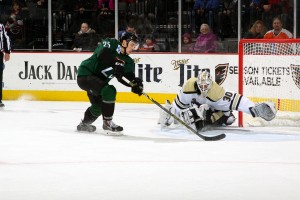 The game eventually proceeded to a shootout where Straka and Leier's conversions were matched by tallies from Wilkes-Barre/Scranton's Josh Archibald and Dea. After Stolarz denied Megna in the top of the fourth round, the game sat on Cousins' stick and the 21-year-old pivot took full advantage. The crafty Cousins orchestrated a jaw-dropping game-winning tally in which he softly dropped the disc over the goal line on the back hand after leaving Murray completely out of position on the other side of the goal.
Stolarz earned the victory in goal for Lehigh Valley thanks to a season-high 44 saves. The 44 denials are the most by a Phantoms netminder this season after Rob Zepp notched 42 saves in a 3-2 win at the Manchester Monarchs on November 7th. With the win, Stolarz improved to 4-5-0-1 on the year and produced his seventh 30-plus save performance in just nine starts this season.
Lehigh Valley's penalty kill finished the game a perfect 2-for-2 while the Phantoms' power play failed to convert its lone man-advantage opportunity. Lehigh Valley was out shot 45-25 in the tilt.
The Phantoms are back in action tomorrow as Lehigh Valley concludes its busy three-game weekend with a visit to Boardwalk Hall in Atlantic City for a 3 PM showdown with the Albany Devils.
Meanwhile, the Phantoms return to PPL Center for a pair of tilts next week. First, Lehigh Valley is back at home on Wednesday, December 17 for a 7:05 PM showdown with the Binghamton Senators. Then, the Phantoms enjoy their final game at PPL Center before the Christmas holiday on Friday, December 19th when Lehigh Valley hosts the Hershey Bears. It's another Orange Out as all fans in attendance will receive a FREE Holiday-themed Phantoms shirt.
Tickets for both games are available now at the Mealey's Furniture Box Office at PPL Center (701 Hamilton), by calling 610-347-TIXX (8499) or online at pplcenter.com.
Check it out! Phantoms Holiday Plans are on sale now offering tremendous value on four game tickets in a great stocking-stuffer package that includes a Melvin Mini-Stick or special Phantoms beer stein AND a game program. Call the Phantoms to order your Phantoms Holiday Plan at 610-224-GOAL (4625).
For all the Holiday Shopping for the Phantoms fan in your life, check out the team's merchandise and souvenir kiosk now open at the Lehigh Valley Mall through December 31. The Phantoms team store inside PPL Center is also open throughout the week from 11am until 5pm Monday through Saturday.
Wilkes-Barre/Scranton Penguins 1 at Lehigh Valley Phantoms 2 (SO) – Status: Final SO
Saturday, December 13, 2014 – PPL Center
W-B/Scranton 0 0 1 0 – 1
Lehigh Valley 1 0 0 0 – 2
1st Period-1, Lehigh Valley, Straka 6 (Hextall, Powe), 1:15. Penalties-Payerl Wbs (fighting), 4:54; Delisle Lv (fighting), 4:54; Powe Lv (hooking), 8:54; Gordon Lv (slashing), 12:33.
2nd Period- No Scoring.Penalties-Marcantuoni Wbs (double minor – high-sticking), 13:00; Lauridsen Lv (cross-checking), 13:00.
3rd Period-2, W-B/Scranton, Dea 7 (Megna, D'Agostino), 17:52. Penalties-Kuhnhackl Wbs (interference), 12:07.
OT Period- No Scoring.Penalties-No Penalties
Shootout – W-B/Scranton 2 (Archibald G, Sheary NG, Kuhnhackl G, Megna NG), Lehigh Valley 3 (Straka G, Akeson NG, Leier G, Cousins G).
Shots on Goal-W-B/Scranton 16-12-13-4-0-45. Lehigh Valley 10-7-6-1-1-25.
Power Play Opportunities-W-B/Scranton 0 / 2; Lehigh Valley 0 / 2.
Goalies-W-B/Scranton, Murray 5-4-1 (24 shots-23 saves). Lehigh Valley, Stolarz 4-5-0 (45 shots-44 saves).
A-8,687
Referees-Ryan Fraser (14).
Linesmen-Bob Fyrer (72), Jud Ritter (34).
Upcoming Home Games:
Wednesday, December 17, 2014, Binghamton Senators vs. Lehigh Valley Phantoms, 7:05 PM
(Lighting the Night! With a special lighting of the menorah!)
Friday, December 19, 2014, Hershey Bears vs. Lehigh Valley Phantoms, 7:05 PM
(FREE Shirt Friday! FREE Holiday-themed Phantoms shirt for all fans in attendance!)
Saturday, December 27, 2014, Norfolk Admirals vs. Lehigh Valley Phantoms, 7:05 PM
(Post-Game Photographs with Phantoms Players!)