Phantoms Hold Off Hershey 1-0 on Hart's 26-Save Blank Sheet
December 7, 2018
Lehigh Valley, Pa. – Carter Hart turned aside all 26 shots the Hershey Bears offered. And the Phantoms needed every one of the saves in a 1-0 nail-biter over the Hershey Bears. Hart's victory in the goaltending duel vs. Vitek Vanecek came as a result of a Connor Bunnaman's first period goal that held up as the only conversion of the game.
Hart has stepped up his game of late in his rookie season and particularly so in his most recent three performances in which he has gone 3-0-0 with a 1.34 goals-against average and .955 save percentage stopped 85 of 89 shots in total while allowing only four goals.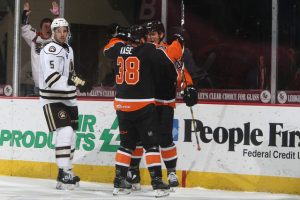 The Phantoms (14-7-2) have gone 4-1-0 in their last five games and 9-4-0 in their last 13 while also improving to 2-1-0 against their rivals from Chocolate Town. The Bears have lost eight straight visits to PPL Center.
Lehigh Valley was forced to pull some late lineup adjustments particularly at center following the afternoon Flyers recall of reigning MVP Phil Varone and injured pivot-man Misha Vorobyev. But Connor Bunnaman was ready to step up to the challenge.
The 20-year-old rookie forward from the Kitchener Rangers had never played center as a pro but had taken some turns in the middle as a captain on his Major Juniors team. Bunnaman went from healthy scratch in Wednesday's game to centering a top line for the Phantoms with wings Greg Carey and David Kase.
With 3:09 remaining in the first period, Bunnaman spotted a rebound of a David Kase shot off Vanecek that was available in the crease and he pounced on his opportunity to deposit the game's only goal. Bunnaman has twice scored against Hershey's Vanecek among his three career pro goals. In fact, Bunnaman has the ONLY two goals the Phantoms have scored against Vanecek in two games against him. Bunnaman also dealt out a couple of the bigger hits on the night as the strong forward found opportunities to flex his muscle and throw his weight around.
"Getting scratched in other games has been difficult," Bunnaman said. "But having the opportunity to be out there with (Carey) and (Kase) is special and I got to create on everybody opportunity I get."
"It's about more confidence," Bunnaman continued. "Having the coach put me on first line after being scratched. I don't know, just a bit more trust in there."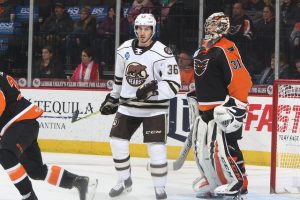 Aside from the heavy-hitting and the fight between Nicolas Aube-Kubel and Colby Williams, the focus quickly turned to Hart and his bid for the shutout. The Everett Silvertips product is no stranger to shutout success having turned in a team-record 26 of them in Major Juniors.
"I mean, I'm just following the puck," Hart said of his historic moment. "My body kind of goes with it. So I'm just trying to stay on top of the puck and track down the puck."
Late in the first period, Hart made a strong glove save on Liam O'Brien's drive for a 10th stop on the night.
Midway through the second period it was the Hershey leading scorer, Mike Sgarbossa, with a big slapper from the high left slot area that was again snagged in the glove of Hart.
The Phantoms had four power plays in the third period with an opportunity to distance themselves from the Bears but Lehigh Valley was unable to break through on Vanecek and the Hershey penalty kill who successfully kept the game within a goal. Rookie Beck Malenstyn had a dangerous shorthanded push late in the third period that was secured between the pads of Hart who briefly looked behind him even though he was on top of the puck.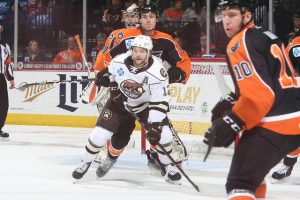 The Phantoms had two attempts for the empty-net at the end of the game that found iron. Colin McDonald's drive from the left boards was square off the near-side post and bounced away. And Taylor Leier had a shot from the neutral zone that grazed the outside of the right iron and just missed.
Hershey's last chance came with 21 seconds left came from Nathan Walker's quality offer from the left-wing that was squeezed by Hart again. The rising liner towards Hart's left knee was caught in the trapper for his 26th, and last, save of the game.
Hershey was 0-for-2 on the power play while Lehigh Valley was 0-for-5. The Phantoms were out shot by the Bears 26-21. Lehigh Valley is 9-0-0 when leading after two periods. The Phantoms improved to 4-2-1 when scoring the first goal of the game. In this case, it was the ONLY goal of the game!
The Phantoms homestand continues Saturday against the Cleveland Monsters on the fifth annual Teddy Bear Toss, presented by Dan's Camera City. Then Friday, December 14th featuring a Winter Youth Knit Cap giveaway courtesy of PALCS when the Phantoms host the Belleville Senators. More information and Value Ticket Packs are available at phantomshockey.com and the Phantoms 365 app.
Hershey Bears 0 at Lehigh Valley Phantoms 1 – Status: Final
Friday, December 7, 2018 – PPL Center
Hershey 0 0 0 – 0
Lehigh Valley 1 0 0 – 1
1st Period-1, Lehigh Valley, Bunnaman 3 (Kase, Carey), 16:51. Penalties-Kase Lv (checking to the head), 7:57; Geisser Her (hooking), 13:40.
2nd Period- No Scoring.Penalties-Williams Her (fighting), 2:22; Aube-Kubel Lv (fighting), 2:22; Myers Lv (delay of game), 15:06.
3rd Period- No Scoring.Penalties-Geisser Her (bench minor – too many men), 5:15; Sgarbossa Her (delay of game), 6:21; Sgarbossa Her (unsportsmanlike conduct – disputing decision, slashing), 11:41.
Shots on Goal-Hershey 12-7-7-26. Lehigh Valley 12-5-4-21.
Power Play Opportunities-Hershey 0 / 2; Lehigh Valley 0 / 5.
Goalies-Hershey, Vanecek 5-4-1 (21 shots-20 saves). Lehigh Valley, Hart 8-4-2 (26 shots-26 saves).
A-7,021
Referees-Michael Sheehan (74), Peter Tarnaris (17).
Linesmen-Jason Mandroc (17), Matt McNulty (26).
Ticket Information
Tickets for each and every Phantoms home game throughout the 2018-19 season are available online at pplcenter.com, by calling 610-347-TIXX [8499] or in-person at the QNB Box Office [7th & Hamilton].