Cleveland Snags 4-2 Game With Spotlight on Connor Bunnaman on Teddy Bear Toss Night
December 8, 2018
Lehigh Valley, Pa. – Connor Bunnaman's goal at 4:06 into the game brought about thousands of teddy bears and stuffed animals flying through the air on the fifth annual Teddy Bear Toss Night at PPL Center. But the Cleveland Monsters rallied from behind to post a 4-2 victory on Saturday night before a sellout crowd of 8,482 raucous fans.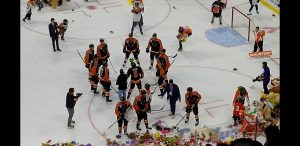 The fans did not have to wait too long as the Phantoms scored a quick "Teddy Bear Goal" for a third consecutive season. The anticipation had heightened when Lehigh Valley went on the power play with a chance to show off its potent man-advantage attack. With an improvised lineup consisting of just 11 forwards, Bunnaman received some rare power-play time and took advantage of his opportunity burying the rebound of a Greg Carey shot. And let the celebration begin!
Appropriately for a Stuffed-Animal themed night, Bunnaman's nickname on the team is "Bunny" and Greg Carey, who assisted on the goal, has been called "Care Bear" on occasion. Almost certainly, some stuffed bunnies and bears were among the thousands of stuffed animals that rained down onto the ice. Mark Friedman also assisted on the play.
Phantoms Youth Hockey took to the ice to help with the collection of the thousands of stuffed animals while the Phantoms players themselves got into the act and had some fun even playing a quick soccer/sewer match on the ice with a stuffed soccer ball. The amused crowd watched on as the Phantoms players were surprisingly adept at juggling the soccer ball while on their skates!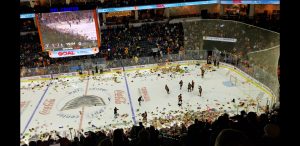 The annual Teddy Bear Toss, presented by Dan's Camera City, goes to benefit the Valley Youth House for distribution to kids all across the Lehigh Valley region for the holidays and all throughout the year. The Phantoms players and staff and meLVin will personally deliver all of the collected bears to the Valley Youth House on Monday in a special presentation.
It was the third consecutive season for the Teddy Bear Goal to come early in the game. Last year, Matt Read scored just 1:30 after puck-drop. And two years ago, in 2016, it was Nicolas Aube-Kubel scoring all of 59 seconds into the contest. Other Teddy Bear goals in Lehigh Valley Phantoms history belong to Andrew MacDonald (2015) and Brett Hextall (2014).
"It's a good feeling," Bunnaman said of his historic, teddy-bear inspired moment. "We had a great crowd tonight and they support the Teddy Bear Toss really well. I don't know how many teddy bears were out on the ice tonight but it was sure a lot."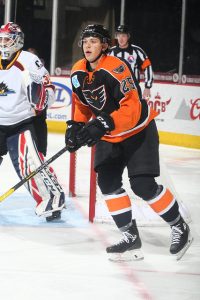 Colin McDonald (2nd) and Bunnaman (4th) scored power-play conversions for the Lehigh Valley Phantoms (14-8-2) while Alex Lyon turned aside 37 of 41 Monsters' drives. But the diminutive Cleveland captain, Nathan Gerbe (4th, 5th), struck for a pair of markers and the bounces just seemed to go the way of the Cleveland Monsters (13-9-3) in their second win in Allentown this week. Jean-Francois Berube again was stellar between the posts with 32 saves on 34 shots in an impressive performance.
Gerbe's power-play blast from the left circle at 12:12 into the first period evened the score at 1-1. And Alex Lyon made 19 saves on 20 shots in the opening frame successfully denying the Monsters in their barrage of attempts.
Blake Siebenaler (1st) scored in the second period at 7:36 on a shot from the point that glanced off the stick of Zach Palmquist who had just had his regular stick knocked out of his hands on a blocked shot moments earlier. That fortunate deflection put Cleveland in front 2-1.
Cleveland stretched its lead at 8:14 of the third period when Gerbe located a rebound in the crease and buried a power-play goal for his second score of the game and a 3-1 lead.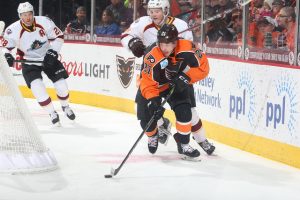 But the Phantoms would push back just two minutes later when Colin McDonald (2nd) followed the rebound of his own missed shot to backhand the puck past the right skate of Jean-Francois Berube while he was being tackled by Sonny Milano. McDonald has generated several strong chances all throughout the homestand and was finaally rewarded for his efforts while making it a one-goal game again at 3-2.
Cleveland had another bounce go there way for the last goal of the game when a shot from Tommy Cross hit off the skate of his own teammate, Milano, in the slot and deflected perfectly out to Mark Letestu in the low, right circle. Alex Lyon was tangled with a teammate while the NHL veteran, Letestu, neatly converted on his sharp-angle attempt to the top of the cage to provide for the 4-2 final.
Cleveland went 2-for-4 on the power play against a Phantoms team that had previously allowed just two power-play goals in the last 15 games. It was the first time the Phantoms had allowed two power-play goals in a game since the second game of the season on October 12.
Cleveland out shot the Phantoms 41-34. It was the most shots the Phantoms had allowed in a home game this season and was the second-most overall.
The Phantoms homestand concludes on Friday, December 14th against the Bellevile Senators on Phantoms Youth Winter Knit Ca Night for the first 2,000 kids age 14 and younger presented by PALCS. Tickets are available at PPLCenter.com
Cleveland Monsters 4 at Lehigh Valley Phantoms 2 – Status: Final
Saturday, December 8, 2018 – PPL Center
Cleveland 1 1 2 – 4
Lehigh Valley 1 0 1 – 2
1st Period-1, Lehigh Valley, Bunnaman 4 (Carey, Brennan), 4:06 (PP). 2, Cleveland, Gerbe 4 (Clendening, Bittner), 12:12 (PP). Penalties-Milano Cle (tripping), 3:36; Cross Cle (fighting), 12:06; Aube-Kubel Lv (roughing, fighting), 12:06; Sherwood Cle (roughing), 19:25; Vecchione Lv (roughing), 19:25.
2nd Period-3, Cleveland, Siebenaler 1 (Cross, Abramov), 7:36. Penalties-Myers Lv (cross-checking), 13:55.
3rd Period-4, Cleveland, Gerbe 5 (Bittner, Clendening), 8:14 (PP). 5, Lehigh Valley, McDonald 2 (Vecchione, Aube-Kubel), 10:19 (PP). 6, Cleveland, Letestu 9 (Milano, Cross), 15:10. Penalties-Letestu Cle (tripping), 2:17; Willcox Lv (slashing), 6:44; MacInnis Cle (holding), 8:43; Clendening Cle (holding), 12:01; Conner Lv (interference), 13:03.
Shots on Goal-Cleveland 20-9-12-41. Lehigh Valley 8-13-13-34.
Power Play Opportunities-Cleveland 2 / 4; Lehigh Valley 2 / 4.
Goalies-Cleveland, Berube 9-7-2 (34 shots-32 saves). Lehigh Valley, Lyon 3-4-0 (41 shots-37 saves).
A-8,482
Referees-Michael Sheehan (74), Andrew Howard (50).
Linesmen-Jud Ritter (34), Bob Goodman (90).