Leier Scores Twice as Lehigh Valley Caps 5-Game Home Stand
February 20, 2016
Lehigh Valley, PA – Taylor Leier (16th, 17th) scored a pair of third-period goals, Phil DeSimone (2nd) produced a highlight-reel conversion and Adam Comrie (2nd) added a power play marker as the Lehigh Valley Phantoms executed a third-period comeback Saturday evening en route to a critical standings point in a 5-4 shootout decision with the Bridgeport Sound Tigers in front of 8,852 fans at PPL Center.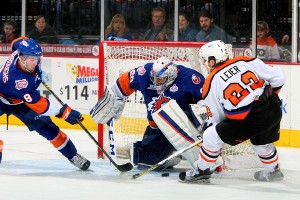 With Saturday's outcome, the Phantoms have now garnered at least one standings point in eight of the team's last 12 games overall (7-4-1) as Lehigh Valley moved to 24-25-4 overall this season. Saturday's contest capped a season-high five-game home stand for the Phantoms during which the team went 2-2-1 in five straight tilts in downtown Allentown.
With two goals and an assist Saturday evening, Leier remained scorching hot offensively as the 21-year-old winger compiled his ninth multi-point game of the season and fifth such outing over Lehigh Valley's last 11 games. Since January 17, the blossoming winger has produced eight goals, nine assists and 17 points over a span of just 12 games.
Meanwhile, his linemate, Chris Conner, remained red hot as well as the 32-year-old winger notched a pair of assists Saturday evening. Conner has now tallied at least one point in 13 of his last 14 games overall and has amassed six goals, 13 assists and 19 total points during his recent surge.
DeSimone kick started Lehigh Valley's offensive attack while Comrie's power play goal was part of a multi-point effort for the 25-year-old blueliner and a continuation of a sizzling man advantage for Lehigh Valley. With a 2-for-8 performance Saturday, the Phantoms power play has now produced 16 man-advantage markers over the team's last 12 games.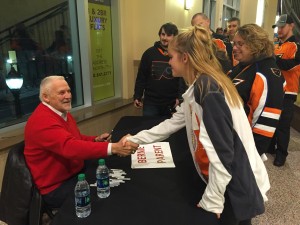 Making his second straight start in goal, Anthony Stolarz moved to 16-11-4 overall this season after 26 saves on 30 Bridgeport shots in the shootout decision.
Saturday's raucous crowd of 8,852 supporters marked the fourth straight standing room-only sellout in downtown Allentown and the team's 15th capacity crowd this season. The Phantoms have now enjoyed standing room-only sellouts in 10 of the team's last 12 home games. And fans were sure to arrive early Saturday evening as Philadelphia Flyers legendary goaltender Bernie Parent, who backstopped the Flyers to Stanley Cup Championships in 1974 and 1975, was on hand to meet fans and sign autographs.
Bridgeport opened the scoring just past the midway point of the first period when, while on the power play, Jesse Graham unleashed a left point slap shot that just sizzled past the outstretched glove of Stolarz. Kane Lafranchise and Mike Halmo assisted on Graham's fifth tally of the year, which came 13:32 into the opening frame. The man-advantage conversion marked the first power play tally surrendered by the Phantoms over the last five games snapping a string of 13 straight successful penalty kills.
Lehigh Valley leveled the rivalry showdown just over four minutes later when DeSimone executed a goal of the year candidate in securing his second tally of the season. After forcing a Sound Tigers giveaway in the defensive zone, DeSimone went coast-to-coast before eluding a quartet of Bridgeport defenders en route to a snap shot finish over Gibson's glove. The five-on-five conversion 17:34 into the opening period marked DeSimone's second goal in 11 games since coming to Lehigh Valley.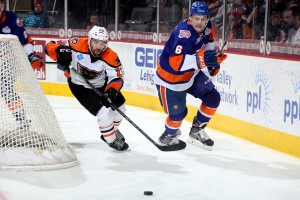 The Phantoms then grabbed their first lead of the night just over four minutes into the second frame with a power play goal of their own when Comrie blasted home his second tally of the year with a screaming slap shot from the high slot. Petr Straka and Leier assisted on the man-advantage marker scored 4:12 into the second stanza.
Despite the Phantoms territorially controlling large portions of the second period, Bridgeport was able to tie the game and re-establish the lead with a pair of goals just over five minutes apart before the close of the middle stanza. First, Taylor Beck snapped home his 15th goal of the season 9:45 into the period with assists from Lafranchise and Ryan Pulock. Then, exactly 15 minutes into the period, Connor Jones unleashed a one-timer from the slot that had just enough steam to cross Lehigh Valley's goal line despite a tenacious denial effort by Stolarz. Colin Markison and Lafranchise assisted on Jones' first conversion of the season.
The Sound Tigers extended their lead to a two-goal advantage just over a minute into the third period when Alan Quine snapped in his 11th goal of the season from between the faceoff dots. Kyle Burroughs and Halmo assisted on the even-strength strike notched 1:08 into the final frame.
In a game that featured a playoff-level intensity, the Phantoms weren't about to go away and leveled the contest with a pair of Leier conversions just over six minutes apart. First, Leier netted his 16th marker of the year 12:05 into the third period from Conner and Cole Bardreau. Then, with just under two minutes remaining in regulation, Conner executed a perfect cross-crease pass to Leier who made no mistake in tapping in his 17th goal of the season. Comrie garnered the secondary assist on Lehigh Valley's second power play conversion of the evening.
After neither side was able to connect in overtime, the game proceeded to a shootout where Graham landed the lone conversion in sealing Bridgeport's victory.
The Phantoms conclude this week's action on Sunday, February 21 when Lehigh Valley heads to MassMutual Arena in Springfield for a 5:00 p.m. showdown with the Falcons. Be sure to catch all the action on FOX 1470-AM, online at www.fox1470com or via the iHeartRadio app beginning with "Countdown to Faceoff" at 4:20 p.m.
The Phantoms then return to action at PPL Center with a pair of games next weekend. First, on Friday, February 26, the Hartford Wolf Pack, the AHL affiliate of the New York Rangers, invade downtown Allentown. Then, on Saturday, February 27, it's meLVin's Birthday Bash when the Utica Comets, the AHL affiliate of the Vancouver Canucks, come to PPL Center for a 7:05 p.m. tilt. A limited number of tickets remain for both highly-anticipated showdowns so be sure to secure yours now at pplcenter.com, by calling 610-347-TIXX [8499] or in person at the Mealey's Furniture Box Office at PPL Center [701 Hamilton Street].
RISE UP! Reserve your season tickets and groups now for the 2015-2016 season of Lehigh Valley Phantoms hockey. For more information on how to reserve your seat at PPL Center to the hottest ticket in town, call the Phantoms front office today at 610-224-GOAL (4625)!
Bridgeport Sound Tigers 5 (SO) at Lehigh Valley Phantoms 4 – Status: Final SO
Saturday, February 20, 2016 – PPL Center
Bridgeport 1 2 1 0 – 5
Lehigh Valley 1 1 2 0 – 4
1st Period-1, Bridgeport, Graham 5 (Lafranchise, Halmo), 13:32 (PP). 2, Lehigh Valley, DeSimone 2 17:34. Penalties-Lamarche Lv (holding), 12:30; Quine Bri (hooking), 15:30; Burroughs Bri (interference), 19:18.
2nd Period-3, Lehigh Valley, Comrie 2 (Straka, Leier), 4:12 (PP). 4, Bridgeport, Beck 15 (Lafranchise, Pulock), 9:45. 5, Bridgeport, Jones 1 (Markison, Lafranchise), 15:00. Penalties-Quine Bri (hooking), 2:52; DeSimone Lv (tripping), 5:58; Gibson Bri (tripping), 15:42.
3rd Period-6, Bridgeport, Quine 11 (Burroughs, Halmo), 1:08. 7, Lehigh Valley, Leier 16 (Conner, Bardreau), 12:05. 8, Lehigh Valley, Leier 17 (Conner, Comrie), 18:06 (PP). Penalties-Morin Lv (tripping), 2:25; Burroughs Bri (interference), 4:50; Vaive Bri (unsportsmanlike conduct – disputing decision), 13:09; Carkner Bri (holding, unsportsmanlike conduct – disputing decision, misconduct – abuse of officials), 17:43.
OT Period- No Scoring.Penalties-No Penalties
Shootout – Bridgeport 1 (Graham G, Quine NG), Lehigh Valley 0 (Leier NG, Straka NG, Conner NG).
Shots on Goal-Bridgeport 8-9-11-2-1-31. Lehigh Valley 14-10-11-2-0-37.
Power Play Opportunities-Bridgeport 1 / 3; Lehigh Valley 2 / 8.
Goalies-Bridgeport, Gibson 15-8-2 (37 shots-33 saves). Lehigh Valley, Stolarz 16-11-2 (30 shots-26 saves).
A-8,852
Referees-Jake Brenk (42).
Linesmen-Jason Mandroc (17), Luke Murray (92).
Upcoming Home Games:
Friday, February 26, 2016, Hartford Wolf Pack vs. Lehigh Valley Phantoms, 7:05 p.m.
Saturday, February 27, 2016, Utica Comets vs. Lehigh Valley Phantoms, 7:05 p.m.
(meLVin's Birthday Bash.)
In the midst of their 20th season of operation, the Phantoms are coming off their Inaugural Season as the Lehigh Valley Phantoms playing at the brand-new PPL Center. Established in 1996, the Phantoms spent their first 13 seasons at the Spectrum in Philadelphia before re-locating to Glens Falls, New York in 2009 where the team spent the next five seasons as the Adirondack Phantoms. A new era of Phantoms hockey began in the fall of 2014 when the Lehigh Valley Phantoms began play at the state-of-the-art PPL Center. Through 19 incredibly successful campaigns, the Phantoms have captured two Calder Cup Championships (1998, 2005), two Conference Championships (1998, 2005), two Regular Season Titles (1996-97, 1997-98) and four Division Championships (1996-97, 1997-98, 1998-99, 2003-04).