Leier Scores 2nd Preseason Goal but Hartford Snags 3-1 Verdict.
October 3, 2015
Lehigh Valley, PA – Phantoms fans welcomed an exciting blend of talented prospects and experienced veterans to the PPL Center ice in the team's 2015-16 debut in downtown Allentown. Taylor Leier scored his second goal of the preseason and Anthony Stolarz made a number of magnificent saves but ultimately the Hartford Wolf Pack rallied from behind in a 3-1 final.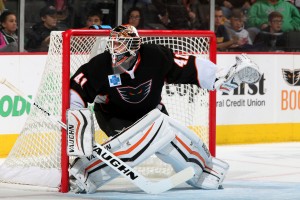 Scott Gordon made his first appearance at the PPL Center bench as the new head coach of the Lehigh Valley Phantoms and continued to emphasize that the preseason is more about learning than results. He was pleased with the progress made by his team from the Wednesday night exhibition encounter at Wilkes-Barre/Scranton.
"We were much much better," Gordon said. "We didn't struggle coming out of our zone or with our defensive play. Obviously you're going to give up a shot here and there but overall that was MUCH better (than Wednesday)."
A scoreless affair past the midway point of the game was due largely in part to the spectacular play of second-year goaltender Anthony Stolarz. The Jackson, New Jersey native made a number of amazing stops that drew big ovations and oooh's and aaah's from the crowd.
One big save came with two seconds remaining in the first period when he went from post-to-post to deny Adam Tambellini's one-timer on the back-door. Another spectacular effort came during a 5-on-3 penalty-kill in the second period when he seemingly miraculously got a glove on a Marek Hrivik attempt after lunging acrobatically far to his left. It was shortly after that penalty-kill and impressive denial that the Phantoms took momentum and the initial lead in the contest.
"For me, Stolie was the best player for us tonight," Gordon said. "He made some great saves tonight."
The game was a battle of divisional rivals in the realigned Atlantic Division and the Phantoms gained the first advantage against the New York Rangers' top affiliate.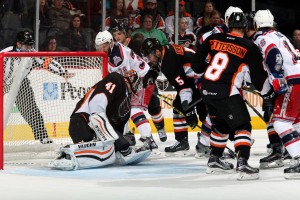 Shortly after the Phantoms killed Hartford's 5-on-3, Lehigh Valley would benefit from their own power-play opportunity. Shayne Gostisbehere faked a big slapper from center-point to induce everyone on the ice to flinch. He quickly reloaded for a second offering directed slightly to the right of the cage but Taylor Leier in the low-slot was able to place his waist-high stick in position for a redirection through Hartford goalie Jeff Malcolm and a 1-0 lead for the Phantoms. Leier's second tally of the preseason was also assisted by Nick Cousins.
Lehigh Valley had very nearly scored on a number of occasions already. Prior to their 16-shot barrage in the second period were a handful of big chances from the opening frame. In fact, the fans and Phantoms briefly thought the team had actually scored on one of those opportunities; Danick Martel found the cross-bar on one of the Phantoms speedy rushes into the zone and the red light was lit. But the referee who had a good angle to view the attempt quickly waved off the potential opening goal and play continued. There was no video-review of the possible goal in the preseason game.
Other glorious opportunities for the home skaters included a big drive from Shayne Gostisbehere on a 2-on-1 rush that was swallowed in by Malcolm and also a nifty backhand wraparound attempt by fellow rookie Pavel Padakin and subsequent rebound that was briefly loose in the blue paint before the Wolf Pack were able to thwart the threat.
The Phantoms lead would last slightly less than four minutes. Petr Zamorsky converted for a Hartford on a one-timer from the left circle for an equalizing power-play conversion in the closing minutes of the middle frame.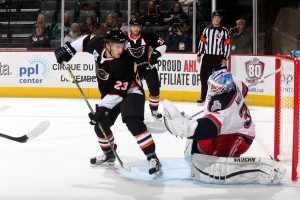 Hartford struck again on an abbreviated man-advantage in the opening seconds of the third period as Hrivik's center-point slapper hit off the right iron and was knocked in by Calle Anderson reaching in from the left side of the crease getting in before Stolarz could secure a cover.
The Wolf Pack closed the scoring on the rush getting in past the Phantoms defense. Hrivik completed a three-point effort on the evening by dancing wide to the right of the cage carrying around Stolarz to find an opening for his backhand strike.
The Wolf Pack out shot the phantoms 29-27. Hartford was 2-for-6 on the power-play while Lehigh Valley was 1-6.
The Phantoms have one more game remaining on their preseason docket. The Wilkes-Barre/Scranton Penguins invade PPL Center on Sunday at 5:05.
Lehigh Valley's regular season opening is Saturday, October 10 against the Syracuse Crunch at 7:05. Opening Night will also feature a Rally Towel giveaway courtesy of the Morning Call. Tickets are available at 610-347-TIXX (8499), PPCenter.com or in person at the Mealey's Furniture Box Office.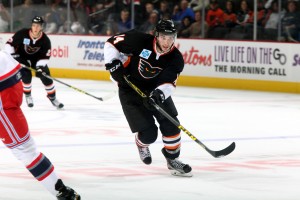 Hartford Wolf Pack 3 at Lehigh Valley Phantoms 1 – Saturday, October 3, 2015 – PPL Center
Hartford 0 1 2 – 3
Lehigh Valley 0 1 0 – 1
1st Period- No Scoring.Penalties-Brent Lv (interference), 7:21; Summers Hfd (tripping), 15:02.
2nd Period-1, Lehigh Valley, Leier 3 (Gostisbehere, Cousins), 12:18 (PP). 2, Hartford, Zamorsky 1 (Nejezchleb, Hrivik), 16:15 (PP). Penalties-Oleksuk Hfd (hooking), 5:52; served by Palushaj Lv (bench minor – too many men), 7:33; Goumas Lv (high-sticking), 7:52; Hughes Hfd (interference), 10:23; Sundher Lv (hooking), 16:04; Tambellini Hfd (hooking), 17:27; Andersson Hfd (hooking), 18:29; Hagg Lv (holding the stick), 18:49.
3rd Period-3, Hartford, Andersson 1 (Zamorsky, Hrivik), 0:44 (PP). 4, Hartford, Hrivik 1 (McCarthy, Nejezchleb), 8:02. Penalties-Rosehill Lv (roughing), 3:13; Summers Hfd (roughing), 11:15.
Shots on Goal-Hartford 9-9-11-29. Lehigh Valley 8-16-3-27.
Power Play Opportunities-Hartford 2 / 6; Lehigh Valley 1 / 6.
Goalies-Hartford, Malcolm 3-0-0 (27 shots-26 saves). Lehigh Valley, Stolarz 0-4-0 (29 shots-26 saves).
A-6,262
Referees-Evgeny Romasko (39), Dan MacDougall (70).
Linesmen-Luke Murray (92), Tim Lyons (33).
Upcoming Events:
Sunday, October 4 (5:05) – Wilkes-Barre/Scranton Penguins at Lehigh Valley Phantoms (Preseason)
Saturday, October 10 (7:05) – Syracuse Crunch at Lehigh Valley Phantoms (Opening Night, Rally Towel Night presented by the Morning Call)
Saturday, October 24 (7:05) – Providence Bruins at Lehigh Valley Phantoms (Magnet Schedules presented by Capital Blue Cross and Pita King)
Sunday, October 15 (5:05) – Toronto Marlies at Lehigh Valley Phantoms (Youth Jersey Night for the first 2,500 kids age 14 and younger presented by Capital Blue Cross, Velaspan and Dick's Sporting Goods)
RISE UP! Reserve your season tickets now for the 2015-2016 season of Lehigh Valley Phantoms hockey. The Phantoms kick off the regular season to their second campaign at PPL Center on Saturday, October 10th! For more information on how to reserve your seat at PPL Center to the hottest ticket in town call the Phantoms front office today at 610-224-GOAL (4625)!
On the cusp of their 20th season of operation, the Phantoms are coming off their Inaugural Season as the Lehigh Valley Phantoms playing at the brand-new PPL Center. Established in 1996, the Phantoms spent their first 13 seasons at the Spectrum in Philadelphia before re-locating to Glens Falls, New York in 2009 where the team spent the next five seasons as the Adirondack Phantoms. A new era of Phantoms hockey began in the fall of 2014 when the Lehigh Valley Phantoms began play at the state-of-the-art PPL Center. Through 19 incredibly successful campaigns, the Phantoms have captured two Calder Cup Championships (1998, 2005), two Conference Championships (1998, 2005), two Regular Season Titles (1996-97, 1997-98) and four Division Championships (1996-97, 1997-98, 1998-99, 2003-04).