Phantoms Rally From 3-0 Deficit in See-Saw Battle
September 30, 2015
Wilkes-Barre, PA – After finding themselves in an unfortunate 3-0 hole in the opening eight minutes, the Lehigh Valley Phantoms went to work. A second period rally with goals from Taylor Leier, Kevin Sundher and Danick Martel would pull the Phantoms back to even before Wilkes-Barre/Scranton's Adam Krause converted on a decisive breakaway goal in the closing minute of the second period for a 4-3 final.
This game was about growing and learning. The Phantoms have only had two full practices under new head coach Scott Gordon which means there has not been a lot of time for the players to learn new systems and new terminology. It is a work in progress and one that took great leaps forward throughout the evening's contest in northeast Pennsylvania despite the rocky start.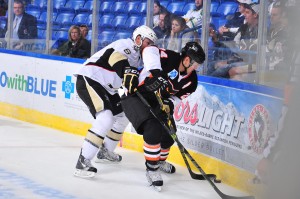 "I think the biggest thing in the first period was we were a little tentative," Phantoms head coach Scott Gordon said. "We were a little slow making our decisions and moving the puck…. But at the end of the day being down 3-0 and then coming back is an important piece for us to know that we're not going to quit."
The Penguins scored goals in the opening two minutes by 35-year-old captain Tom Kostopolous on a tip-in and then a screened shot from the blue-line by defenseman Clark Seymour. And a few minutes later it was defenseman Brett Stern's long drive that made it 3-0.
In the end, second-year goaltender Anthony Stolarz turned in a quality performance with 36 saves including a huge 4-on-1 denial and a couple of breakaway stops. But the sequence at the beginning of the game was not his ideal.
"It's not the start myself or the team want to get off to," Stolarz said. "Being down 3-0 is a huge hole early on. But I think we showed a lot of compete. I think it's good that we were able to come back and tie it up. It's a good sign for us moving forward."
The early adversity was also a good preseason test for the mental toughness of the young netminder. "I kind of just forgot about their start," observed Stolarz. "I don't want to let the first or second or third goal affect me. I want to just go out there and focus on the next shot. I think that's something I'm starting to really focus on this year compared to last. Whatever happens early on in the game you have to forget about it and keep going."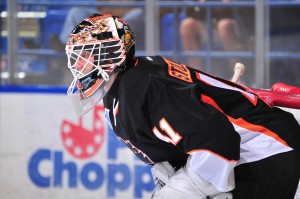 Sparked by some big Stolarz stops helping keep them within a reasonable margin, the Phantoms would pick up the pace and the intensity. Shortly after the conclusion of a carry-over power play at the outset of the second period, Taylor Leier swiftly negotiated his way from the left of the cage, across the slot, and well over to the right side thus eventually inducing Penguins goalie Brian Foster to commit and go down. The second-year pro who wore an "A" on his sweater as one of the team's three assistant captains was able to elevate his backhander from a sharp angle to put the Phantoms on the board at 45 seconds in the second period.
Lehigh Valley further cut the deficit just past the midway point but at first it looked as though it would be the Penguins extending their lead. The back-and-forth excitement began with an iffy line-change by the Phantoms which led to a 4-on-1 attack for Wilkes-Barre. Stolarz dramatically denied the initial offering from the right circle and then Derek Mathers slammed away Ty Loney before the young Penguins' speedster could offer a rebound try into a mostly open goal-mouth.
Out of that spectacular denial the Phantoms would rush back the other way with a 2-on-1. Cole Bardreau found Kevin Sundher on the left who buried his drive through Foster to narrow the Wilkes-Barre advantage to 3-2.
With the clock winding down to almost two minutes remaining in the middle period, it would be the exciting speed-demon Danick Martel who would connect on a quick give-and-go in the corner with fellow rookie Michael Parks. Martel converted under the left arm on Foster for the equalizer. Pavel Padakin's faceoff win helped set up the 3-3 tying tally.
But the even count would only last for less than two minutes. A turnover of a hopping puck at the blue-line was pounced on by Wilkes-Barre's Adam Krause who raced in for a go-ahead breakaway tally that would prove to be the game-winner.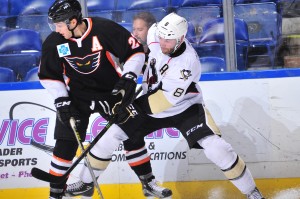 Lehigh Valley's frantic efforts to again even the score almost yielded success. New goalie Casey DeSmith was forced to make a couple of tough saves. With a late power play, a rebound came about to Cole Bardreau in the left circle who was eyeing a mostly open net. DeSmith had no chance to rotate over in time but former Phantom and Flyer Ryan Parent recognized the situation quickly and the veteran defenseman made a big save on Bardreau's tying bid to preserve the victory for the host Penguins.
The Penguins out-shot the Phantoms 40-26. Lehigh Valley went 0-for-4 on the power play while Wilkes-Barre/Scranton finished 0-for-1.
The see-saw battle was entertaining throughout and also featured four fights as is sometimes a hallmark of such rivalry affairs. The bouts included two from returning tough-guy Derek Mathers as well as scraps from rookies Cole Bardreau and Tyrell Goulbourne who also found willing partners.
The Phantoms debut at PPL Center this weekend with a pair of preseason tilts. Lehigh Valley hosts the Hartford Wolf Pack, affiliates of the New York Rangers, on Saturday at 5:05. Then the Phantoms welcome back the Wilkes-Barre/Scranton Penguins on Sunday at 5:05 in the preseason finale.
Lehigh Valley's regular season opener is Saturday, October 10 against the Syracuse Crunch at 7:05. Opening Night will also feature a Rally Towel giveaway courtesy of the Morning Call. Tickets are available at 610-224-GOAL, PPLCenter.com or in person at the Mealey's Furniture Box Office.
Lehigh Valley Phantoms 3 at Wilkes-Barre/Scranton Penguins 4 – Status: Final
Wednesday, September 30, 2015 – PPL Center
Lehigh Valley 0 3 0 – 3
W-B/Scranton 3 1 0 – 4
1st Period-1, W-B/Scranton, Kostopoulos 1 (Maione, Gill), 0:34. 2, W-B/Scranton, Seymour 1 1:31. 3, W-B/Scranton, Stern 1 (Lalancette, Bakker), 7:33. Penalties-Mathers Lv (unsportsmanlike conduct, fighting), 1:32; McGrath Wbs (unsportsmanlike conduct, fighting), 1:32; Windle Lv (delay of game), 5:18; Bardreau Lv (fighting), 7:49; Bakker Wbs (fighting), 7:49; Burton Wbs (tripping), 13:43; Maione Wbs (slashing), 18:35.
2nd Period-4, Lehigh Valley, Leier 2 (Pyett, Straka), 0:45. 5, Lehigh Valley, Sundher 1 (Bardreau), 10:40. 6, Lehigh Valley, Martel 1 (Parks, Padakin), 17:49. 7, W-B/Scranton, Krause 1 (Bakker), 19:26. Penalties-Goulbourne Lv (fighting), 13:13; Seymour Wbs (fighting), 13:13.
3rd Period- No Scoring.Penalties-Mathers Lv (unsportsmanlike conduct, fighting, game misconduct – third major/second fight), 2:53; Petrecki Wbs (unsportsmanlike conduct, slashing, fighting), 2:53; Maione Wbs (tripping), 16:20.
Shots on Goal-Lehigh Valley 9-10-7-26. W-B/Scranton 15-15-10-40.
Power Play Opportunities-Lehigh Valley 0 / 4; W-B/Scranton 0 / 1.
Goalies-Lehigh Valley, Stolarz 0-3-0 (40 shots-36 saves). W-B/Scranton, Foster 2-1-0 (19 shots-16 saves); Desmith 0-0-0 (7 shots-7 saves).
A-3,227
Referees-Terry Koharski (10).
Linesmen-Jud Ritter (34), Ryan Knapp (73).
Upcoming Events:
Saturday, October 3 (5:05) – Hartford Wolf Pack at Lehigh Valley Phantoms (Preseason)
Sunday, October 4 (5:05) – Wilkes-Barre/Scranton Penguins at Lehigh Valley Phantoms (Preseason)
Saturday, October 10 (7:05) – Syracuse Crunch at Lehigh Valley Phantoms (Opening Night, Rally Towel Night presented by the Morning Call)
RISE UP! Reserve your season tickets now for the 2015-2016 season of Lehigh Valley Phantoms hockey. The Phantoms kick off the regular season to their second campaign at PPL Center on Saturday, October 10th! For more information on how to reserve your seat at PPL Center to the hottest ticket in town call the Phantoms front office today at 610-224-GOAL (4625)!
On the cusp of their 20th season of operation, the Phantoms are coming off their Inaugural Season as the Lehigh Valley Phantoms playing at the brand-new PPL Center. Established in 1996, the Phantoms spent their first 13 seasons at the Spectrum in Philadelphia before re-locating to Glens Falls, New York in 2009 where the team spent the next five seasons as the Adirondack Phantoms. A new era of Phantoms hockey began in the fall of 2014 when the Lehigh Valley Phantoms began play at the state-of-the-art PPL Center. Through 19 incredibly successful campaigns, the Phantoms have captured two Calder Cup Championships (1998, 2005), two Conference Championships (1998, 2005), two Regular Season Titles (1996-97, 1997-98) and four Division Championships (1996-97, 1997-98, 1998-99, 2003-04).