April 30, 2022
Lehigh Valley, PA – Dennis Begley has officially ended his side-career as the in-house Emergency Back-Up Goalie at Lehigh Valley Phantoms' games. The team's Vice President of Partnerships and Premium Seating had also been dutifully on the call to serve as an "EBUG" for either team during Phantoms games at PPL Center.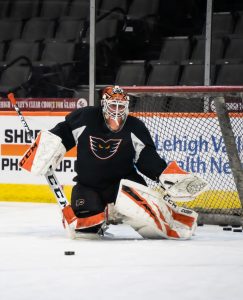 Begley was honored with one final practice session with the team on Friday morning in the last skate of the year for the Phantoms. He stepped in during the middle of the practice to the cheers of the Phantoms' office staff, friends, and family for the special event. Begley participated in several team drills as the Phantoms skaters and other goalies went through their preparation for the final game of the season on Saturday night. At the end of practice, he was called into the center of the team's circle to lead the post-practice stretch.
Begley will be at center ice again on Saturday night for the ceremonial puck-drop ahead of the regular-season finale between the Lehigh Valley Phantoms and Wilkes-Barre/Scranton Penguins at PPL Center at 7:05pm.
Dennis Begley offered his own thoughts on his career as the in-house EBUG:
——————————————-
Thank you all for attending the practice today. It was really cool to see everyone there. I hope everyone found it entertaining.
Not all EBUG stories end the way you hope. The Zamboni driver in Toronto and the accountant in Chicago were very fortunate to get their chance and they were both awesome stories. I've been waiting for eight years to get that chance and it just didn't happen and that's okay.
I was able to practice with the team most years (except COVID years) and I played goal during the workweek to help guys rehab from injuries. I jumped in goal for guys like Matt Konan, Darroll Powe and Taylor Leier.
I've had my thumb exploded by a Phil Myers slapper and stopped a bomb or two from our sniper, Greg Carey.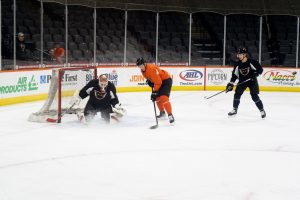 There have been at least three times when I almost got the call. The first time was in Newfoundland as Rob Zepp was called up to the Flyers. Coach Terry Murray told me I was minutes from getting dressed. Instead of me, it was a guy named Doug Pippy that was the EBUG that night. Then there was the game two years ago when we needed an EBUG here, unfortunately for me, Felix Sandstrom stayed in town an extra day, so he dressed that night.
So, as I mentioned, sometimes it just doesn't work out but for over 300 games or more I've been here ready to jump onto that bench (and hopefully never actually play in a game).
I can tell you, I love the game, love this team and I love this organization. I can't thank Rob Brooks and Jim Brooks enough for letting me live out this dream. I must also thank Chris Porreca, Amy Keller and the game night staff. I have loved every day that I come in to work as the VP of Partnerships. Our partners are the absolute best and our fans are incredible.
I also need to thank Terry Murray, Scott Gordon, Kerry Huffman and Ian Laperriere for allowing me to step on the ice over the years. I appreciate the players allowing me to get on the ice as well. The staff has been amazing as well. Andy Rannells, Zac Guercia, Jake and Jon are the best. Brian Grogesky has taped me up a number of times to get me on the ice.
For those who may think the EBUG existence is disrespectful to the game, I and all other EBUG guys, fully realize we are not anywhere near good enough to play professional hockey and most of this talk of being an EBUG was tongue in cheek. I've always said I was the 13th option. The Phantoms players are among the best hockey players in the world and are great professionals that I have the utmost respect for every day.
I'm only retiring the dream of being an EBUG. I am still playing men's league and will continue as the Carnival goalie and in-house staff goalie. I do wish I could have heard Bob Rotruck announcing me as I entered a game as the EBUG.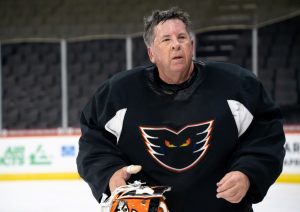 Thank you,
Dennis
Dennis Begley Career and Stats/Fun Facts
Morning skate record (with Phantoms staff and other local players)… 192-95-4…GAA 2.25…shutouts 32 Playoffs record…2-0…GAA…1.50
Played for Junior Flyers 1977
Played for Pittsburgh Penguins Alumni 2005-2008 (goal)
Played for Philadelphia Flyers Alumni 1997-1999 (forward)
Signed by the ECHL Wheelers Nailers…released the next day