Lehigh Valley Falls to Crunch 4-2
January 23, 2015
Syracuse, NY – Kevin Goumas and Petr Straka blasted goals just 24 seconds apart late in the first period but the early tallies would turn out to be Lehigh Valley's only strikes of a see-saw and back-and-forth affair in 4-2 setback at Syracuse on Friday evening.
After initially trailing 1-0, the Phantoms would rally for a 2-1 lead before the first break but Syracuse responded with a 3-2 lead by the next intermission.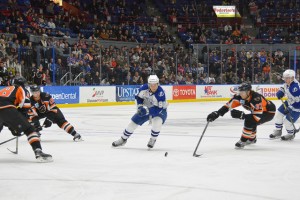 Yanni Gourde knocked home a pair of goals for the host Crunch while Henri Ikonen completed the Crunch's come-from-behind effort with a late second-period deflection that broke a 2-2 tie.
Anthony Stolarz made several big stops for Lehigh Valley including a showstopping save on Vladislav Namestnikov among his 30 total denials. Fellow rookie netminder Andrei Vaslivskiy was also sharp and turned away a Kevin Goumas breakaway opportunity late in the third period among his 30 saves en route to the victory.
Adam Comrie registered a pair of assists in the game while Kevin Goumas also accumulated a pair of points via a goal and a helper. Petr Straka scored for his second consecutive game and with his 10th of the season joined Nick Cousins (13) and Andrew Gordon (12) in the double-digit category in lamplighters.
The fast-paced contest opened with big chances on both sides and with the Phantoms cranking up nine shots at the Crunch's young Russian goalie. But it was Cody Kunyk for the Tampa Bay Lightning affiliation who converted for his sixth of the year at 7:21 of the first period on some speedy puck movement around the Phantoms zone setting up his big one-timer in the slot.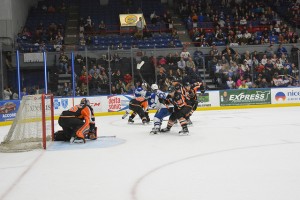 Lehigh Valley buried their back-to-back goals in the closing three minutes of the opening frame. Kevin Goumas rushed across the line shortly after a defensive-zone faceoff win and perfectly sniped off the crossbar to the high-left corner of the cage for his second of the season. Big blueliners Adam Comrie and Steven Delisle both received assists on the quick-transition strike.
Just 24 seconds later, Goumas helped win the puck near the boards and then Straka cut in from the left corner and neatly pushed in a backhander on the short-side of the goalie while falling down to the ice.
Yanni Gourde would intercept an errant puck in the neutral zone and rush up the right wing to neatly blast through his first of the night at the 3:23 mark of the second on an unasssisted goal.
Late in the period, Stolarz made his best save of the night on a sprawling effort to his left to deny Vladislav Namestnikov on a 3-on-1 shorthanded rush. But Syracuse kept up the pressure after the stop and received Mike Angelidis back from the penalty box who found Matt Corrente on the right point for a big slapper which would be tipped into the goal by Henri Ikonen for the tie-breaker.
The Phantoms had the early energy to begin the third period and were threatening to equalize. But the momentum would shift at the four-minute mark of the final frame with Yanni Gourde's second of the night and 15th of the season with a follow-up of his own drive bounding off the right shoulder of Stolarz.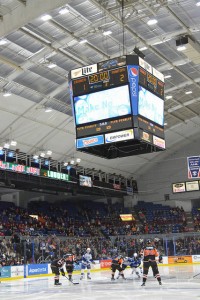 Lehigh Valley impeded their own late comeback efforts with some untimely penalties at the end of the game. But even shorthanded, the Phantoms were perilously close to a dramatic comeback, Kevin Goumas was denied on a shorthanded breakaway and Petr Straka had a short-range breakaway that was broken up by a defenseman from behind. Ultimately, Syracuse hung on the final horn for their 26th win of the season while the Phantoms record moved to 19-16-5.
Lehigh Valley plays one more game before the All-Star Break hosting the St. John's IceCaps on Saturday night. It's T-Shirt Time again at PPL Center with free orange T-Shirts for every fan in attendance. The Phantoms will be sporting specialty jerseys celebrating the inaugural season which will be auctioned off after the game. A very limited number of tickets are available for Saturday's showdown at the Mealey's Furniture Box Office at PPL Center (701 Hamilton), by calling 610-347-TIXX (8499) or online at pplcenter.com.
The Phantoms are also at home next Thursday against the Albany Devils and next Friday against the Hershey Bears on Youth Jersey Night for the first 3,000 kids age 14 and younger. Next Friday is also meLVin's birthday including about a dozen of his crazy mascot friends!
Check it out! Reserve your season tickets now for the 2015-2016 season of Lehigh Valley Phantoms hockey. For more information on how to reserve your seat at PPL Center to the hottest ticket in town call the Phantoms front office today at 610-224-GOAL (4625)!
Lehigh Valley Phantoms 2 at Syracuse Crunch 4 – Status: Final
Friday, January 23, 2015 – Onondaga County War Memorial Arena
Lehigh Valley 2 0 0 – 2
Syracuse 1 2 1 – 4
1st Period-1, Syracuse, Kunyk 6 (Lynch, Dodero), 7:21. 2, Lehigh Valley, Goumas 2 (Delisle, Comrie), 17:00. 3, Lehigh Valley, Straka 10 (Goumas, Comrie), 17:24. Penalties-Dodero Syr (holding the stick), 4:51; Alderson Lv (hooking), 13:01.
2nd Period-4, Syracuse, Gourde 14 3:23. 5, Syracuse, Ikonen 5 (Angelidis, Corrente), 17:45. Penalties-Angelidis Syr (high-sticking), 0:55; Comrie Lv (holding), 5:38; Fyten Lv (interference), 10:29; Manning Lv (hooking), 11:48; served by Goumas Lv (bench minor – too many men), 14:05; Angelidis Syr (tripping), 15:22.
3rd Period-6, Syracuse, Gourde 15 (Richard, Vermin), 4:00. Penalties-Kunyk Syr (holding), 6:25; Fyten Lv (high-sticking, high-sticking), 14:01; Stortini Lv (tripping), 18:21.
Shots on Goal-Lehigh Valley 13-5-14-32. Syracuse 13-14-7-34.
Power Play Opportunities-Lehigh Valley 0 / 4; Syracuse 0 / 8.
Goalies-Lehigh Valley, Stolarz 6-9-0 (34 shots-30 saves). Syracuse, Vasilevskiy 12-5-0 (32 shots-30 saves).
A-5,571
Referees-Jamie Koharski (84).
Linesmen-Joe DeMizio (92), Derek Sylvester (76).
Upcoming Home Games:
Saturday, January 24, 2015 St. John's IceCaps vs. Lehigh Valley Phantoms, 7:05 PM
(Free Shirt Giveaway for all fans in attendance! Specialty Jersey Night! Post-Game Jersey Auction! Inaugural Season Night!)
Thursday, January 29, 2015 Albany Devils vs. Lehigh Valley Phantoms, 7:05 PM
Friday, January 30, 2015 Hershey Bears vs. Lehigh Valley Phantoms, 7:05 PM
(Youth Jersey Giveaway! FREE youth jersey for the first 3,000 kids in attendance (ages 14 and under). meLVin's Birthday Bash!)
In their 19th season of operation, the Phantoms are currently in the midst of their Inaugural Season as the Lehigh Valley Phantoms playing at the brand-new PPL Center. Established in 1996, the Phantoms spent their first 13 seasons at the Spectrum before re-locating to Glens Falls, New York in 2009 where the team spent the next five seasons as the Adirondack Phantoms. A new era of Phantoms hockey began in the fall of 2014 when the Lehigh Valley Phantoms began play at the state-of-the-art PPL Center. Through 18 incredibly successful campaigns, the Phantoms have captured two Calder Cup Championships (1998, 2005), two Conference Championships (1998, 2005), two Regular Season Titles (1996-97, 1997-98) and four Division Championships (1996-97, 1997-98, 1998-99, 2003-04).