Lehigh Valley Returns to PPL Center Saturday vs. St. John's
January 21, 2015
Lehigh Valley, PA – The Lehigh Valley Phantoms got the start they were looking for Wednesday evening by grabbing the game's opening goal less than four minutes into their rivalry showdown with the Hershey Bears. But Hershey's special teams were able to produce four conversions thereafter, including three power play tallies, as the Phantoms were handed a 7-2 setback in front of 7,433 fans at PPL Center.
Still, Lehigh Valley has won five of its last eight outings overall and holds an impressive 11-4-2-1 record through the club's first 18 games at the state-of-the-art PPL Center.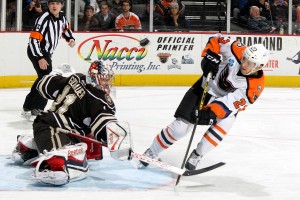 Petr Straka buried his ninth goal of the season Wednesday for Lehigh Valley while All-Star blueliner Brandon Manning pumped in his seventh conversion of the year. Meanwhile, Nick Cousins remained red-hot as the 21-year-old pivot produced his 11th point over the last six games (five goals, six assists).
Lehigh Valley wasted little time opening the scoring in Wednesday's rivalry showdown. Just over three minutes into the game and while enjoying the game's first power play, Straka and Brett Hextall combined to force a giveaway by the Bears that led to a net-front scramble and Straka's ninth tally of the year. Hextall garnered the only assist on the man-advantage marker netted just 3:15 into the opening period. The goal marked the 21st time this season the Phantoms have scored first and the fifth time in the last six games that Lehigh Valley has opened the scoring.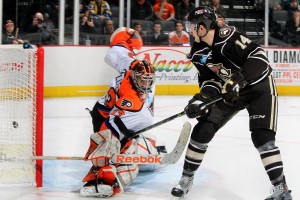 Hershey delivered a strong response though as the Bears strung together three goals in a 4:19 span just past the midway point of the period to claim a 3-1 advantage before the first intermission. First, Casey Wellman leveled the contest with his 13th goal of the season. Then, less than two minutes later, Stanislav Galiev pumped in his 14th tally of the year and team-leading 10th power play conversion as the Bears grabbed their first lead of the night. Hershey's special teams remained resilient as Jim O'Brien capped the first-period surge with a shorthanded marker 14:40 into the opening frame for his first goal of the season.
The Phantoms didn't take Hershey's push lying down though as Manning dropped the gloves with Steve Oleksy in the period's final minute. That scrap was followed just 17 seconds later by Brett Flemming throwing down against Hershey's Erik Burgdoerfer.
The Bears added another three goals in the second period as Chris Brown, Connor Carrick and Kris Newbury each scored in the middle stanza with Brown and Carrick's conversion coming on the power play. In all, Hershey finished the evening 3-for-7 on the power play.
After Hershey's Tim Kennedy notched his fourth goal of the season just past the midway point of the third period, the Phantoms produced a power play conversion of their own when Manning slammed in a sizzling slap shot from the high slot while in the midst of a five-on-three advantage. Jason Akeson and Cousins assisted on power play tally notched 12:11 into the final period. With an assist, Cousins pushed his team-leading point total to 29. The Phantoms finished the contest with a season-high 11 power play opportunities and compiled a pair of man-advantage markers on the evening.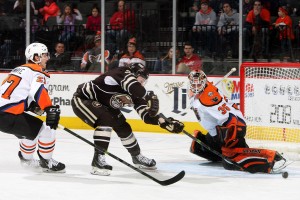 Martin Ouellette and Anthony Stolarz combined to record 23 saves on 30 total Bears shots. Ouellette, who began the game, suffered the setback after four saves on seven shots while Stolarz produced 19 denials on 23 bids on cage in relief. Meanwhile, Hershey's Philipp Grubauer earned the win for the Bears with 23 saves on 25 shots.
The Phantoms return to action this Friday when Lehigh Valley heads up to the Onondaga County War Memorial Arena in Syracuse for its first meeting of the year with the Crunch. The Phantoms are then back home at PPL Center this Saturday, January 24th when the St. John's IceCaps come to town for the final time this season. Saturday's contest is another Free Shirt Night as all fans in attendance will receive a FREE Inaugural Season shirt. As part of the Inaugural Season celebration, the Phantoms will also be wearing specialty Inaugural Season jerseys, which will then be auctioned off following the conclusion of Saturday's game.
A very limited number of tickets are available for Saturday's highly-anticipated showdown at the Mealey's Furniture Box Office at PPL Center (701 Hamilton), by calling 610-347-TIXX (8499) or online at pplcenter.com.
Check it out! Reserve your season tickets now for the 2015-2016 season of Lehigh Valley Phantoms hockey. For more information on how to reserve your seat at PPL Center to the hottest ticket in town call the Phantoms front office today at 610-224-GOAL (4625)!
Hershey Bears 7 at Lehigh Valley Phantoms 2 – Status: Final
Wednesday, January 21, 2015 – PPL Center
Hershey 3 3 1 – 7
Lehigh Valley 1 0 1 – 2
1st Period-1, Lehigh Valley, Straka 9 (Hextall), 3:15 (PP). 2, Hershey, Wellman 13 (Carrick), 10:21. 3, Hershey, Galiev 14 (Conner, Carrick), 12:16 (PP). 4, Hershey, J. O'Brien 1 (Gazley), 14:40 (SH). Penalties-Kennedy Her (high-sticking), 1:34; Carrick Her (boarding), 8:11; Manning Lv (slashing), 10:49; Newbury Her (holding), 13:17; Oleksy Her (high-sticking), 15:15; Cousins Lv (slashing), 16:21; Oleksy Her (fighting), 19:28; Manning Lv (fighting), 19:28; Burgdoerfer Her (fighting), 19:45; Schilling Her (tripping), 19:45; Flemming Lv (fighting), 19:45.
2nd Period-5, Hershey, Brown 11 (Galiev, Kennedy), 4:04 (PP). 6, Hershey, Carrick 5 (Kennedy, Wellman), 9:50 (PP). 7, Hershey, Newbury 13 (Brown, Cornet), 12:23. Penalties-Rosehill Lv (high-sticking), 2:20; Byers Her (hooking), 5:52; Fyten Lv (slashing), 8:15; Goumas Lv (bench minor – unsportsmanlike conduct), 8:15; White Lv (slashing), 9:08; L. O'Brien Her (tripping), 14:10; Rosehill Lv (misconduct – unsportsmanlike conduct), 14:10.
3rd Period-8, Hershey, Kennedy 4 (Conner, Galiev), 10:03. 9, Lehigh Valley, Manning 7 (Cousins, Akeson), 12:11 (PP). Penalties-White Lv (misconduct – unsportsmanlike conduct), 0:07; Kennedy Her (charging), 5:16; L. O'Brien Her (fighting), 8:20; Delisle Lv (fighting), 8:20; Stortini Lv (roughing, misconduct – continuing altercation), 8:32; Schilling Her (hooking), 9:53; Kennedy Her (slashing), 11:11; Oleksy Her (slashing), 11:41.
Shots on Goal-Hershey 7-13-10-30. Lehigh Valley 9-6-10-25.
Power Play Opportunities-Hershey 3 / 7; Lehigh Valley 2 / 11.
Goalies-Hershey, Grubauer 13-9-1 (25 shots-23 saves). Lehigh Valley, Ouellette 2-2-0 (7 shots-4 saves); Stolarz 6-8-0 (23 shots-19 saves).
A-7,433
Referees-Jamie Koharski (84), Keith Kaval (40).
Linesmen-Leo Boylan (97), Ryan Knapp (73).
Upcoming Home Games: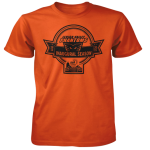 Saturday, January 24, 2015 St. John's IceCaps vs. Lehigh Valley Phantoms, 7:05 PM
(Free Shirt Giveaway for all fans in attendance! Specialty Jersey Night! Post-Game Jersey Auction! Inaugural Season Night!)
Thursday, January 29, 2015 Albany Devils vs. Lehigh Valley Phantoms, 7:05 PM
Friday, January 30, 2015 Hershey Bears vs. Lehigh Valley Phantoms, 7:05 PM
(Youth Jersey Giveaway! FREE youth jersey for the first 3,000 kids in attendance (ages 14 and under). meLVin's Birthday Bash!)
In their 19th season of operation, the Phantoms are currently in the midst of their Inaugural Season as the Lehigh Valley Phantoms playing at the brand-new PPL Center. Established in 1996, the Phantoms spent their first 13 seasons at the Spectrum before re-locating to Glens Falls, New York in 2009 where the team spent the next five seasons as the Adirondack Phantoms. A new era of Phantoms hockey began in the fall of 2014 when the Lehigh Valley Phantoms began play at the state-of-the-art PPL Center. Through 18 incredibly successful campaigns, the Phantoms have captured two Calder Cup Championships (1998, 2005), two Conference Championships (1998, 2005), two Regular Season Titles (1996-97, 1997-98) and four Division Championships (1996-97, 1997-98, 1998-99, 2003-04).