T.J. Brennan Hat Trick for 130 Goals, Now 2nd Most Among AHL D-Men
February 19, 2017
Utica, NY – T.J. Brennan passed recently inducted AHL Hall of Famer Bryan Helmer for second all-time in AHL career goals while also scoring the team's second hat trick of the season to lead the visiting Lehigh Valley Phantoms to a gritty 7-4 win at the Utica Comets on Sunday evening. Brennan helped seal the victory with a length-of-the-ice empty-netter for his history-making 130th career goal and 17th of the season.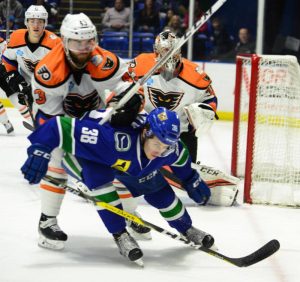 Brennan was in attendance at Miller Symphony Hall in Allentown when the legendary Helmer was inducted into the AHL Hall of Fame a couple weeks ago as part of the AHL All-Star Classic festivities. It was the fourth consecutive AHL All-Star Classic appearance for the two-time Eddie Shore Award winner for Best Defenseman in the AHL. The all-time record for goals by a defenseman in the American Hockey League is held by former Philadelphia Phantom standout John Slaney who had 166 which included 85 while wearing a Phantoms sweater from 2000-01 through 2006-07.
Brennan's hat trick was the second of the year for Lehigh Valley. He joins Danick Martel who scored a trifecta on January 25 in a 7-2 victory against the Binghamton Senators. T.J. Brennan's third career hat trick is his first since early in the 2013-14 season when he notched the accomplishment in consecutive October weekends with the Toronto Marlies.
Robert Hagg (6th, 7th) cranked home a pair of goals for his first-career multi-goal game as the Lehigh Valley Phantoms received five out of their seven total markers from the two defensemen. Chris Conner (16th) and Cole Bardreau (8th) on a late empty-netter notched the other lamplighters.
The Phantoms overcame an early 2-0 deficit and it was Scott Gordon's decision to implement his team's 30-second timeout at 5:29 into the second period that appeared to be the difference maker. Lehigh Valley immediately responded with consecutive goals from Conner and Hagg to even the score.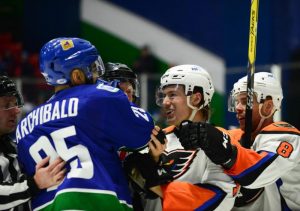 The Phantoms again scored back-to-back goals less than 60 seconds apart in the early moments of the third when Hagg and Brennan struck back-to-back to break a 3-3 tie. But Alexander Grenier's strike pulled Utica back to within one goal at 5-4 and from there it was a grind to the finish line against a surging Comets attack that required a series of impressive saves for winning goaltender Alex Lyon before the Phantoms would salt away the victory with a pair of empty-netter conversions. Lyon turned away 43 shots in the nearly-relentless attack of the Comets skaters who forced him to come up with a handful of acrobatic and athletic denials along the way.
The first period was filled with tone-setting hits, shoves, chops and grabs as both teams had some significantly ratcheted up intensity and energetic, feisty play. In the meantime, the goaltenders were brought into the action early and often as well in the fast-paced affair with Utica racking up 13 shots on Alex Lyon to Lehigh Valley's 12 blasts at Thatcher Demko.
Jordan Subban struck at 15:03 of the first rushing up to the right wing to receive a pass from Borna Rendulic and then sniping quickly high-glove on Lyon for his 11th of the year.
The Comets came out flying in the second and scored on their sixth straight shot to open the period on Audrey Pedan's left-point drive at 5:29 for a 2-0 lead.
Scott Gordon's decision to burn his timeout at that point proved to be the critical turning point in the game. The Phantoms induced yet another power play shortly after collecting themselves at the bench. And then the Phantoms took just nine seconds to score off the next face-off with Conner finding a free puck in the crease on a rebound from the work of Corban Knight and Andy Miele. Conner's backhander in the blue-paint for his 16th of the campaign put the Phantoms on the board.
Perhaps the most impressive goal in the career of Robert Hagg followed just 54 seconds later on his picture-perfect bar-down rocket from the top of the left circle that evened the score at 2-2. Samuel Morin neatly slid the puck over to set up Hagg for the big blast and Radel Fazleev also assisted on the play.
The Phantoms remained on their heels for parts of the second period as the Comets racked up an 18-7 shots advantage. Alex Lyon had his most incredible stop of the night when he was down on his belly but was able to kick up his right leg to deny Cody Kunyk close-range. But Kunyk would exact some amount of revenge a few minutes later on the rush with his back-door tap-in at 17:51 assisted by Pascal Pelletier for a 3-2 Utica advantage.
Again the Phantoms were not long for their response. T.J. Brennan wired his first of the game just 26 seconds later at 18:17 into the second to forge yet another deadlock, this time at 3-3. Travis Sanheim briefly pumped before quickly dishing to Brennan for a nice assist.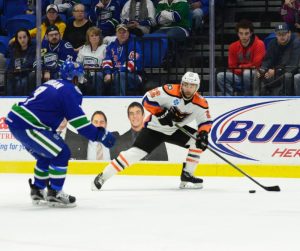 The Phantoms took their first lead of the game after withstanding another Comets surge to open the third. Lehigh Valley was hanging on thanks to more wizardry from Lyon with seven straight saves to begin the frame. The Phantoms converted on their first shot of the third period when Laughton found Hagg cross-ice in transition who powered home his seventh of the season at 5:34. The sequence began with a driving poke by Colin McDonald in the slot of his own zone to finally get the heat away from Lyon just as it appeared the Comets were actually the team on the verge of breaking the tie.
Building on that momentum, the Phantoms would strike again less than a minute later with Chris Conner racing up the right-wing and then swiftly dropping to a trailing T.J. Brennan whose five-hole snipe was good for his second goal of the game and a 5-3 lead at 6:38 into the third. The 129th career goal for Brennan moved him into a tie with Helmer for second all-time among AHL defensemen.
Alexander Grenier pulled the Comets back to within one with his power-play goal at 7:34 and from there the Phantoms would cling to a 5-4 lead for most of the rest of the way.
Brennan from deep in his own zone successfully completely his history-making hat trick with 1:35 remaining in regulation. And Cole Bardreau's close-range tap-in into an empty-net with 12 seconds left following a neutral-zone steal by Colin McDonald would cap the scoring and close the 7-4 triumph.
Utica out shot the Phantoms 47-33. The Phantoms were 2-for-6 on the power play while Utica finished at 1-for-6.
The Phantoms travel to the Springfield Thunderbirds (FLA affiliate) on Friday night and return to PPL Center on Faith Night in a rivalry battle with the first-place Wilkes-Barre/Scranton Penguins. Tickets for Saturday's big rivalry showdown of the top two teams in the Eastern Conference remain available at PPLCenter.com
Lehigh Valley Phantoms 7 at Utica Comets 4 – Status: Final
Sunday, February 19, 2017 – Utica Memorial Auditorium
Lehigh Valley 0 3 4 – 7
Utica 1 2 1 – 4
1st Period-1, Utica, Subban 11 (Rendulic, Carcone), 15:03. Penalties-Pedan Uti (slashing), 8:25; Brennan Lv (slashing), 8:53; Uti (bench minor – too many men), 12:22; Virtanen Uti (slashing), 15:08; Zengerle Lv (hooking), 16:17.
2nd Period-2, Utica, Pedan 4 (Virtanen, Kunyk), 5:29. 3, Lehigh Valley, Conner 16 (Knight, Miele), 6:20 (PP). 4, Lehigh Valley, Hagg 6 (Morin, Fazleev), 7:14. 5, Utica, Kunyk 8 (Pelletier, Shields), 17:51 (SH). 6, Lehigh Valley, Brennan 15 (Sanheim, Martel), 18:17 (PP). Penalties-Hamilton Uti (holding), 6:11; O'Neill Lv (slashing, roughing), 14:05; LaBate Uti (cross-checking), 14:05; Morin Lv (boarding), 15:48; LaBate Uti (holding), 16:38; Hagg Lv (interference), 19:47.
3rd Period-7, Lehigh Valley, Hagg 7 (Laughton), 5:34. 8, Lehigh Valley, Brennan 16 (Conner, Carey), 6:28. 9, Utica, Grenier 15 (McEneny, Demko), 7:34 (PP). 10, Lehigh Valley, Brennan 17 (Lyon), 18:25 (EN). 11, Lehigh Valley, Bardreau 8 (McDonald), 19:48 (EN). Penalties-Aube-Kubel Lv (hooking), 6:33; Subban Uti (hooking), 9:47; Hagg Lv (unsportsmanlike conduct), 12:32; Archibald Uti (unsportsmanlike conduct), 12:32; McDonald Lv (diving/embellishment), 17:41; Robak Uti (slashing), 17:41.
Shots on Goal-Lehigh Valley 12-7-14-33. Utica 13-18-16-47.
Power Play Opportunities-Lehigh Valley 2 / 6; Utica 1 / 6.
Goalies-Lehigh Valley, Lyon 21-10-2 (47 shots-43 saves). Utica, Demko 9-11-4 (31 shots-26 saves).
A-3,870
Referees-Peter Tarnaris (17), Tim Mayer (19).
Linesmen-Matt Brady (86), Francois Dussureault (60).
For the latest Phantoms news, visit www.phantomshockey.com or follow the team on Facebook (www.facebook.com/lehighvalleyphantoms), Twitter (@lvphantoms), Instagram (@lehighvalleyphantoms) and Snapchat (lvphantoms).
The Phantoms are coming off their 20th Anniversary Season and second campaign in the Lehigh Valley playing at the state-of-the-art PPL Center. Established in 1996, the Phantoms spent their first 13 seasons at the Spectrum in Philadelphia before re-locating to Glens Falls, New York in 2009 where the team spent the next five seasons as the Adirondack Phantoms. A new era of Phantoms hockey began in the fall of 2014 when the Lehigh Valley Phantoms began play at the state-of-the-art PPL Center. Through 20 incredibly successful campaigns, the Phantoms have captured two Calder Cup Championships (1998, 2005), two Conference Championships (1998, 2005), two Regular Season Titles (1996-97, 1997-98) and four Division Championships (1996-97, 1997-98, 1998-99, 2003-04).