Thundebirds Hold On 5-3 For First Win Against Phantoms
February 24, 2017
Springfield, MA – The Lehigh Valley Phantoms were able to rally from behind once against the Springfield Thunderbirds but their next comeback eluded them in a 5-3 setback in Western Massachusetts on Friday night. Radel Fazleev (5th) and Chris Conner (17th) had scored just 15 seconds apart in a wild see-saw second period to propel Lehigh Valley into the lead at 3-2 but the Thunderbirds regained their composure from there and backstop Reto Berra held the Phantoms away for the rest of the night.
Springfield finally defeated the Phantoms for the first time in four tries and were able to prevent yet another Lehigh Valley dramatic comeback. The last two Phantoms decisions over the Thunderbirds involved rallies from two-goals down in the closing minutes of the third period. But it wasn't to be this time around a Lehigh Valley's two-game win streak came to a close.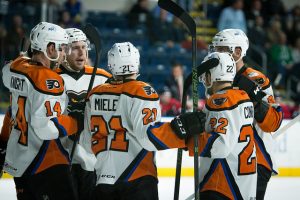 Greg Carey struck for his league-leading 24th goal of the season to move back into a tie for the AHL lead with Byron Froese of the Toronto Marlies. It was Carey's second goal in his last three games and his 15th on the power play which is also the most in the AHL. Carey has had terrific success at MassMutual Center where he starred as a member of the old Springfield Falcons last year leading that team with 26 goals.
Paul Thompson and Dryden Hunt each had a pair of goals to pace the Springfield attack. Paul Thompson is the brother-in-law of Phantoms captain Colin McDonald; Thompson is married to McDonald's sister.
Carey's goal with 6:55 left in the first period off a fine cross-ice feed by Corban Knight was also assisted by Andy Miele and provided the Phantoms a 1-0 lead at the first intermission amidst a fairly slow start for the game. Shots in the first were only 6-5 in favor of Springfield.
But the second period would be a different story as the teams would trade leads and the Thunderbirds would rack up 20 shots en route to a season-high four goals in a single period.
Kyle Rau (9th) and Paul Thompson (9th) would score back-to-back just 56 seconds apart at 8:07 and 9:03 to turn the tables on the Phantoms and take a 2-1 lead. The goals came a few moments after several spectacular stops and close-range misses by the Thunderbirds were applying some nearly continuous pressure on top of goaltender Anthony Stolarz.
Scott Gordon would again opt to use his team' timeout in the second period after the Thunderbirds had gained the momentum. And his tactics appeared to work again as it wasn't long for the Phantoms to strike back with their own consecutive goals.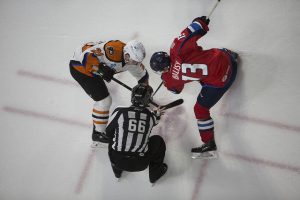 Radel Fazleev poked in the rebound of a Cole Bardreau shot at 11:27 and then just 15 seconds later Chris Conner raced into the shot and buried his one-timer fed to him by Fazleev to give the Phantoms a 3-2 lead. The Conner goal was another power-play strike stemming from some post-goal altercations following the Fazleev tally.
But again there would be consecutive goals to tilt the direction of the game. Dryden Hunt chopped down a Paul Thompson drive for a perfect bouncer past Stolarz at 16:21 to even the score at 3-3 and then just over two minutes later Thompson would race up the right wing on the rush to snipe on the short side for his second of the game and eventual game-winner.
The Phantoms had a couple early power plays to begin the third period but were unable to convert. Dryden Hunt found the back of the empty-net with 1:59 left to seal the victory.
Springfield out shot the Phantoms 35-25. Lehigh valley was 2-for-5 on the power play for their thid consecutive multi-power-play goal game and 20th of the season. Springfield was held to 0-for-4 on the man advantage.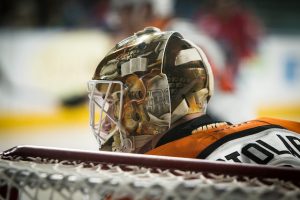 The Phantoms host the first-place Wilkes-Barre/Scranton Penguins on Saturday at 7:05 in a rivalry showdown of the top two teams in the Atlantic Division on Faith Night. Lehigh Valley will return to Springfield next Friday night for a chance at revenge in the opener of a four-game road swing.
Tickets for the big Saturday rivalry showdown against Wilkes-Barre/Scranton are available at PPLCenter.com
Lehigh Valley Phantoms 3 at Springfield Thunderbirds 5 – Status: Final
Friday, February 24, 2017 – MassMutual Center
Lehigh Valley 1 2 0 – 3
Springfield 0 4 1 – 5
1st Period-1, Lehigh Valley, Carey 24 (Knight, Miele), 13:05 (PP). Penalties-Rau Spr (tripping), 12:28; Carey Lv (tripping), 16:45; O'Neill Lv (delay of game), 18:57.
2nd Period-2, Springfield, Rau 9 (Acolatse, McIlrath), 8:07. 3, Springfield, Thompson 9 (Malgin, Downing), 9:03. 4, Lehigh Valley, Fazleev 5 (Bardreau), 11:27. 5, Lehigh Valley, Conner 17 (Fazleev, Brennan), 11:42 (PP). 6, Springfield, Hunt 6 (Thompson, Malgin), 16:21. 7, Springfield, Thompson 10 (Hunt, McCoshen), 18:35. Penalties-Rau Spr (closing hand on puck), 3:06; Bardreau Lv (roughing), 11:27; Brown Spr (roughing, roughing), 11:27; Aube-Kubel Lv (interference), 13:17.
3rd Period-8, Springfield, Hunt 7 (Malgin), 18:01 (EN). Penalties-Hunt Spr (high-sticking), 5:34; Rau Spr (holding), 9:54; Knight Lv (tripping), 14:25; Brennan Lv (fighting), 19:45; Horvat Spr (fighting), 19:45.
Shots on Goal-Lehigh Valley 5-12-8-25. Springfield 6-20-9-35.
Power Play Opportunities-Lehigh Valley 2 / 5; Springfield 0 / 4.
Goalies-Lehigh Valley, Stolarz 12-7-0 (34 shots-30 saves). Springfield, Berra 12-13-2 (25 shots-22 saves).
A-4,556
Referees-Jake Brenk (42), Tim Mayer (19).
Linesmen-Mike Baker (11), Paul Simeon (66).
For the latest Phantoms news, visit www.phantomshockey.com or follow the team on Facebook (www.facebook.com/lehighvalleyphantoms), Twitter (@lvphantoms), Instagram (@lehighvalleyphantoms) and Snapchat (lvphantoms).
The Phantoms are coming off their 20th Anniversary Season and second campaign in the Lehigh Valley playing at the state-of-the-art PPL Center. Established in 1996, the Phantoms spent their first 13 seasons at the Spectrum in Philadelphia before re-locating to Glens Falls, New York in 2009 where the team spent the next five seasons as the Adirondack Phantoms. A new era of Phantoms hockey began in the fall of 2014 when the Lehigh Valley Phantoms began play at the state-of-the-art PPL Center. Through 20 incredibly successful campaigns, the Phantoms have captured two Calder Cup Championships (1998, 2005), two Conference Championships (1998, 2005), two Regular Season Titles (1996-97, 1997-98) and four Division Championships (1996-97, 1997-98, 1998-99, 2003-04).