Four Unanswered Makes it Three Straight W's for Lehigh Valley
March 14, 2015
Bridgeport, CT – The Lehigh Valley Phantoms flexed their road muscle once again with another thrilling victory in hostile environs this time scoring four straight to come from behind in Bridgeport and post a 4-2 triumph. The Phantoms put the capper on a perfect 3-0 stretch to open their five-game road-swing via the hard-fought effort against the Sound Tigers.
Trailing 2-0 after one period, the Phantoms found their offensive stride with goals from Nick Cousins (21st), Adam Comrie (5th), Jason Akeson (20th) and Oliver Lauridsen (3rd) while Anthony Stolarz stood tall in his first start in six games turning aside 38 of 40 Bridgeport drives.
With only 15 games now remaining in the regular season, the Phantoms need every point they can get. The perfect six-point week is exactly what the team required in their efforts to scratch and claw their way back into the Eastern Conference playoff picture.
The Road Warriors of Lehigh Valley have now gone 6-1-0 in their most recent seven away contests and brag an impressive 11-4-0 road mark in calendar year 2014. Overall, the Phantoms are 5-2-0 in their most recent seven outings to improve to 29-24-7 on the campaign.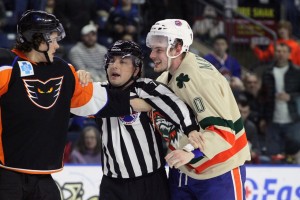 The game took a decidedly nasty and feisty tone with several altercations and scrums while also featuring some of the biggest hitting, from both teams, that we have seen in some time. Several post-whistle scrums ensued and the officials had their hands full for much of the night.
The affiliates of the New York Islanders raced out to a 2-0 advantage in the first period on a pair of goals by Alan Quine. The second of his tallies came on a chip in the slot from a right-wing quick give by former Phantom Harry Zolnierczyk. That goal was mere moments after Jason Akeson put a rebound opportunity off the crossbar.
Nick Cousins smartly pulled a puck back to his forehand while rushing up to the right circle and was able to sneak a quick wrister past Kevin Poulin to the low-glove on the short-side putting the Phantoms on the board seven minutes into the second period. The lamplighter was Cousins' fourth of the week and team-leading 21st of the season.
Talk about redemption! Trailing 2-1 early in the third period, Adam Comrie came dangerously close to nudging one into his own net on a misplay while all alone in front of Stolarz… But having regained his balance and composure, the big blueliner raced into the attacking zone where he found himself with an opportunity to unload his monster slapshot. He beat goaltender Kevin Poulin to the far post going high glove for his fifth of the season as he scored for his second game in a row.
The exciting blase for Comrie was also the second consecutive game he evened the score with a most timely tally. Comrie completed a big week on the three road games with four points including two goals and two assists as he helped spark the Saturday night Phantoms comeback.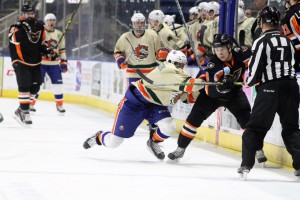 Shortly after a Cousins faceoff win, Jason Akeson rushed forward as part of a 2-on-1 and cranked a slapper through the glove of Poulin powering in his 20th of the season to give the Phantoms their first lead of the night with 13:35 remaining.
From there it was a frantic grind to the finish with the Sound Tigers stepping up their offensive attack to the tune of 15 third-period shots on goal. With 1:30 left, Harry Zolnierczyk's blast from the right-wing clanged off the underside of the iron, bounced down and then away. The Phantoms were just barely able to cling to their 3-2 advantage as a result.
Facing a 6-on-4 situation in the closing minute, Oliver Lauridsen took matters into his own hands immediately off a faceoff win with an impressive drive the length of the ice for a 190-foot empty-netter. The shorthanded goal was fired dead-center into the back of the net from all the way at the Phantoms end-line.
Lehigh Valley finished the season series boasting a 3-0-1 mark against the Sound Tigers. The Phantoms were out shot in the game 40-25. Bridgeport was held to 0-for-4 on the power play while the Phantoms finished at 0-for-1.
The Phantoms' five-game road-swing continues next weekend at the Hartford Wolf Pack and Worcester Sharks back-to-back as Lehigh Valley tangles directly with two of the teams they are attempting to chase down in the standings.. Be sure to catch each of Lehigh Valley's next five games on Fox 1470 AM, online at www.fox1470.com or via the iHeartRadio app. Coverage begins at 6:20 p.m. each night with the Nazareth Pallet Countdown to Faceoff.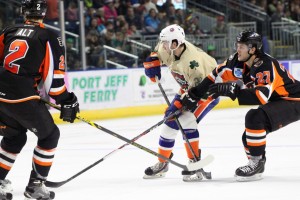 The Phantoms return to downtown Allentown on Sunday, March 22nd at 5:05 p.m. when they welcome the Wilkes-Barre/Scranton Penguins to town for another Pennsylvania rivalry showdown. Sunday's contest features a FREE youth street hockey stick giveaway for the first 3,000 kids in attendance ages 14 and under. A limited number of tickets for Lehigh Valley's next home game are available now at pplcenter.com, by calling 610-347-TIXX (8499) or in person at the Mealey's Furniture Box Office at PPL Center (701 Hamilton).
Check it out! Reserve your season tickets now for the 2015-2016 season of Lehigh Valley Phantoms hockey. For more information on how to reserve your seat at PPL Center to the hottest ticket in town call the Phantoms front office today at 610-224-GOAL (4625)!
Lehigh Valley Phantoms 4 at Bridgeport Sound Tigers 2 – Status: Final
Saturday, March 14, 2015 – Webster Bank Arena
Lehigh Valley 0 1 3 – 4
Bridgeport 2 0 0 – 2
1st Period-1, Bridgeport, Quine 15 (Pelech, Mayfield), 5:51. 2, Bridgeport, Quine 16 (Zolnierczyk, McMillan), 13:32. Penalties-Mathers Lv (fighting), 2:05; Stevenson Bri (fighting), 2:05; Lamarche Lv (unsportsmanlike conduct), 9:52; Lauridsen Lv (slashing), 9:52; Stortini Lv (misconduct – unsportsmanlike conduct), 9:52; Halmo Bri (unsportsmanlike conduct), 9:52; Mayfield Bri (misconduct – unsportsmanlike conduct), 9:52; Cousins Lv (slashing), 15:26.
2nd Period-3, Lehigh Valley, Cousins 21 (Gordon), 7:32. Penalties-Lauridsen Lv (misconduct – unsportsmanlike conduct), 10:01; Pettersson Lv (boarding), 10:01; Mayfield Bri (misconduct – unsportsmanlike conduct), 10:01; Cousins Lv (unsportsmanlike conduct), 14:17; Reinhart Bri (cross-checking), 14:17; Sutter Bri (unsportsmanlike conduct), 17:27.
3rd Period-4, Lehigh Valley, Comrie 5 (Akeson, Alt), 2:21. 5, Lehigh Valley, Akeson 20 (Cousins), 6:25. 6, Lehigh Valley, Lauridsen 3 (Powe), 19:05 (SH EN). Penalties-Cousins Lv (delay of game), 19:01.
Shots on Goal-Lehigh Valley 11-6-8-25. Bridgeport 13-12-15-40.
Power Play Opportunities-Lehigh Valley 0 / 1; Bridgeport 0 / 4.
Goalies-Lehigh Valley, Stolarz 9-11-0 (40 shots-38 saves). Bridgeport, Poulin 15-16-1 (24 shots-21 saves).
A-5,222
Referees-Kendrick Nicholson (44).
Linesmen-Paul Simeon (66), Brent Colby (7).
Upcoming Home Games:
Sunday, March 22, 2015 Wilkes-Barre/Scranton Penguins vs. Lehigh Valley Phantoms, 5:05 PM
(Youth Street Hockey Stick Giveaway (first 3,000 kids ages 14 and under)! Charities Night!)
Wednesday, March 25, 2015 Syracuse Crunch vs. Lehigh Valley Phantoms, 7:05 PM
($2 Beer Night! $2 Coors Light drafts available from the time doors open until the start of the 2nd period.)
Saturday, March 28, 2015 Wilkes-Barre/Scranton Penguins vs. Lehigh Valley Phantoms, 7:05 PM
(Faith Night! Post-Game Concert!)
Sunday, March 29, 2015 Manchester Monarchs at Lehigh Valley Phantoms, 3:05 PM
(Post-Game Skate with the Players! Legends Day and Poster Giveaway featuring Brian Boucher!)
In their 19th season of operation, the Phantoms are currently in the midst of their Inaugural Season as the Lehigh Valley Phantoms playing at the brand-new PPL Center. Established in 1996, the Phantoms spent their first 13 seasons at the Spectrum before re-locating to Glens Falls, New York in 2009 where the team spent the next five seasons as the Adirondack Phantoms. A new era of Phantoms hockey began in the fall of 2014 when the Lehigh Valley Phantoms began play at the state-of-the-art PPL Center. Through 18 incredibly successful campaigns, the Phantoms have captured two Calder Cup Championships (1998, 2005), two Conference Championships (1998, 2005), two Regular Season Titles (1996-97, 1997-98) and four Division Championships (1996-97, 1997-98, 1998-99, 2003-04).