Zepp Records 30 Saves in Overtime Decision
October 29, 2014
Lehigh Valley, PA – The Lehigh Valley Phantoms, proud AHL affiliate of the Philadelphia Flyers, generated another comeback at PPL Center Wednesday evening as the Phantoms earned a critical standings points with a 2-1 overtime decision against the Wilkes-Barre/Scranton Penguins in front of 6,733 fans. Following the overtime setback, Lehigh Valley moved to 4-2-1 overall this season while the Phantoms remain undefeated in regulation time in their new home.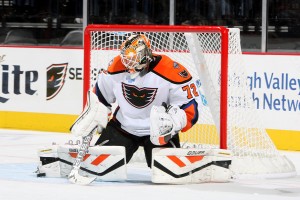 Lehigh Valley's Rob Zepp turned in another sensational effort in goal as the 33-year-old netminder amassed 30 saves on 32 total shots and sprinkled in a host of remarkable stops throughout the tilt. Zepp is now 4-0-1 on the year and has already compiled four outings with at least 29 saves.
"You've got to have good goaltending in any league," Phantoms head coach Terry Murray said. "There's going to be great opportunities that are going to be generated with the way the pressure comes today. Your goalie has to be good and he gave us an opportunity tonight."
The Phantoms are next in action this Saturday when Lehigh Valley welcomes the Hartford Wolf Pack to PPL Center for the first time this season. The puck drops at 7:05 PM and tickets are available now at the Mealey's Furniture Box Office at PPL Center (701 Hamilton), by calling 610-347-TIXX (8499) or online at pplcenter.com.
Despite a tenacious penalty killing effort with the Phantoms down a pair of skaters, the Penguins opened the scoring with a five-on-three power play conversion when Derrick Pouliot dished a no-look pass on the right wing to Andrew Ebbett who was able to solve Zepp just over his outstretched glove. Jean-Sebastien Dea earned the secondary assist on the man-advantage marker netted 11:17 into the first period.
The Phantoms bounced right back and immediately began reapplying pressure in the Wilkes-Barre/Scranton end, which culminated in a two-on-one one-timer from Lehigh Valley's leading goal scorer Scott Laughton that was miraculously turned away by a sprawling effort from Penguins netminder Matt Murray.
"I thought the energy was really good here tonight, especially early," Murray said. "The first six, seven shifts we were tremendous. Just the start you want to see."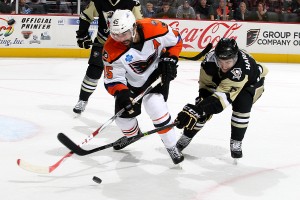 The two sides continued to trade scoring chances through much of the second period with Lehigh Valley enjoying several bouts of sustained pressure in the Wilkes-Barre/Scranton end. The Phantoms' relentless pressure paid dividends with just over four minutes left in the middle stanza when Nick Cousins stole a puck along the half boards before feeding a cross-crease saucer pass right to Zack Stortini who made no mistake in driving home his first goal of the season. The five-on-five conversion came exactly 15:59 into the second period and was the 45th career professional tally for the AHL's reigning penalty minutes leader from a season ago.
Zepp and Wilkes-Barre/Scranton netminder Matt Murray then stood on their heads in the third period as the two goaltenders combined for 21 saves on 21 total shots in the final frame of regulation. Despite a host of scoring opportunities for both sides, the game proceeded to overtime as Phantoms fans enjoyed bonus hockey already for the second time in just three games at PPL Center.
Lehigh Valley generated tremendous pressure in the extra frame and compiled seven shots on goal in just under five minutes of overtime hockey. Despite a plethora of chances for the Phantoms, it was the Penguins who landed the game's final conversion as Dea buried a left wing wrist shot sealing the decision.
Wilkes-Barre/Scranton finished the contest 2-for-5 on the power play while the Phantoms were unable to capitalize on nine man-advantage opportunities.
Again, Lehigh Valley returns to action Saturday evening when the Phantoms play host to the Hartford Wolf Pack at PPL Center. Tickets are still available for the 7:05 PM showdown at the Mealey's Furniture Box Office at PPL Center (701 Hamilton), by calling 610-347-TIXX (8499) or online at pplcenter.com.
Check it out! Don't miss the action and fun of Lehigh Valley Phantoms hockey at PPL Center in downtown Allentown! Contact the Phantoms Front Office for information on season tickets and affordable partial-season plans by calling 610-224-GOAL (4625).
Wilkes-Barre/Scranton Penguins 2 (OT) at Lehigh Valley Phantoms 1 – Status: Final OT
Wednesday, October 29, 2014 – PPL Center
W-B/Scranton 1 0 0 1 – 2
Lehigh Valley 0 1 0 0 – 1
1st Period-1, W-B/Scranton, Ebbett 2 (Pouliot, Dea), 11:17 (PP). Penalties-Laughton Lv (cross-checking), 10:14; Cousins Lv (slashing), 10:33; Kostopoulos Wbs (cross-checking), 18:51; Letourneau-Leblond Wbs (roughing), 18:51; Stortini Lv (broken stick), 19:44.
2nd Period-2, Lehigh Valley, Stortini 1 (Cousins), 15:59. Penalties-Letourneau-Leblond Wbs (bench minor – too many men), 1:05; Torquato Wbs (high-sticking), 4:06; Wilson Wbs (fighting), 16:28; Flemming Lv (fighting), 16:28; Harrington Wbs (delay of game), 17:24; Megna Wbs (tripping), 18:31.
3rd Period- No Scoring.Penalties-Dea Wbs (bench minor – too many men), 9:07; Gordon Lv (tripping), 10:01; Chorney Wbs (tripping), 11:56; Ebbett Wbs (broken stick), 13:15.
OT Period-3, W-B/Scranton, Dea 3 (Dumoulin, Chorney), 4:58 (PP). Penalties-Kostopoulos Wbs (cross-checking), 1:44; Cousins Lv (holding), 4:45.
Shots on Goal-W-B/Scranton 13-8-9-2-32. Lehigh Valley 11-13-12-7-43.
Power Play Opportunities-W-B/Scranton 2 / 5; Lehigh Valley 0 / 9.
Goalies-W-B/Scranton, Murray 2-1-0 (43 shots-42 saves). Lehigh Valley, Zepp 4-0-0 (32 shots-30 saves).
A-6,733
Referees-David Banfield (77), Michael Mullen (18).
Linesmen-Leo Boylan (97), Jud Ritter (34).
Upcoming Home Games:
Saturday, November 1 (7:05) – Hartford Wolf Pack at Lehigh Valley Phantoms.
Saturday, November 15 (7:05) – Toronto Marlies at Lehigh Valley Phantoms.
Wednesday, November 19 (7:05) – Hershey Bears at Lehigh Valley Phantoms.