Charlotte grabs 5-2 decision in Lehigh Valley's regular season home finale
April 14, 2023
Lehigh Valley, PA – One week after the Lehigh Valley Phantoms topped the Charlotte Checkers by a 5-2 count at PPL Center, their fellow Atlantic Division foe sought revenge on Friday night. Garrett Wilson (18th) and Bobby Brink (11th) both scored for the Phantoms, but former Lehigh Valley forward Gerry Mayhew snapped a 2-2 tie with the eventual game-winner in the third period.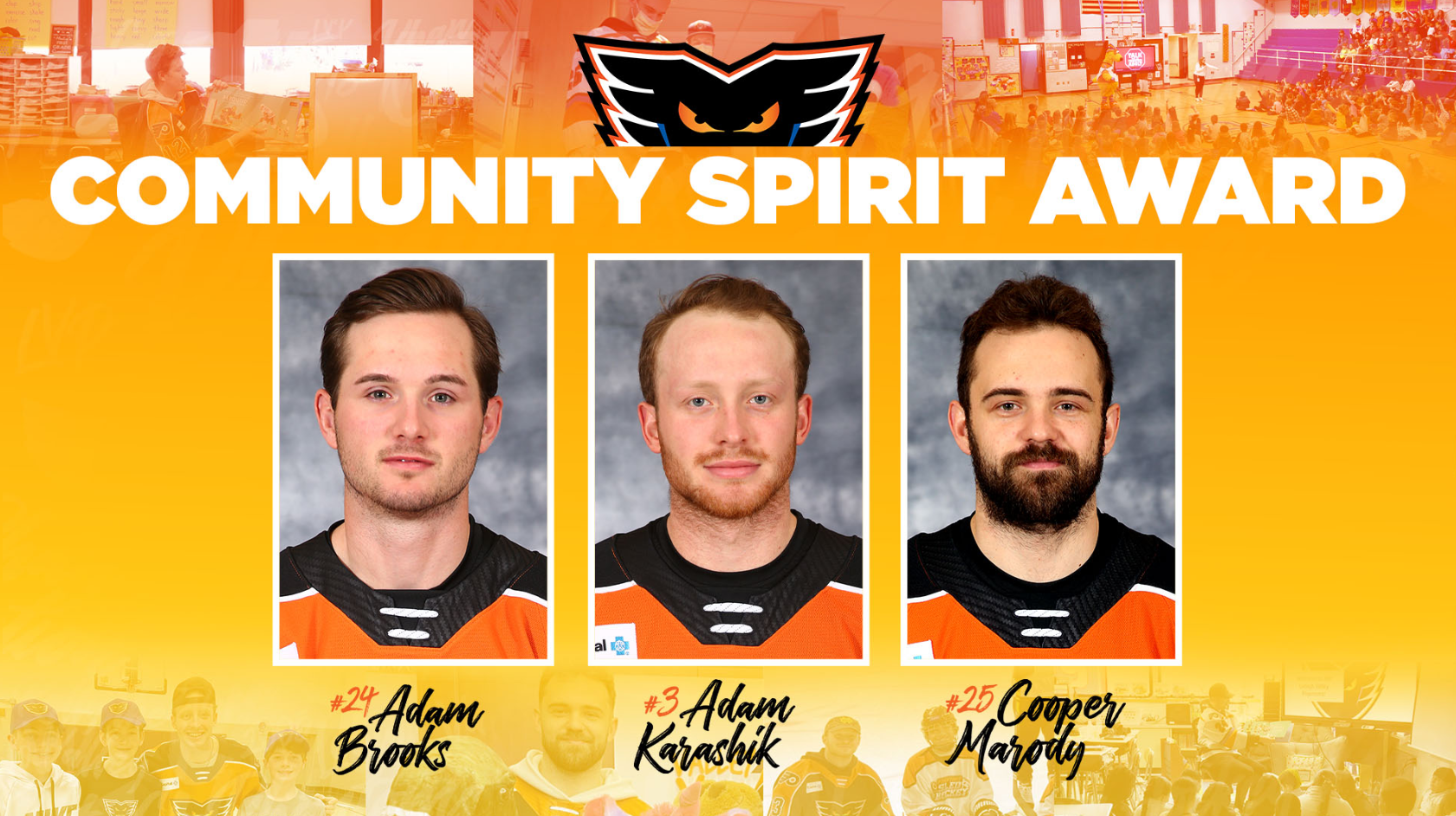 Despite the outcome, Friday's regular season home finale featured a celebration of the Phantoms return to the community. The organization proudly honored Adam Karashik, Adam Brooks and Cooper Marody during pregame as recipients of the team's Community Spirit Award.
Charlotte opened the scoring only 11:10 into the game on Ryan McAllister's first goal of the campaign. After a pass across from the left wing courtesy of Grigori Denisenko, McAllister beat Sam Ersson moving towards his left post.
Garrett Wilson punched back for Lehigh Valley at 16:09 to elate an energetic crowd of 7,084 in Allentown. Wilson tallied his 18th goal of the season from the low-slot following multiple bids from Artem Anisimov on the power play.
But prior to first intermission, Cameron Morrison pulled the Checkers back in front by a 2-1 margin at 18:10. Throughout the middle stanza, Ersson continued to shine for the Phantoms with a multitude of timely, acrobatic stops to keep his club within striking distance.
In the final frame, Lehigh Valley once again found the equalizer. Racing to a loose puck in the offensive zone, Bobby Brink released a nifty backhand shot to the top shelf past Mack Guzda at 4:23.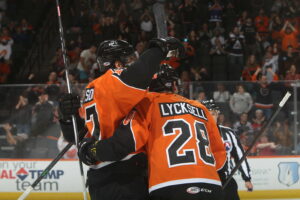 Less than four minutes later, a former Phantoms forward produced for Charlotte. Gerry Mayhew converted the eventual game-winning goal at 7:58 from Matt Kiersted. Lucas Carlsson and Riley Nash both added insurance at 13:52 and 18:45 respectively to complete the scoring. Carlsson notched his 20th tally of the season with a power-play goal that beat Ersson five-hole, and Nash finished a 3-for-5 night on the man-advantage for the Checkers with another power-play goal.
The Lehigh Valley Phantoms drop the curtain on the 2022-23 regular season Saturday, April 15 against the Hershey Bears at Giant Center.
Fans, we'll see you soon in the 2023 Calder Cup Playoffs!
SCORING SUMMARY
1st 11:10 – CLT R. McAllister (1) (G. Denisenko, P. Giles) 0-1
1st 16:09 – LV G. Wilson (18) (A. Anisimov, T. Foerster) (PP) 1-1
1st 18:10 – CLT C. Morrison (8) (G. Mayhew, G. Denisenko) (PP) 1-2
3rd 4:23 – LV B. Brink (11) (Unassisted) 2-2
3rd 7:58 – CLT G. Mayhew (24) (M. Kiersted) 2-3
3rd 13:52 – CLT L. Carlsson (20) (C. Conacher, M. Samoskevich) (PP) 2-4
3rd 18:45 – CLT R. Nash (24) (L. Carlsson, M. Kiersted) (PP) 2-5
Shots:
LV 22 – CLT 30
PP:
LV 1/3, CLT 3/5
Goalies:
LV – S. Ersson (L) (24-16-1) (25/30)
CLT – M. Guzda (W) (16-9-3) (20/22)
Records:
Lehigh Valley (37-28-6)
Charlotte (38-25-8)
Phantoms Tickets are available HERE
UPCOMING SCHEDULE
Saturday, April 15 (7:00) at Hershey Bears
UPCOMING AT PPL CENTER
CALDER CUP PLAYOFFS – TBD