Friday, April 14, 2023 at 7:05 p.m.
Lehigh Valley Phantoms (37-27-6) at Charlotte Checkers (37-25-8)
PPL Center, Allentown, PA
TONIGHT
It's the home finale of the 2022-23 regular season as the Lehigh Valley Phantoms host the Charlotte Checkers at PPL Center in a potential playoff preview.
Lehigh Valley (37-27-6) had its three-game win streak stopped on Wednesday but has won six of its last eight and is also 11-5 in its last 16.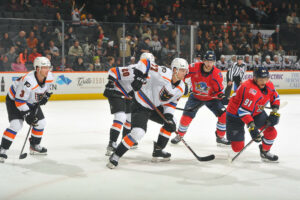 Charlotte (37-25-8) has also clinched a spot in the postseason and picked up a 4-3 win at Hershey on Tuesday to move into third place in the Atlantic Division. The Phantoms are close behind in fourth place.
A spot in the top 4 earns home-ice advantage for the first round of the playoffs.
The Phantoms lead the season series 4-3.
Tonight is the final home game of the regular season for Lehigh Valley ahead of tomorrow's last game of the season at Hershey.
LAST TIME
Wednesday, April 12, 2023
Islanders 6 – Phantoms 4
A wild third period with five goals in an eight-minute stretch led the Islanders to a 6-4 victory over the Lehigh Valley Phantoms on Wednesday night in Bridgeport, Conn. Ronnie Attard (12th) opened the scoring Elliot Desnoyers set a new Lehigh Valley record with his 23rd goal as a rookie. Cooper Marody and Adam Brooks added a goal and an assist. But the Islanders had nothing to lose after they were eliminated from the postseason on Saturday and veterans Chris Terry and Andy Andreoff led the way with a hat trick and two-goal performance respectively.
In the team's most recent home game, the Phantoms pulled off another dramatic Rally in the Valley with three straight goals in the third period to defeat Springfield 4-3 while also officially punching their ticket to the postseason. Olle Lycksell's game-winning goal with 3:24 left brought the PPL Center crowd to a deafening roar.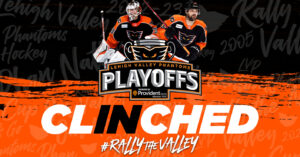 PLAYOFF OUTLOOK
Lehigh Valley dramatically punched its ticket to the Calder Cup Playoffs on Saturday night AND moved into the Top 4 in the Atlantic Division. If the Phantoms finish in the top four of the division then they will have home-ice advantage for the Best-of-Three opening round.
The Phantoms will open the postseason next week with a Best of Three series against either Charlotte, Hartford or Springfield. The first round matchups will include 3 vs. 6 and also 4 vs. 5. The winners of the opening round will advance to the Division Semifinals to take on either Hershey or Providence in a Best of 5 series.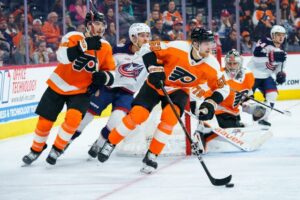 GINNING DEBUTS
Defenseman Adam Ginning became the fifth Lehigh Valley Phantoms prospect to make his NHL debut with the Flyers this season when he was recalled on Tuesday. The 23-year-old from Linkoping, Sweden has thrived in his first pro season in North America with a team-leading +25 rating in 65 games played while scoring 3-16-19. Other Phantoms to make their NHL debuts this season have included Olle Lycksell, Sam Ersson, Elliot Desnoyers and Tyson Foerster.
23 IN 23
The Lehigh Valley Phantoms have thrived in calendar year 2023 beginning with points in seven of eight games to start on their way to 23 total wins so far since January 1.
Ian Laperriere's crew has gone an impressive 23-14-3 in 2023 after entering the New Year with a pedestrian 14-13-3 mark.
RALLIES IN THE VALLEY
Lehigh Valley has won six of its last seven games and in four of those wins the team has trailed in the third period and rallied from behind. The Comeback Phantoms have nine victories this season in games in which they have trailed at the second intermission. That's the second-most third-period comebacks in the AHL behind only the Providence Bruins who have 10.
Three or fewer such comeback triumphs is common in the AHL with 14 out of 32 teams posting a low number of late rallies. The rival Hershey Bears only have one third-period comeback this season.
RECORDS WATCH
Several Phantoms are establishing new marks and etching their names in the Lehigh Valley record book.
Elliot Desnoyers has broken the record for the most goals by a rookie on Lehigh Valley with his 23rd goal of the season on Wednesday at Bridgeport. The all-time franchise record for goals by a rookie is 24 by Kyle Greentree of the Philadelphia Phantoms in 2007-08.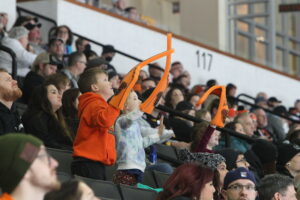 Most goals by Rookie – Lehigh Valley
1. Elliot Desnoyers – 23 (2022-23)
1. Danick Martel – 22 (2015-16)
3. Connor Bunnaman – 19 (2018-19)
Most wins in season by Goalie – Lehigh Valley
1. Alex Lyon – 27 (2016-17)
2. Sam Ersson – 24 (2022-23)
3. Anthony Stolarz – 21 (2015-16)
3. Ron Zepp – 21 (2014-15)
Single-Season Plus-Minus – Lehigh Valley
1. Adam Ginning +26 (22-23)
2. Nic Aube–Kubel +24 (17-18)
3. Max Lamarche +21 (17-18)
Penalty Minutes (Career) – Lehigh Valley
1. Garrett Wilson 324
2. Tyrell Goulbourne 313
3. Samuel Morin 289
ABOUT THE CHECKERS
Charlotte (37-25-8) clinched last weekend despite its recent struggles with only one win in eight games before bouncing back Tuesday night with a 4-3 win at Hershey. Lehigh Valley is 4-3-0 against its potential first-round playoff opponent. Former Phantoms Gerry Mayhew (23-19-42) and Connor Bunnaman (15-7-22) are among the scoring leaders but the Checkers seem to dearly miss former Phantom Alex Lyon (13-9-1, 2.43, .910) who has thrived in his longest NHL stint to surprisingly carry the Florida Panthers back into wild-card contention. NHL veteran Riley Nash (22-33-56) is tops on the team and captain Zac Dalpe (21-14-35) joined Nash in returning to Charlotte where both began their careers a decade ago.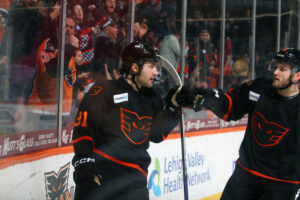 Phantoms Scoring Leaders
Tyson Foerster 20-26-46
Olle Lycksell 13-31-44
Elliot Desnoyers 23-20-43
Garrett Wilson 17-24-41
Cooper Marody 15-25-40
Artem Anisimov 19-16-35
Checkers Scoring Leaders
Riley Nash 25-33-58
Lucas Carlsson 19-33-52
Aleksi Heponiemi 12-31-43
Gerry Mayhew 23-19-42
Zac Dalpe 21-14-35
Phantoms Tickets are available HERE
SPECIAL TEAMS 
Lehigh Valley Power Play – 21.1%, 8th (vs. CLT, 9/28, 32.1%)
Lehigh Valley Penalty Kill – 74.0%, 32nd
Charlotte Power Play – 19.6%, 15th (vs. LV, 4/28, 14.3%)
Charlotte Penalty Kill – 82.8%, 7th
UP NEXT
Lehigh Valley's last game of the 2022-23 regular season is Saturday, April 15 at the Hershey Bears.
The Calder Cup Playoff schedule, including the Phantoms' first-round opponent, will be announced soon.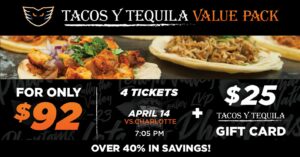 Phantoms Tickets are available HERE
UPCOMING SCHEDULE
Friday, April 14 (7:05) vs. CHARLOTTE CHECKERS
Saturday, April 15 (7:00) at Hershey Bears
UPCOMING PROMOTIONS
Friday, April 14 (7:05) vs. Charlotte Checkers – Regular Season Home Finale. Berks $1 Hot Dogs
Calder Cup Playoffs! – Dates TBD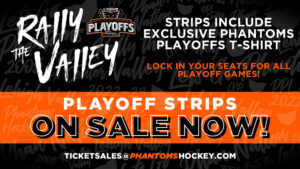 Broadcast coverage of all Phantoms games with Bob Rotruck is available on the Phantoms 365 app and on Real Oldies 1470-AM in Allentown. Also available on the Listen Live button at phantomshockey.com
Fans can also watch the games on AHLTV.com or can listen on their Smart Speakers at: "Play Phantoms Radio 24/7."
Service Electric Network again provides exclusive television coverage of all Phantoms home games with veteran announcer Steve Degler and Phantoms' alum Steven Swavely on the call from the booth. Kristi Fulkerson reports from ice level and also from the Chickie's and Pete's studio with Dan Fremuth for pregame, intermission and postgame show analysis.