Saturday, April 15, 2023 at 7:00 p.m.
Lehigh Valley Phantoms (37-28-6) at Hershey Bears (43-19-9)
GIANT Center, Hershey, PA
TONIGHT
This is it! The Lehigh Valley Phantoms put a bow on the 2022-23 campaign as they travel to Chocolatetown for the regular-season finale against the Hershey Bears
Lehigh Valley (37-28-6) has upcoming Calder Cup Playoff games to be determined and is looking to build momentum into the team's impending first-round matchup. The Phantoms had a strong stretch with a 6-1-0 record but have since sustained consecutive setbacks.
Hershey (43-19-9) has lost two in a row thus missing out on a chance to clinch the division and conference title but the Bears still lead Providence by one point at the top of the standings.
LAST TIME
Friday, April 14, 2023
Checkers 5 – Phantoms 2
Turnabout is fair play in this season's series. The Checkers rebounded from a 5-2 loss at PPL Center last week to post a 5-2 win against the Phantoms in the rematch last night. Bobby Brink (12th) tied the game at 2-2 with his backhand breakaway beauty but Gerry Mayhew responded a couple minutes later to put the Checkers back on top and Charlotte tacked on two more in the closing minutes. Garrett Wilson (18th) also tallied for the Phantoms.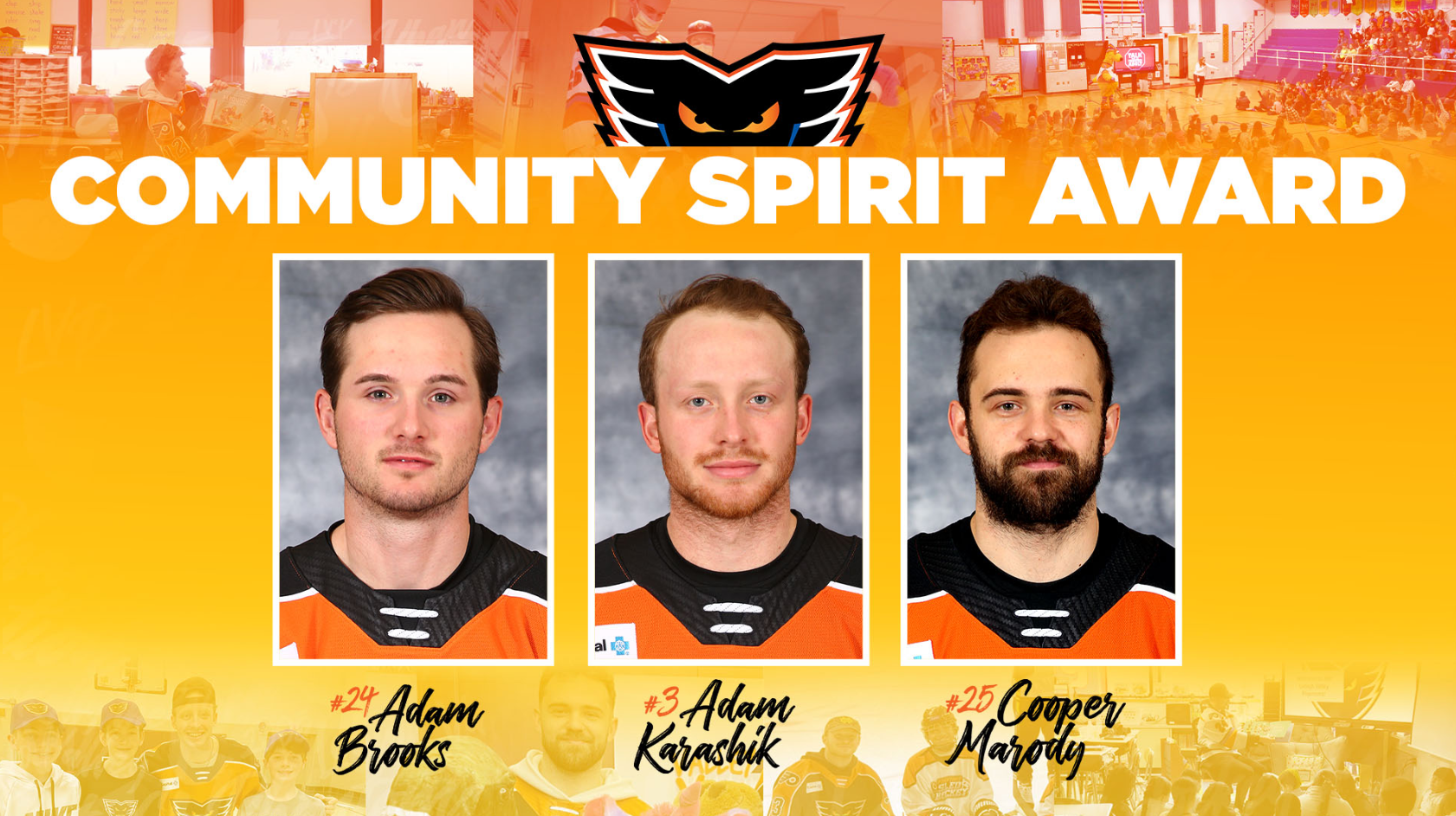 COMMUNITY SPIRIT AWARD
Friday's regular season home finale featured a celebration of the Phantoms' return to the community. The organization proudly honored Adam Brooks, Adam Karashik and Cooper Marody in a pregame ceremony as the recipients of the team's inaugural Community Spirit Award.
Several Phantoms players have interacted with fans throughout the season all across the region at area schools, hospitals, youth practices and community events. But the three winners of the inaugural Community Spirit Award went above and beyond in their continued and regular efforts to give back to the community. Thanks to "The Two Adams" and Cooper for being such wonderful ambassadors of the Phantoms all season long! Congratulations!!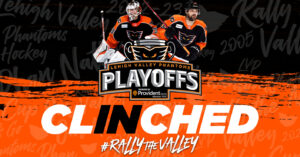 PLAYOFF OUTLOOK
Lehigh Valley dramatically punched its ticket to the Calder Cup Playoffs last week with an exciting come-from-behind win against Springfield.
The Phantoms will open the Playoffs taking on either Charlotte, Hartford or Springfield in a Best of 3 series with dates to be announced. soon. After the opening round will be the Division Semifinals against either Hershey or Providence.
23 IN 23
The Lehigh Valley Phantoms have thrived in calendar year 2023 beginning with points in seven of eight games to start on their way to 23 total wins so far since January 1.
Ian Laperriere's crew has gone an impressive 23-15-3 in 2023 after entering the New Year with a pedestrian 14-13-3 mark.
RALLIES IN THE VALLEY
The Comeback Phantoms have nine victories this season in games in which they have trailed at the second intermission. That's the second-most third-period comebacks in the AHL behind only the Providence Bruins who have 10. The Phantoms have had impressive Rallies in the Valley in four of their last six wins.
RECORDS WATCH
Several Phantoms are establishing new marks and etching their names in the Lehigh Valley record book.
Elliot Desnoyers has broken the record for the most goals by a rookie on Lehigh Valley with his 23rd goal of the season on Wednesday at Bridgeport. The all-time franchise record for goals by a rookie is 24 by Kyle Greentree of the Philadelphia Phantoms in 2007-08.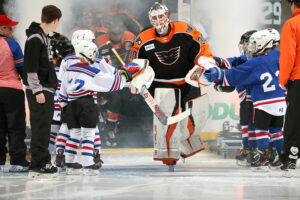 Most goals by Rookie – Lehigh Valley
1. Elliot Desnoyers – 23 (2022-23)
1. Danick Martel – 22 (2015-16)
3. Connor Bunnaman – 19 (2018-19)
Most wins in season by Goalie – Lehigh Valley
1. Alex Lyon – 27 (2016-17)
2. Sam Ersson – 24 (2022-23)
3. Anthony Stolarz – 21 (2015-16)
3. Ron Zepp – 21 (2014-15)
Single-Season Plus-Minus – Lehigh Valley
1. Adam Ginning +25 (22-23)
2. Nic Aube–Kubel +24 (17-18)
3. Max Lamarche +21 (17-18)
Penalty Minutes (Career) – Lehigh Valley
1. Garrett Wilson 338
2. Tyrell Goulbourne 313
3. Samuel Morin 289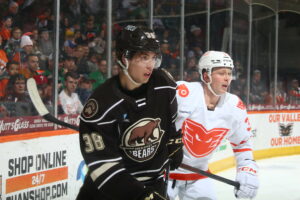 ABOUT THE BEARS
Hershey (43-19-9) is playing for the division and conference championship this weekend but will also need some help as the Providence Bruins are only one point back BUT also have two games remaining. The Chocolatetown Collective are led by veteran Mike Sgarbossa (21-37-58) and former Phantom Mike Vecchione (23-30-53). Ethen Frank (27-19-46) is tied for the AHL lead for goals by a rookie but has missed the past few weeks due to injury. Hunter Shepard (19-8-5, 2.12, .919) is second in the AHL in GAA but Zach Fucale (11-4-2, 2.54, .902) has received a majority of the starts against Lehigh Valley.
Todd Nelson's gang allows just 2.54 goals per game to set the standard in the Eastern Conference. Hershey also surrenders a paltry 26.2 shots against per game which is fewest in the AHL.
SEASON SERIES LEADERS
Lehigh Valley – Lycksell (2-6-8), Marody (0-8-8), Wilson (4-3-7), Cates (4-1-5), Anisimov (3-2-5), Bellerive (3-2-5), Ersson (3-7-0, 3.21, .888)
Hershey – Frank (6-8-14), Sgarbossa (6-8-14), McMichael (6-4-10), Vecchione (4-6-10), Morelli (4-5-9), Fucale (7-1-1, 2.40, .888)
PHANTASTIC
The Phantoms are….
27-10-2 when scoring a power-play goal
33-9-4 when scoring 3 or more goals
28-2-1 when allowing 2 goals or fewer
21-6-6 in one-goal games
17-4-6 when scoring the first goal
22-2-4 when leading after two periods
6-3 in overtime and 4-3 in shootouts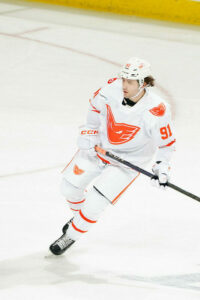 Phantoms Scoring Leaders
Tyson Foerster 20-27-47
Olle Lycksell 13-31-44
Elliot Desnoyers 23-20-43
Garrett Wilson 18-24-42
Cooper Marody 15-25-40
Artem Anisimov 19-17-36
Bears Scoring Leaders
Mike Sgarbossa 21-37-58
Mike Vecchione 23-30-53
Ethen Frank 27-19-46
Mason Morelli 12-28-40
Connor McMichael 16-23-39
Phantoms Tickets are available HERE
SPECIAL TEAMS 
Lehigh Valley Power Play – 21.3%, 8th (vs. HER – 7/34, 20.6%)
Lehigh Valley Penalty Kill – 73.4%, 32nd
Hershey Power Play – 18.7%, 17th (vs. LV – 13/47, 27.7%)
Hershey Penalty Kill – 81.7%, 13th
UP NEXT
The Calder Cup Playoff schedule, including the Phantoms' first-round opponent, will be announced soon.
Phantoms Tickets are available HERE
UPCOMING SCHEDULE
Saturday, April 15 (7:00) at Hershey Bears
Calder Cup Playoffs! – Dates and Opponent TBD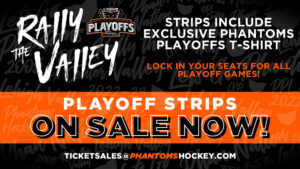 Broadcast coverage of all Phantoms games with Bob Rotruck is available on the Phantoms 365 app and on Real Oldies 1470-AM in Allentown. Also available on the Listen Live button at phantomshockey.com
Fans can also watch the games on AHLTV.com or can listen on their Smart Speakers at: "Play Phantoms Radio 24/7."
Service Electric Network again provides exclusive television coverage of all Phantoms home games with veteran announcer Steve Degler and Phantoms' alum Steven Swavely on the call from the booth. Kristi Fulkerson reports from ice level and also from the Chickie's and Pete's studio with Dan Fremuth for pregame, intermission and postgame show analysis.