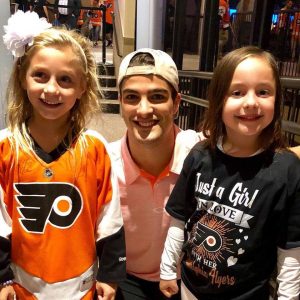 Phantoms Phans certainly received a stunner last weekend with the news that Danick Martel was claimed off waivers by the Tampa Bay Lightning. One of the team's most popular players, Martel departs as Lehigh Valley's all-time leader in goals (68) and games played (199) after scoring 20 or more goals in each of the last three seasons. He is also the reigning two-time Man of the Year with the Phantoms for his work in the community and his infectious smile and interactions with youth hockey groups in the area will be missed as much as his goals and ferociousness on the ice.
Any player on an NHL contract who is no longer on their Entry-Level deal is required to pass through waivers in order to receive assignment to the American Hockey League. So T.J. Brennan, Cole Bardreau, Greg Carey and Phil Varone were all placed on waivers as well but all made it through to the Phantoms without another NHL team placing a claim. If an older player isn't in the NHL club's immediate plans than any other team who would want to use him in the NHL has that opportunity to snag him.
Preseason waiver claims are relatively rare so it is likely this caught the Flyers by surprise. It is also the end-result of having so much talent up top that a team has to send down a player who will be at risk of getting claimed. Each year, there are around 150 or so players who pass through waivers in order to receive their assignment to the American Hockey League. Last year, only three of those players were claimed by another team. Remember that a player who is claimed has to stay on the team's NHL roster. So Tampa Bay is rolling the dice a little bit on a player like Martel who has very little experience at the highest level (just four games with the Flyers last November). But naturally, the Lightning liked what they were seeing when they were scouting the Phantoms games and they think he can contribute as an NHL player.
While we are sad to see Martel go, we also should feel happy that Martel will be receiving this kind of opportunity in the NHL which is certainly his ultimate goal. Personally, I'm thrilled for him and hope he makes the most of this huge chance.
Martel's dedication to the kids of the area and to the community in general was as impressive as I have ever seen. He would frequently make the 30-minute trek to Steel Ice Rink for various youth practices and he was also heavily involved in the Special Hockey team in the area, the Lehigh Valley Polar Bears.
On January 13, Martel took a frightening broken jaw injury on a nasty collision in a game against Hershey. Incredibly, Martel was back in game-action in only three weeks. I could hardly believe that he was able to recover so quickly. Well, to be fair, he wasn't fully recovered. His jaw was still healing and he wore a shield over the lower part of his face. But to be back out there at all so soon was quite a tribute to his dedication.
Earlier on that same day, before his injury, he stayed late after the team's morning skate to participate in some sled-hockey fun with some paraplegic hockey players who were in the area. Players have specific game-routines that they typically do not care to deviate from so making a mid-day appearance at a function such as that is quite rare. Players usually dedicate their off-days and down-time for their community involvement. But Danick felt strongly enough about the importance of this event that he spent valuable time on a game-day to join them on the ice.
Martel now joins the Bolts and will stay in the NHL as is required for any player claimed off waivers. If Tampa Bay eventually decides to send him to their AHL club in Syracuse then Martel would have to pass through waivers again and Philadelphia could potentially claim him back. That happened to Nathan Walker last year. The native Australian was waived by Washington on December 1 for purposes of sending him to Hershey. But instead he was plucked off waivers by Edmonton. But after playing in only two games in his three weeks with the Oilers, they looked into sending him down as well at which point Walker was claimed back by Washington! Eventually he did get sent to Hershey as was the Caps' original intention.
Danick posted on his social media a nice note for the fans in Lehigh Valley:
I just want to take 2 secondes and say a big thank you to the @LVPhantoms and all the fans for the past 3 years !! You've been great to me and i'll never forget that !!! On a second note… https://t.co/IwvUlX7XFo

— danick martel (@martel2626) September 22, 2018
Good luck in the Sunshine State, Danick. We will be cheering for you!
---
Training Camp Day with the Phantoms' season ticket family was a blast. Always nice to begin the hockey season. Certainly wasn't a very long summer though.
Sunday, September 23, was the first full practice for the Lehigh Valley Phantoms and the season ticket fans are allowed and encouraged to attend. Following the practice was our Q&A on the mic with head coach Scott Gordon and assistant coach Kerry Huffman receiving their insights regarding the upcoming season. And then came the ever-popular autograph session.
Kudos to our practice backup goalie Dennis Begley! Our favorite Vice President of Partnerships and Premium Seating stepped in admirably as the team's practice goalie. The "Fifty-something" netminder even made a couple of dazzling glove saves in there. Begley's appearance at practice came partly as a result of the goalie situation with the Flyers. With two injuries (Alex Lyon out four weeks and Michal Neuvirth out for an undetermined length of time), Philadelphia has been keeping their three remaining goalies with them for now. That includes Brian Elliott, Anthony Stolarz and Carter Hart.
Branden Komm, who played with Reading last year, is the only goalie on an AHL contract. But for a hockey practice it is helpful to have a body in both nets as the various drills typically go back and forth and up and down the ice. So Begley stepped up to the challenge as he has done in similar situations in the past when the Phantoms goaltending has been temporarily running short.
Also kudos to assistant equipment manager Sean "Waldo" Mueller who took one of the nets during what was essentially a partial practice on Sunday (because not all the players had arrived). Certainly we are hoping the goalie situation clears up in the near future. But it's good to know that "Begs" and "Waldo" have us covered in practices when the need arises!
---
24 players on the Phantoms training camp roster at last check. But that will be changing too. Philadelphia still has 35 bodies in camp and will have some more cuts forthcoming. And some of the players in Phantoms camp will eventually be sent down to the Reading Royals of the ECHL. In fact, Reading head coach Kirk MacDonald is with the Phantoms coaching staff currently due to the high number of his players that are currently skating in Allentown. Similarly, Scott Gordon and Kerry Huffman were down in Voorhees, New Jersey for the past couple of weeks at the Flyers camp.
Four ECHL tryout players in camp include:
39 Steven Johnson – D – University of Minnesota
40 Shane Walsh – F – Last year was with Greenville (SC) in ECHL
42 Adam Larkin – D – Yale University – Cousin of Dylan Larkin of Detroit Red Wings
46 Adam Schmidt – F – Last year scored 17-27-44 with Reading Royals
And then there are plenty of other AHL contract players looking to make a strong impression on Coach Gordon in order to potentially win a roster spot or earn a call-up opportunity later in the season.
---
Three preseason games coming up this week. All games will be broadcast on 1470-WSAN and the Phantoms 365 app and Phantoms Radio 24/7 on TuneIn. The Phantoms only played two preseason games the past couple of years. Playing three straight games will allow more players to get in more action and show their talents and/or push themselves into game shape. While several of the current Phantoms received multiple preseason games with the Flyers, there are also some who had one or even zero. These games are important for them to have a true game feel before doing it for real on October 6 against Bridgeport.
Thursday 7:00 at Wilkes-Barre/Scranton
Friday 7:05 vs. Charlotte
Saturday 7:05 vs. Charlotte
---
Wonderful start to the season last Friday in our annual Flyers in the Valley. Terrific crowd and a really entertaining game albeit one that did not end ideally on the Islanders overtime winner. That was the first-ever loss for the Flyers in Allentown. Philly's record at Flyers in the Valley is now 3-0-1.
There were only two other AHL buildings to host NHL preseason games this year (Bridgeport and Iowa). I'm positive that many area fans kind of take this game for granted a little bit and also think that these types of preseason games are more common than they really are. Allentown is the only AHL city to have hosted an NHL preseason game in each of the past four years. And Bridgeport is the only other city to have hosted one last year and also this year. A couple dozen other AHL teams would almost certainly love to have their own NHL preseason game. We are privileged in Lehigh Valley to have these year after year. It is an awesome way to begin the season.
It was also enjoyable watching some of the ongoing competition within this Flyers preseason where it seems there is a fair amount still to be decided. From Carsen Twarynski to Jordan Weal to Philippe Myers…and many more. We saw the continuation of some of the more interesting competitions in Flyers camp.
---
Many more thoughts in my head as we embark on the fifth season of the Lehigh Valley Phantoms. But I'll save some of those for another time. See you at the arena! – Bob Rotruck