Aaron Palushaj and Tyrell Goulbourne Score for Lehigh Valley in 4-2 Decision
November 6, 2015 –
Lehigh Valley, PA – The Hershey Bears returned the favor against Lehigh Valley by coming away victorious on their rivals' home ice after the Phantoms had vicitimized the Bears last week at Giant Center. In the Friday night rematch at PPL Center, the Bears were barely able to hang on with a 4-2 win sealed by a late empty-netter in the closing minute.
Aaron Palushaj (4th) and Tyrell Goulbourne (1st) scored goals for Lehigh Valley. Hershey received strikes from Stan Galiev (1st), Nathan Walker (2nd), Carter Camper (2nd) and the empty netter by Chris Bourque (4th). Dan Ellis recorded the win for the Bears with 20 saves while Jason LaBarbera stopped 24 out of 27 shots in the Phantoms net.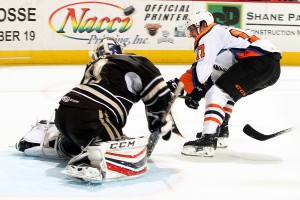 Lehigh Valley's penalty kill came through in some clutch moments to keep the Phantoms battling in this game as they held Hershey's potent power-play attack to 0-for-6. But the Phantoms went 0-for-4 and also had a 5-on-3 of their own in the second period in which they couldn't convert. They also were unable to strike midway through the third with a chance to equalize on the man advantage.
Palushaj opened the scoring for the Phantoms on a fluky goal that he admittedly didn't even see go in. Tim Brent had one of his many clean face-off wins and Shayne Gostisbehere's immediate drive from the right point was a double deflection off a Hershey leg and then the stick of Palushaj. With his back to the goal from the slot, Palushaj's offering fluttered up into the air and then rainbowed over the right shoulder of Ellis and perfectly into the net.
"I don't think it was our "A" game tonight," Palushaj said. "I think the effort was there at times but I don't think we played to our potential. At home it's a little frustrating with a good week of practice but we just have to regroup and prepare for tomorrow night's game."
Hershey would even matters just over three minutes later on a hopping puck in the high slot that Carter Camper was able to steer towards Galiev for a perfect tee-up. The Russian in his first game with the Bears on a conditioning stint from the Washington Capitals powered a big blast through LaBarbera blocker-side for a 1-1 tie.
The score stayed even throughout almost all of the second period. Kevin Goumas almost put the ?Phantoms in front on a short-handed breakaway but was denied by the glove of Ellis. Later in the period the Bears appeared to catch Lehigh Valley in a line-change. Palushaj had been bumped down and had his stick knocked away from him. All the while, Connor Carrick from his end found a racing Nathan Walker in perfect stride and barely onsides for a long stretch-pass. Walker's breakway beauty in almost the final minute of the second period put the Bears ahead at 2-1 going into the second break.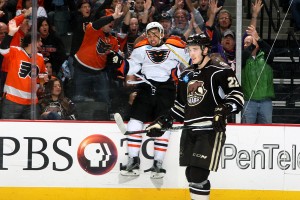 Both teams had generous looks in their 5-on-3 opportunities in the middle frame but were unable to break the 1-1 deadlock at that time.
The Bears extended their lead just 63 seconds into the third period after Jason LaBarbera's clear around the boards was picked off and thrown right back to the net for a Camper goal that would prove to be the game-winner.
Lehigh Valley now down by two would not go away quietly. Mark Alt weaved his way from his blue-line position and into the slot setting up Kevin Sundher's drive which was turned away. But Alt was the first one there behind the goal and perfectly left his drop for Goulbourne at 4:28 into the third for the rookie's third lamplighter of the young season. Goulbourne was leaping in excitement along the glass while celebrating with his teammates as the Phantoms had closed the gap to 3-2.
"I saw that defenseman wasn't really paying attention to me," Goulbourne said. "I got a good stick on it. Alt made a good play, I know he's a right-handed shot and would be turning towards the wall, and he managed to find me there. It wasn't much of a hard shot but I got it on net and it went in."
The tying goal would elude the Phantoms for the remainder of the highly contested battle and Chris Bourque's empty-net strike with 52 seconds remaining would seal the Bears' victory.
Hershey evened the season series at 1-1. The Phantoms and Bears will meet 10 more times this season in the intense rivalry series. Their next encounter will take place on Black Friday, November 27 at PPL Center.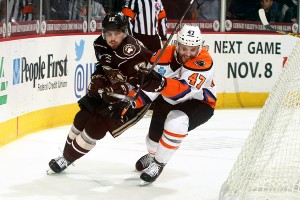 The Phantoms continue their three-in-three weekend stretch on Saturday evening with a 7:00 showdown at the Syracuse Crunch. Lehigh Valley returns to PPL Center on Sunday at 5:05 to tangle with the Binghamton Senators whose captain is former popular Phantoms tough-guy Zack Stortini. Sunday's game also features a "Go Birds" tailgate with the Eagles Cheerleaders on hand to drive the crowd. Tickets for Sunday's home game are available at PPLCenter.com or by calling 610-347-TIXX (8499).
Hershey Bears 4 at Lehigh Valley Phantoms 2
Friday, November 6, 2015 – PPL Center
Hershey 1 1 2 – 4
Lehigh Valley 1 0 1 – 2
1st Period-1, Lehigh Valley, Palushaj 4 (Gostisbehere, Brent), 7:58. 2, Hershey, Galiev 1 (Camper, Collins), 11:17. Penalties-Straka Lv (hooking), 7:14; Bourque Her (tripping), 7:52; Mitchell Her (roughing), 12:42; Martel Lv (interference), 12:42; MacDonald Lv (interference, unsportsmanlike conduct), 18:07.
2nd Period-3, Hershey, Walker 2 (Carrick), 18:41. Penalties-Lashoff Lv (hooking), 1:12; Collins Her (tripping), 7:37; Carrick Her (tripping), 8:41; Martel Lv (tripping), 15:14.
3rd Period-4, Hershey, Camper 2 (Stanton, Collins), 1:03. 5, Lehigh Valley, Goulbourne 3 (Alt, Sundher), 4:28. 6, Hershey, Bourque 4 19:08 (EN). Penalties-Stanton Her (delay of game), 9:41; Lashoff Lv (holding, misconduct – unsportsmanlike conduct), 11:23.
Shots on Goal-Hershey 12-9-7-28. Lehigh Valley 8-11-3-22.
Power Play Opportunities-Hershey 0 / 6; Lehigh Valley 0 / 4.
Goalies-Hershey, Ellis 3-2-1 (22 shots-20 saves). Lehigh Valley, LaBarbera 1-4-0 (27 shots-24 saves).
A-8,265
Referees-Pierre Lambert (39), Tim Mayer (19).
Linesmen-Tim Lyons (33), Jud Ritter (34).
Upcoming Events:
Sunday, November 8 (5:05) – Binghamton Senators at Lehigh Valley Phantoms
(Go Birds Tailgate featuring Eagles Cheerleaders.)
Friday, November 13 (7:05) – Rochester Americans at Lehigh Valley Phantoms (T-Shirt Night!)
Saturday, November 14 (7:05) – Albany Devils at Lehigh Valley Phantoms (Boy Scout Night!)
RISE UP! Reserve your season tickets and groups now for the 2015-2016 season of Lehigh Valley Phantoms hockey. For more information on how to reserve your seat at PPL Center to the hottest ticket in town call the Phantoms front office today at 610-224-GOAL (4625)!
In the midst of their 20th season of operation, the Phantoms are coming off their Inaugural Season as the Lehigh Valley Phantoms playing at the brand-new PPL Center. Established in 1996, the Phantoms spent their first 13 seasons at the Spectrum in Philadelphia before re-locating to Glens Falls, New York in 2009 where the team spent the next five seasons as the Adirondack Phantoms. A new era of Phantoms hockey began in the fall of 2014 when the Lehigh Valley Phantoms began play at the state-of-the-art PPL Center. Through 19 incredibly successful campaigns, the Phantoms have captured two Calder Cup Championships (1998, 2005), two Conference Championships (1998, 2005), two Regular Season Titles (1996-97, 1997-98) and four Division Championships (1996-97, 1997-98, 1998-99, 2003-04).