Jason Akeson Scores His Second of the Week in 4-3 Decision
April 3, 2015
Binghamton, NY – The Binghamton Senators struck last in a topsy-turvy and wild third period thus allowing them to squeak past the Lehigh Valley Phantoms 4-3 on Friday night. Ryan Dzingel's breakaway goal with 1:53 remaining broke a 3-3 tie.
The Phantoms battled back from an early 2-0 deficit to forge third-period ties of 2-2 and 3-3 with Blair Jones (8th), Mark Alt (2nd) and Jason Akeson (22nd) all lighting the lamp. Despite allowing four goals, Rob Zepp was tremendous between the pipes making several dazzling point-blank and breakaway stops among his 31 total saves.
Lehigh Valley stands at 1-1-0 on their three-game road-trip this week with one more trek awaiting them on Saturday night at the Wilkes-Barre/Scranton Penguins.
The game at the Maines Veterans Memorial Arena was not atypical of the type of excitement the Phantoms and Senators have produced in their previous nine get-togethers. More fights and feisty attitudes would rule the day as would a fast-paced, quick transition style of game with both teams wheeling into the offensive zone on attack after attack.
Binghamton raced out to a 2-0 advantage in the first period. Defenseman Troy Rutkowski scored his first of the year on a power-play blast resulting from a cross-ice feed by Shane Prince. A little over two minutes later, Derek Grant's 19th of the year would come on the deflection of a point-shot by Alex Grant.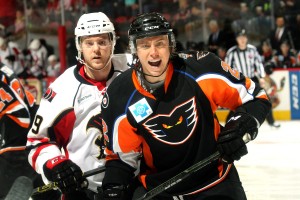 Rob Zepp denied Shane Prince on a breakaway in the first period with a dazzling glove-save to his left. Prince got off a quality try with a backhand lift moving to his right but Zepp still got there on one of his several show-stopping shut-downs of the Binghamton skaters. Derek Mathers and Guillaume Lepine agreed to drop the gloves yet again. Those two had engaged in such pugilistic extracurriculars in previous encounters.
With seven minutes remaining in the second period, Jason Akeson from a little behind the cage and to the side would connect with Blair Jones speeding straight from the bench to the right slot. Jones slammed home his one-timer for his eighth goal of the season. Jones brought energy throughout the game in one of his best performances since returning to action a couple weeks ago following a two-month stint on the sidelines with a lower-body injury.
Late in the first period, Akeson was blasted and upended on the side of the cage by Binghamton's Danny Hobbs who was immediately jumped by Alex Comrie in the second fight of the game. Hobbs was assessed a charging minor but the Phantopms were unable to cash-in on their ensuing power play.
Lehigh Valley rushed into the zone right at the very start of the period and Jason Akeson found defenseman Mark Alt smartly making his way up to the right circle. Alt carried the puck an extra straide to the right dot and promptly snapped home his second goal of the season with a sharp wrister to the high, far post. It was a fair amount of redemption for Mark Alt to score the tying goal in this building where he had twice sustained significant shoulder and hand injuries in different games that amounted to a combined 10 weeks on the sideline. This game was Alt's first at Binghamton since suffering a broken hand on a blocked shot here on December 31.
With the score now tied at 2-2, Binghamton didn't waste time for their next response. Exactly three minutes after Alt's equalizer, Shane Prince connected on a power-play blast from the right circle on a give across by Aaron Johnson to push Binghamton back in front by a goal once again.
After another Derek Mathers tilt with Lepine resulted in automatic game misconducts for both, Jason Akeson would join the fourth liners for a shift with positive results. Andrew Johnston won a puck behind the Binghamton goal and his drop to Kevin Goumas would then be glanced back in the left slot to Jason Akeson who did a nifty little carry around a defenseman to set up his top-shelf wrister at 9:07 of the third period. Akeson's 22nd of the year had successfully pushed the Phantoms back to even yet again at 3-3.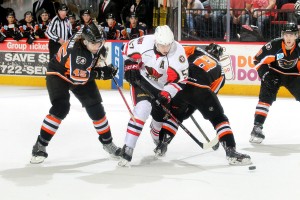 Rob Zepp made another showstopping denial with around four minutes to go in the third period when he stretched to his right to kick away a point-blank chip by an onrushing Alex Guptill during a Binghamton 2-on-1. Mere moments later, Guptill was in with speed again, this time on a breakaway, but a hustling Steven Delisle came across to make a grand poke-check to deny him another shot.
But rookie Ryan Dzingel wouldn't be denied on his breakaway try. His 16th of the year came on the backhand with 1:53 remaining to push the B-Sens back in front again in the dramatic finish.
The Phantoms had the puck on the doorstep in the closing seconds but Binghamton netminder Chris Driedger and his defenders would somehow deny Blair Jones and Zack Stortini down low at the end. Driedger improved to 4-0 on the season in his first ever appearance against the Phantoms.
Akeson's goal was his second of the week and moves him to within three of Nick Cousins who leads the team with 25. With a three-point effort on the game (one goal and two assists), Jason Akeson now has 50 of the year placing him within five of Cousins for the team lead. If Akeson wins the team's points crown again it will be his fourth consecutive season to pace the Phantoms.
Akeson's 80 career assists are one away from fifth all-time currently held by Jon Matsumoto and Paul Healey who had 81 apiece. His 220 career points are fifth-most all-time and are just two shy of Kirby Law for the fourth-place spot in the Phantoms' Record Book.
Binghamton out shot the Phantoms 35-31 including 13-11 in the wild, final period. The Senators were 2-for-3 on the power play while the Phantoms finished 0-for-4.
Lehigh Valley concludes their three-game road-trip on Saturday at 7:05 at the Wilkes- Barre/Scranton Penguins. Broadcast coverage on 1470-AM and Fox1470.com or the iHeartRadio app begins at 6:20 PM with the Nazareth Pallet Countdown to Faceoff.
The Phantoms return to PPL Center to open a four-game homestand on Wednesday, April 8th when the Penguins return to downtown Allentown. Wednesday's game is another $2 Beer Night with $2 Coors Light drafts available from the time doors open until the start of the 2nd period. The Phantoms also have upcoming home engagements on Friday and Saturday, April 10th and 11th with a weekend series against the Norfolk Admirals including a Free Shirt Friday and Fan Appreciation Night on Saturday. Tickets for upcoming home games are available now at pplcenter.com, by calling 610-347-TIXX (8499) or in-person at the Mealey's Furniture Box Office at PPL Center (701 Hamilton).
Check it out! Reserve your season tickets now for the 2015-2016 season of Lehigh Valley Phantoms hockey. For more information on how to reserve your seat at PPL Center to the hottest ticket in town call the Phantoms front office today at 610-224-GOAL (4625)!
Lehigh Valley Phantoms 3 at Binghamton Senators 4 – Status: Final
Friday, April 3, 2015 – Floyd L. Maines Veterans Memorial Arena
Lehigh Valley 0 1 2 – 3
Binghamton 2 0 2 – 4
1st Period-1, Binghamton, Rutkowski 1 (Prince, Wideman), 12:28 (PP). 2, Binghamton, D. Grant 19 (A. Grant, Robinson), 14:43. Penalties-Mathers Lv (fighting), 3:22; Lepine Bng (fighting), 3:22; Pettersson Lv (interference), 3:29; Hobbs Bng (hooking), 9:09; Leier Lv (slashing), 10:45.
2nd Period-3, Lehigh Valley, Jones 8 (Akeson, Leier), 13:00. Penalties-A. Grant Bng (cross-checking), 13:24; Comrie Lv (fighting), 15:49; Hobbs Bng (charging, fighting), 15:49.
3rd Period-4, Lehigh Valley, Alt 2 (Akeson, Hagg), 0:11. 5, Binghamton, Prince 25 (A. Grant, Johnson), 3:11 (PP). 6, Lehigh Valley, Akeson 22 (Johnston, Goumas), 9:07. 7, Binghamton, Dzingel 16 (Johnson), 18:06. Penalties-Delisle Lv (high-sticking), 1:37; Rutkowski Bng (slashing), 3:35; Mathers Lv (fighting, game misconduct – third major/second fight), 6:20; Lepine Bng (fighting, game misconduct – third major/second fight), 6:20; Kramer Bng (misconduct – unsportsmanlike conduct), 20:00.
Shots on Goal-Lehigh Valley 10-10-11-31. Binghamton 10-12-13-35.
Power Play Opportunities-Lehigh Valley 0 / 4; Binghamton 2 / 3.
Goalies-Lehigh Valley, Zepp 19-16-1 (35 shots-31 saves). Binghamton, Driedger 4-0-0 (31 shots-28 saves).
A-3,212
Referees-Tom Chmielewski (43).
Linesmen-Brian Oliver (74), John Everett (82).
Upcoming Home Games:
Wednesday, April 8, 2015 Wilkes-Barre/Scranton Penguins vs. Lehigh Valley Phantoms, 7:05 PM
($2 Beer Night! $2 Coors Light drafts available from the time doors open until the start of the 2nd period.)
Friday, April 10, 2015 Norfolk Admirals at Lehigh Valley Phantoms
(Free Shirt Friday!!)
Saturday, April 11, 2015 Norfolk Admirals at Lehigh Valley Phantoms
(Fan Appreciation Night with lots of great prizes!!)
In their 19th season of operation, the Phantoms are currently in the midst of their Inaugural Season as the Lehigh Valley Phantoms playing at the brand-new PPL Center. Established in 1996, the Phantoms spent their first 13 seasons at the Spectrum before re-locating to Glens Falls, New York in 2009 where the team spent the next five seasons as the Adirondack Phantoms. A new era of Phantoms hockey began in the fall of 2014 when the Lehigh Valley Phantoms began play at the state-of-the-art PPL Center. Through 18 incredibly successful campaigns, the Phantoms have captured two Calder Cup Championships (1998, 2005), two Conference Championships (1998, 2005), two Regular Season Titles (1996-97, 1997-98) and four Division Championships (1996-97, 1997-98, 1998-99, 2003-04).