Penguins Prevail 3-0 to Avenge Previous Lehigh Valley Triumphs
April 4, 2015
Wilkes-Barre, PA – The Lehigh Valley Phantoms have had their share of success at rival Wilkes-Barre/Scranton this season but in the Phantoms' final sojourn to Northeast Pennsylvania this season the Penguins were successful in extracting some modicum of revenge in the form of a 3-0 decision on Saturday night.
Due to suspensions and injuries, the Phantoms fielded a shorthanded contingent for this encounter with only 10 natural healthy forwards available along with seven defensemen. Rookie blueliner Jesper Pettersson rotated up to a right-wing position to help balance matters and he ended up carrying himself very well in a situation where he has minimal experience. Derek Mathers and Jay Rosehill were both sitting out suspensions while Kevin Goumas was the latest to join the injury list along with Austin Fyten, Derek Powe and Shayne Gostisbehere.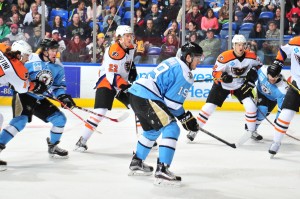 After offensive explosions in their previous Wilkes-Barre visitations on January 31 (6-2 win) and February 14 (5-4 win in a shootout), the Lehigh Valley offense was unable to get on track against goalie Matt Murray and the stingiest defense in the league. The Phantoms have had the Penguins' number this season to the tune of a 5-3-1 success rate entering the game. Scott Wilson's two goals in the first period and then Brian Dumoulin's lamplighter in the third to seal the deal would stall out Lehigh Valley's run of wins at Mohegan Sun Arena.
Matt Murray's 11th shutout in a single season is the second-most ever in the AHL and just two away from Jason LaBarbera's record of 13 shutouts in 2003-04 with Hartford. Two of Matt Murray's shutouts have come against Lehigh Valley. The league-leader in goals-against average lowered his impressive mark from 1.59 to 1.54. The reigning back-to-back AHL Goaltender of the Month award-winner for February and March proudly boasts a 12-2-1 record in his last 15 starts dating back to January 31. The only team to have victimized him in regulation in that stretch is Lehigh Valley.
Murray's counterpart, Rob Zepp, perhaps actually played the better game in goal. With his 35 saves he was tested far more than Murray and made a number of dizzying, dazzling denials in keeping the Phantoms in contention throughout the night.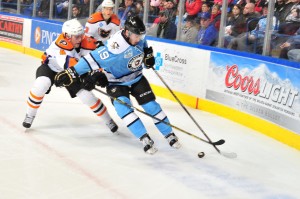 Rookie Scott Wilson opened the scoring just past the midway mark of the first period slamming home a one-timer in the slot following a give in the corner from 36-year-old captain Tom Kostopolous.
The two would team up again to double the lead seven minutes later when Kostopolous' chip from the right-wing perfectly met Wilson in stride in the slot who converted on his brief breakaway backhanded beauty.
The Phantoms forged their most significant pressure in the second period. Blair Jones was sprung free for a breakaway but was thwarted on a Murray stick save. Lehigh Valley was also buzzing on a power play including a Taylor Leier drive from the left circle that clanked off the helmet of Murray.
Penalty issues caught up to the Phantoms late in the second and early in the third when they were forced into fighting off three consecutive Penguins power plays including some 5-on-3's. Lehigh Valley's penalty killers stepped to the challenge and fought off four man-advantages in total. But the energy expended had the Phantoms in a bind in their subsequent efforts to battle back from the two-goal deficit.
Eventually, the Penguins would conclude the scoring midway through the third on a rocket of a slapshot from the high slot by defenseman Brian Dumoulin. Wilkes-Barre/Scranton was able to ward off the visitors from there and preserve the 3-0 decision.
Wilkes-Barre/Scranton out shot Lehigh Valley 38-21. The Penguins were 0-for-4 on the power play while the Phantoms finished at 0-for-2.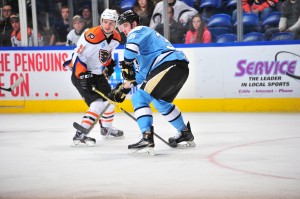 The two teams will enjoy a rematch on Wednesday night at PPL Center as the Lehigh Valley Phantoms embark on a four-game homestand. Wednesday's game is another $2 Beer Night with $2 Coors Light drafts available from the time doors open until the start of the 2nd period. The Phantoms also have upcoming home engagements on Friday and Saturday, April 10th and 11th with a weekend series against the Norfolk Admirals including a Free Shirt Friday and Fan Appreciation Night on Saturday. Tickets for upcoming home games are available now at pplcenter.com, by calling 610-347-TIXX (8499) or in-person at the Mealey's Furniture Box Office at PPL Center (701 Hamilton).
Check it out! Reserve your season tickets now for the 2015-2016 season of Lehigh Valley Phantoms hockey. For more information on how to reserve your seat at PPL Center to the hottest ticket in town call the Phantoms front office today at 610-224-GOAL (4625)!
Lehigh Valley Phantoms 0 at Wilkes-Barre/Scranton Penguins 3
Saturday, April 4, 2015 – Mohegan Sun Arena at Casey Plaza
Lehigh Valley 0 0 0 – 0
W-B/Scranton 2 0 1 – 3
1st Period-1, W-B/Scranton, Wilson 17 (Ebbett, Kostopoulos), 10:34. 2, W-B/Scranton, Wilson 18 (Kostopoulos, Harrington), 17:15. Penalties-Boak Wbs (slashing), 6:21.
2nd Period- No Scoring.Penalties-Delisle Lv (tripping), 11:46; Letourneau-Leblond Wbs (roughing), 15:55; Delisle Lv (tripping), 18:54.
3rd Period-3, W-B/Scranton, Dumoulin 4 (Kuhnhackl, Uher), 10:50. Penalties-Alt Lv (hooking), 0:23; Jones Lv (tripping), 2:05.
Shots on Goal-Lehigh Valley 8-8-5-21. W-B/Scranton 13-11-14-38.
Power Play Opportunities-Lehigh Valley 0 / 2; W-B/Scranton 0 / 4.
Goalies-Lehigh Valley, Zepp 19-17-1 (38 shots-35 saves). W-B/Scranton, Murray 23-9-1 (21 shots-21 saves).
A-7,804
Referees-Tom Chmielewski (43).
Linesmen-Bob Goodman (90), Jud Ritter (34).
Upcoming Home Games:
Wednesday, April 8, 2015 Wilkes-Barre/Scranton Penguins vs. Lehigh Valley Phantoms, 7:05 PM
($2 Beer Night! $2 Coors Light drafts available from the time doors open until the start of the 2nd period.)
Friday, April 10, 2015 Norfolk Admirals at Lehigh Valley Phantoms
(Free Shirt Friday!!)
Saturday, April 11, 2015 Norfolk Admirals at Lehigh Valley Phantoms
(Fan Appreciation Night with lots of great prizes!!)
In their 19th season of operation, the Phantoms are currently in the midst of their Inaugural Season as the Lehigh Valley Phantoms playing at the brand-new PPL Center. Established in 1996, the Phantoms spent their first 13 seasons at the Spectrum before re-locating to Glens Falls, New York in 2009 where the team spent the next five seasons as the Adirondack Phantoms. A new era of Phantoms hockey began in the fall of 2014 when the Lehigh Valley Phantoms began play at the state-of-the-art PPL Center. Through 18 incredibly successful campaigns, the Phantoms have captured two Calder Cup Championships (1998, 2005), two Conference Championships (1998, 2005), two Regular Season Titles (1996-97, 1997-98) and four Division Championships (1996-97, 1997-98, 1998-99, 2003-04).