Phantoms Take 3 of 4 Points on Weekend
October 7, 2017
Lehigh Valley, PA – Second-year goaltender Alex Lyon snared one close-range chance after another in a tremendous goaltending performance filled with acrobatic sprawls and lunges to help the Lehigh Valley Phantoms secure their third standings point of the season in a 2-1 shootout loss at the Hartford Wolf Pack on Sunday evening. The Phantoms finished the opening weekend of the season with a 1-0-1 record.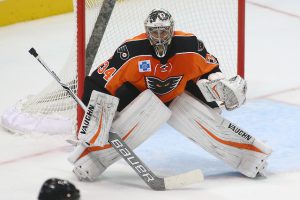 Danick Martel scored his league-leading fourth goal of the season less than 24 hours removed from his Opening Night hat trick at PPL Center. But the same team that made it look so easy in blasting seven goals against Hershey in the debut night were stymied by rookie goalie Chris Nell in Game #2 and were only able to acquire the one goal. However, that was still good enough for a valuable road standings point. And the Phantoms narrowly missed pulling off the away victory. But rookie goalie Chris Nell of Hartford stood on his head a few times as well for initial bragging rights against former college teammate Mark Friedman of the Phantoms in their mini-Bowling Green reunion.
Adam Tambellini lit the lamp for the New York Rangers' affiliation in the opening period with his 5-on-3 one-timer on the backdoor. He also was successful for the lone shootout conversion in the third round while it appeared the Phantoms hit the post in rounds 2 and 3 on chances by Oskar Lindblom and Phil Varone.
Tambellini's sharp-angle blast on the backdoor after a cross-ice give by Wolf Pack captain Joe Whitney came midway through the first period shortly after the Phantoms had been tagged for consecutive slashing infractions.
Martel scored with just two minutes remaining in the first period to equalize following a clean face-off win in the left circle by Mike Vecchione. Martel took one stride forward into the slot and then sniped over the right shoulder of Nell to the upper-left corner. The third-year pro, Martel, is coming off back-to-back seasons of 20 or more goals with the Phantoms. Martel is now tied with Charlotte's Warren Foegele for the early AHL lamplighter leadership with four.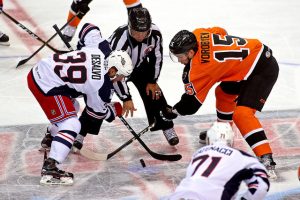 The pace of the game ran somewhat contrary to the low-scoring final total. Both teams traded glorious chances for much of the night as the intensity and speed seemed to grow in the exciting, fast-paced night. Lyon turned aside five or six odd-man rushes of the Wolf Pack. Included among those were a couple flashy glove saves on Whitney and Kosmachuk among others. His breakaway stop of Kosmachuk in overtime was one to behold as well putting the pads together on the five-hole attempt.
Kosmachuk had earlier been robbed with 2:45 left in the third when his odd-man rush shot from the slot aiming for the right post was somehow speared by the snappy trapper of Lyon who had rotated to his right and then had to double-back to his left for one of his more dazzling denials of the evening.
The Phantoms were not without their glorious chances as well. T.J. Brennan's shot-pass on the power play was tipped off the right post by Oskar Lindblom who almost scored a potential winner in the third. With 4:45 left in regulation, newcomer Mikhail Vorobyev was denied point-blank by Nell on yet another close-range opportunity for a deciding tally. And those were just a couple of many.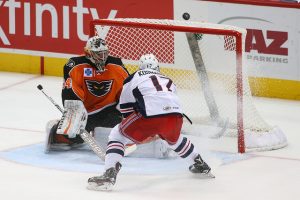 Lehigh Valley's record moves to 1-0-1 while the Hartford Wolf Pack improved to 1-1-0.
Hartford out shot the Phantoms 37-29. Alex Lyon made 35 saves in the sensational performance. The Pack were 1-for-3 on the power play while Lehigh Valley finished at 0-for-3. This was the first of six scheduled encounters between the Atlantic Division rivals. The two squads will next meet on October 28 at PPL Center.
The Phantoms are back in action on Friday when Lehigh Valley travels to Wilkes-Barre for a showdown with the rival Penguins.
The Phantoms then return to PPL Center on Saturday, October 14 when they welcome the Wilkes-Barre/Scranton Penguins to downtown Allentown. Saturday's game features a Fidget Spinner Giveaway FREE to the first 2,000 kids 14 and under in attendance. Only a limited number of tickets remain for Saturday's game and can be purchased online by clicking HERE.
Lehigh Valley Phantoms 1 at Hartford Wolf Pack 2 (SO) – Status: Final SO
Sunday, October 8, 2017 – XL Center
Lehigh Valley 1 0 0 0 – 1
Hartford 1 0 0 0 – 2
1st Period-1, Hartford, Tambellini 2 (Whitney, Pionk), 9:40 (PP). 2, Lehigh Valley, Martel 4 (Vecchione), 17:53. Penalties-Myers Lv (slashing), 7:52; Brennan Lv (slashing), 9:01; Fogarty Hfd (slashing), 11:45.
2nd Period- No Scoring.Penalties-Crawley Hfd (boarding), 12:51.
3rd Period- No Scoring.Penalties-Schneider Hfd (slashing), 11:07; Willcox Lv (holding), 18:53.
OT Period- No Scoring.Penalties-No Penalties
Shootout – Lehigh Valley 0 (Knight NG, Lindblom NG, Varone NG), Hartford 1 (Puempel NG, Whitney NG, Tambellini G).
Shots on Goal-Lehigh Valley 13-10-6-0-0-29. Hartford 10-13-10-3-1-37.
Power Play Opportunities-Lehigh Valley 0 / 3; Hartford 1 / 3.
Goalies-Lehigh Valley, Lyon 1-0-0-1 (36 shots-35 saves). Hartford, Nell 1-0-0-0 (29 shots-28 saves).
A-2,152
Referees-Terry Koharski (10), Jesse Gour (25).
Linesmen-James Tobias (61), Mike Baker (11).
Reserve your season tickets and group outings for the 2017-2018 season of Phantoms hockey. For more information on how to reserve your seat at PPL Center to the hottest ticket in town, call the Phantoms front office today at 610-224-GOAL [4625]!