Lehigh Valley Drops Hershey 7-2 at Sold-Out PPL Center
October 7, 2017
Lehigh Valley, PA – What a night at PPL Center!
Danick Martel tallied a hat trick, T.J. Brennan and Reece Willcox each chipped in three points, and PPL Center welcomed its largest Opening Night crowd ever as 8,648 fans poured into downtown Allentown as the Lehigh Valley Phantoms kicked off the 2017-2018 regular season with a convincing 7-2 triumph over the rival Hershey Bears.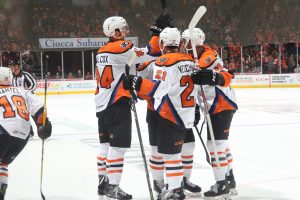 Nic Aube-Kubel, Phil Varone and Greg Carey also found the back of the net for Lehigh Valley in front of goaltender Alex Lyon who earned his first win of the new season thanks to a solid 29-save performance.
The rousing Opening Night win came in front of a raucous, standing room-only sellout crowd of 8,648 orange-clad fans, which marked the largest crowd to witness a Phantoms season-opening game at PPL Center since the state-of-the-art facility opened in the Fall of 2014. Saturday's contest also marked the 63rd regular season standing room-only sellout in PPL Center history.
Martel's hat trick was the third of his professional career and marked a continuation of offensive success for the third-year winger who is coming off back-to-back 20-goal campaigns in each of his first two seasons with the Phantoms. He is now tied for the Phantoms franchise record for most career hat tricks alongside Mike Maneluk. Meanwhile, Lehigh Valley's scoring leader from a year ago, Brennan picked up right where he left off as he tallied three points (all assists) only months after pacing all Phantoms in scoring with 60 points (21 goals, 39 assists) last season.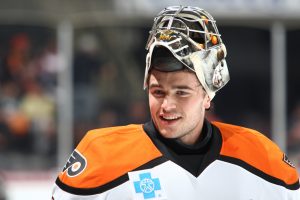 All told, nine different Phantoms recorded at least a single point Saturday evening.
Saturday's game marked the professional debuts for a pair of Phantoms in defenseman Philippe Myers and forward Mikhail Vorobyev. A 20-year-old blueliner from Moncton, New Brunswick, Myers was signed by the Philadelphia Flyers as an undrafted free agent in September 2015 and spent the past four seasons with the Rouyn-Noranda Huskies of the Quebec Major Junior Hockey League (QMJHL) where he compiled 29 goals, 63 assists and 92 total points in 203 games. Meanwhile, a 20-year-old center from Ufa, Russia, Vorobyev was a fourth-round selection (#104 overall) by Philadelphia in the 2015 NHL Entry Draft who spent the last two years in the Kontinental Hockey League (KHL).
The Phantoms opened the scoring just over two minutes into the contest when Mike Vecchione slipped a beautiful pass from behind the Hershey to Martel atop the goal crease who promptly slammed home his first goal of the season. Aube-Kubel collected the secondary assist on the even-strength strike netted 2:19 into the first period.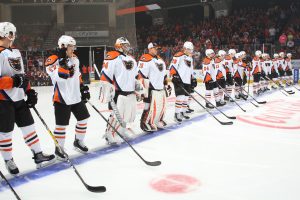 Hershey leveled the contest just prior to the midway point of the game when Colby Williams sent a cross-ice pass to the left wing that connected with Chandler Stephenson who deftly punched in his first goal of the year. The five-on-five conversion came exactly 9:54 into the middle frame.
Lehigh Valley bounced right back though and regained the lead just over a minute later when Willcox's offering from the right point deflected off Martel in front of the goal crease before settling into the Bears net. Brennan grabbed the secondary assist on the five-on-five conversion netted 11:14 into the second period.
Hershey remained resilient though and tied the game yet again 17:34 into the middle frame when John Albert converted his first goal of the year. But the Phantoms didn't back down and grabbed the lead back before the second intermission when Brennan's right point wrist shot kicked off Aube-Kubel's skate before sliding across the goal line. The even-strength strike marked Aube-Kubel's first goal of the new year and came 18:51 into the middle stanza.
The Phantoms then put the game away for good with four unanswered goals in the third period. First, Varone converted in his first game with Lehigh Valley when his right wing shot found the back of the net just 33 seconds into the final frame. Then, the Phantoms poured in three goals in just 55 seconds in game's waning moments to seal the convincing Opening Night triumph. Carey netted his first goal of the season 17:36 into the third period before Willcox buried an empty-net tally 18:04 into the final frame only to see Martel cap his hat 18:31 into the period.
The Phantoms are back in action on Sunday when Lehigh Valley hits the road for the first time this season as the team travels to the XL Center in Hartford for a 5:00 p.m. clash with the Wolf Pack.
The Phantoms then return to PPL Center on Saturday, October 14 when they welcome the rival Wilkes-Barre/Scranton Penguins to downtown Allentown. Saturday's game features a Fidget Spinner Giveaway FREE to the first 2,000 kids 14 and under in attendance. Only a limited number of tickets remain for Saturday's game and can be purchased online by clicking HERE.
Hershey Bears 2 at Lehigh Valley Phantoms 7 – Status: Final
Saturday, October 7, 2017 – PPL Center
Hershey 0 2 0 – 2
Lehigh Valley 1 2 4 – 7
1st Period-1, Lehigh Valley, Martel 1 (Vecchione, Aube-Kubel), 2:19. Penalties-Aube-Kubel Lv (charging), 5:43; Albert Her (slashing), 7:21; Bowey Her (high-sticking), 13:01.
2nd Period-2, Hershey, Stephenson 1 (Williams), 9:54. 3, Lehigh Valley, Martel 2 (Willcox, Brennan), 11:14. 4, Hershey, Albert 1 (Simpson, Williams), 17:34 (PP). 5, Lehigh Valley, Aube-Kubel 1 (Brennan), 18:51. Penalties-Fazleev Lv (slashing), 2:49; Knight Lv (cross-checking), 15:56.
3rd Period-6, Lehigh Valley, Varone 1 (Willcox, Brennan), 0:33. 7, Lehigh Valley, Carey 1 (Vorobyev), 17:36. 8, Lehigh Valley, Willcox 1 18:03 (EN). 9, Lehigh Valley, Martel 3 (Myers), 18:31. Penalties-Lewington Her (fighting), 1:51; Martel Lv (fighting), 1:51; Knight Lv (slashing), 6:50; G. Mitchell Her (boarding), 12:47.
Shots on Goal-Hershey 5-11-15-31. Lehigh Valley 14-7-10-31.
Power Play Opportunities-Hershey 1 / 4; Lehigh Valley 0 / 3.
Goalies-Hershey, Milner 0-1-0-0 (30 shots-24 saves). Lehigh Valley, Lyon 1-0-0-0 (31 shots-29 saves).
A-8,648
Referees-Stephen Thomson (15), David Banfield (77).
Linesmen-Matt McNulty (26), Luke Murray (92).