By Dan Fremuth | AHL On The Beat
The long-awaited call came around the middle of the day.
"I was driving back from pre-game skate actually," Lehigh Valley Phantoms goaltender Rob Zepp recalled. "I was five minutes from our house and Terry Murray called me and said, 'You've been called up,' and this overwhelming feeling hit me. Holy cow, it's really happening."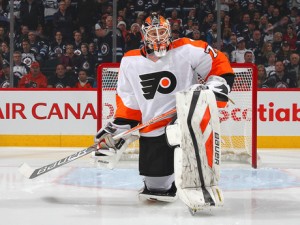 For the 33-year-old Zepp, the call was the first step in a whirlwind 48 hours that culminated with the goaltender's first National Hockey League start and subsequently his first NHL victory.
Just hours after Philadelphia Flyers netminder Steve Mason exited practice following a non-contact injury, speculation swirled that it might finally be time for Zepp, who was originally a fourth-round selection (99th overall) by the Atlanta Thrashers in the 1999 NHL Entry Draft, to get the call to the NHL.
For Zepp, a husband and father of two, his first phone call after the announcement shouldn't come as much of a surprise.
"I spoke with my wife right away and she was in tears," Zepp said. "It had kind of been a long road that we took together. We've been together every step of the way and it was pretty emotional."
And his second phone call?
"Then obviously I called my parents," Zepp added. "My dad, he was just thrilled to hear the news. He had just had hip surgery so he was a little laid up but he was already looking at how he'd be able to watch the game in Winnipeg should I get that start."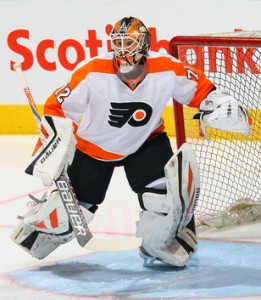 Of course, Zepp would get the start in Winnipeg but before that, he had to join the team in Toronto where Philadelphia was set to kick off a grueling eight-game road trip. As expected, Ray Emery was given the start for the Flyers against the Maple Leafs but the novelty of beginning his NHL experience less than an hour from his home town wasn't lost on the Newmarket, Ontario native.
"It was amazing. It couldn't have worked out any better," he recalled. "I've watched Hockey Night in Canada countless times. To be a part of it even on the bench and part of that whole experience was really special for a guy from the Toronto area."
And then, of course, came the historic night in Winnipeg.
"Pulling the jersey over my head and knowing I was going to go play in a regular season game was a feeling I've been dreaming about since I started playing and to get to do that was overwhelming."
Jakub Voracek scored just 46 seconds into the contest to put Philadelphia in front but Matt Halischuk and Dustin Byfuglien both converted for the Jets before the midway point of the opening frame leaving Winnipeg with a 2-1 advantage after 20 minutes of action. The Jets doubled their advantage with a Mathieu Perreault marker in the second period and it looked as though Zepp's tale might not have a storybook ending after all.
But the Flyers rallied in the final frame of regulation with a pair of Vincent Lecavalier conversions before Voracek did indeed deliver the storybook finish with the game-winner just 10 seconds into overtime.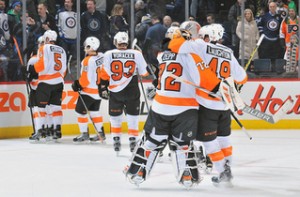 "To get your first game is one thing but to get your first win is a totally different ballgame," Zepp said. "That was a really special feeling. To win it in dramatic fashion in overtime was outstanding. I remember celebrating at center ice with a bunch of the guys and it was kind of a pinch-me moment."
In all, the 6-foot-2, 200-pound goaltender recorded 25 saves on 28 Jets shots as he became the oldest goaltender to win his debut since Hugh Lehman (40 years old) did so with the Chicago Blackhawks in 1926. What's more, Zepp became just the 12th goaltender to make his NHL debut after his 33rd birthday and the first since Ross Brooks of the Boston Bruins did so at age 34 during the 1972-73 season. Finally, Zepp became the oldest player, goaltender or otherwise, to make his NHL debut with the Flyers, surpassing Neil Little who did so at age 30 in March of 2002 at Carolina.
It was a special moment to say the least for a goaltender who enjoyed 115 ECHL appearances, 24 American Hockey League games, 303 Deutsche Liga (DEL) outings and 66 SM-liiga (Finnish Elite League) games before finally earning his first career NHL start.
"A lot of it's out of your hands so of course you question whether it's meant to be," Zepp noted. "What I never questioned was I always believed I could do it. I always believed I could not only do it but have sustained success and I still believe that. The first game was just one step along the way."
And the next step is apparently right at hand.
Following the news that Mason would miss the next two weeks with a lower-body injury sustained during Saturday's 3-1 loss to Boston, the Flyers wasted no time in recalling Zepp from Lehigh Valley. And just a little over 24 hours after being recalled again, Zepp was poised to make his second career NHL start as the 33-year-old rookie was slated to defend the Flyers' net against the Tampa Bay Lightning on Tuesday night.
"It was one game," Zepp noted. "And it was great to get that game but it is one game and I want to make a career of it. It's a feeling I'm never going to forget but obviously I came over here wanting more than that so we'll what the future holds."
At that moment, the future held a 7:05 PM start at Wells Fargo Center. Three periods and 21 saves later, his future in Philadelphia got just a little brighter as the Flyers surged to a 7-3 thrashing of Tampa Bay, giving Zepp a perfect 2-0-0 record in the NHL, and adding more proof that it's truly never too late to leave that crucial first impression.