Rangers Finish Sweep with 3-1 Win
September 16, 2023
Lehigh Valley, PA – Zayde Wisdom scored in the Rookie Series for the Philadelphia Flyers for a second consecutive season but the New York Rangers received a pair of goals from speedy Bobby Trevigno in 3-1 victory at PPL Center on Saturday night.
The Rangers exacted some revenge with the pair of wins by 4-2 and 3-1 second after Philadelphia swept last year's Rookie Series 2-1 (OT) and 5-1.
The 2023 Flyers vs. Rangers Rookie Series is presented by Ducati/Warhorse, Bethlehem Landfill, and Visit Valley Forge.
A hockey-hungry crowd converged at the corner of Seventh and Hamilton to watch their first hockey of the season as PPL Center played host to NHL action for an eighth occasion. The uniqueness of September hockey with NHL teams has become a regular Allentown occasion to celebrate the arrival of the impending season.
The results of the weekend were the first-ever regulation losses for the Flyers at PPL Center as their overall record in Allentown now moves to 5-2-2.
Luke McNamra opened the scoring for the New York Rangers with a wrap-around effort that squeaked through on 18-year-old Flyers goaltender Carson Bjarnason. Max McCue got the puck down low setting up the McNamara conversion for a 1-0 lead for New York at just 2:14 into the game.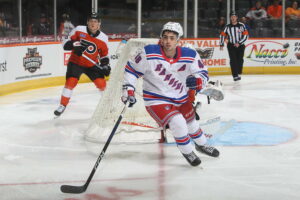 Second-year pro Bobby Trevigno scored the first of his two goals after a drop from Ty Emberson allowed him to drag and dangle and then rifle a shot past Bjarnason for a 2-0 lead at 17:17 into the first period. Trevigno also scored in last year's Rookie Series but that goal was far less impactful as he merely broke up a shutout bid for Sam Ersson with under six minutes remaining when the Flyers were leading 5-0.
Philadelphia had a pair of power play in the first period and offered a couple good chances at goaltender Olof Lindbom but they also struggled to keep their shots on target as many drives missed wide.
New York had the advantage for the opening minutes of the second period but Bjarnason found his game after a bumpy opening period.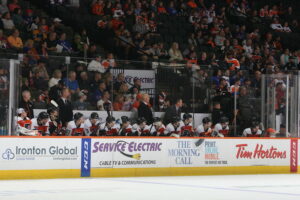 Philadelphia picked up its energy late in the second and drew a pair of penalties from the Rangers for an abbreviated 5-on-3 opportunity. Denver Barkey and Zayde Wisdom converted on a nifty give-and-go just as the two-man advantage had expired. Barkey at the left boards pushed the puck right back to Wisdom flying up the middle and past the defense as the Flyers fourth-round selection in 2020 buried the team's first goal of the night past relief goaltender Talyn Boyko at 17:27 into the second period. Matt Brown received a secondary assist on the power-play strike after the Boston University product had scored a power-play goal in Friday's game.
Wisdom had an especially strong and energetic weekend that included some quick rushes, good scoring opportunities, and even a fight with 6'7″ tall Matt Rempe in the Friday game.
Other players who stood out in the contest included the Swedish defensive pairing of Emil Andrae and Helge Grans. Andrae is one of several Lehigh Valley Phantoms from last season who is projected to be in the mix for a roster spot with the Philadelphia Flyers. Andrae had a strong scoring chance late in the third period and just missed catching up to the rebound of his own shot which would have been another strong try. Grans was making his Flyers debut after arriving in a trade with the Los Angeles Kings last summer. Andrae and Grans had previously been a pair on Team Sweden at the World Juniors and also played hockey together when they were kids.
Head coach Ian Laperriere also praised the play of 20-year-old forward Samu Tuomaala who is back in North America after two seasons in Finland. Lappy said he liked what he saw in Tuomaala's game tonight and is excited to work with the team's 2021 second-round draft selection in the upcoming season when he is expected to join the Lehigh Valley Phantoms.
Philadelphia was pushing some more in the third period but Boyko was strong in the New York crease with 13 denials in the final frame. A power play with 3:36 left gave the Flyers a big opportunity as they appeared on the verge of tying the game but Tyson Foerster was tagged with a penalty just 50 seconds into the man advantage.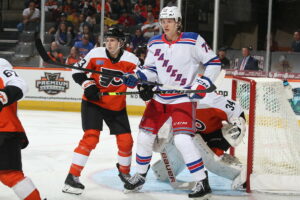 After Philadelphia killed the abbreviated power play of the Rangers, Bobby Trevigno picked off a puck at the blue line and raced away past the defense for a breakaway conversion on Bjaransson with just 33 seconds left for the 3-1 final.
The Flyers and Rangers will now return to their respective Rookie Camps in Voorhees, NJ and Tarrytown, NY. Philadelphia Rookie Camp continues on Monday and Tuesday following the team's day off on Sunday. A few days after Rookie Camp concludes will come the regular Flyers Training Camp and then the Flyers' first preseason game on September 25.
The Lehigh Valley Phantoms will open Training Camp for their 10th season of Hockey in the Valley with the team's first practice on Sunday, October 1. The Phantoms have a pair of home preseason games on the schedule on Tuesday, October 3 against the Wilkes-Barre/Scranton Penguins and Sunday, October8 at 1:05 p.m. against the Hershey Bears.
Opening Weekend as part of Haunted on Hamilton officially kicks off the season on Saturday, October 14 against the Cleveland Monsters and Sunday, October 15 at 1:05 p.m. against the Belleville Senators.
SCORING SUMMARY
1st 2:14 – NYR, L. McNamara (M. McCue) (0-1)
1st 17:17 – NYR, B. Trevigno (T. Emberson, M. Robertson) (0-2)
2nd 17:27 – PHI, Z. Wisdom (D. Barkey, M. Brown) (PP) (1-2)
3rd 19:27 – NYR, B. Trevigno (Unassisted) (1-3)
SOG:
NYR 7 8 7 = 22
PHI 9 7 13 = 29
PP:
NYR 0/2
PHI 1/5
GOALTENDERS:
PHI – C. Bjarnason (19/22)
NYR – O. Lindbom (9/9)
NYR – T. Boyko (19/20)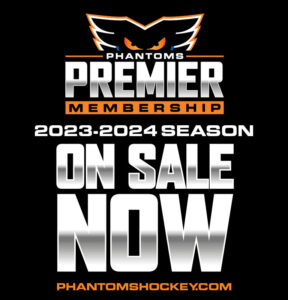 Phantoms Premier Memberships provide a true year-long membership that includes tickets to all Phantoms home games as well as year-round benefits and experiences that are exclusive to Premier Members only. Receive early entrance, presale ticket access for PPL Center events, 20% team store discount, enhanced insider access and experiences, and so much more!