5:05 Puck Drop for Flyers vs. Rangers at PPL Center
By Bill Meltzer @billmeltzer philadelphiaflyers.com
The Philadelphia Flyers Rookies rematch with their New York Rangers counterparts early Saturday evening in the second game of the 2023 Rookies Series at the PPL Center in Allentown. Game time is 5:05 p.m. EDT. The game will be televised on NBCSP+ and Service Electric.
On Friday evening, the Flyers took a 1-0 lead to the locker room at the end of the first period. The game was tied at 2-2 entering the third period. In the final stanza, the Rangers scored two unanswered goals to send the Flyers down to a 4-2 defeat.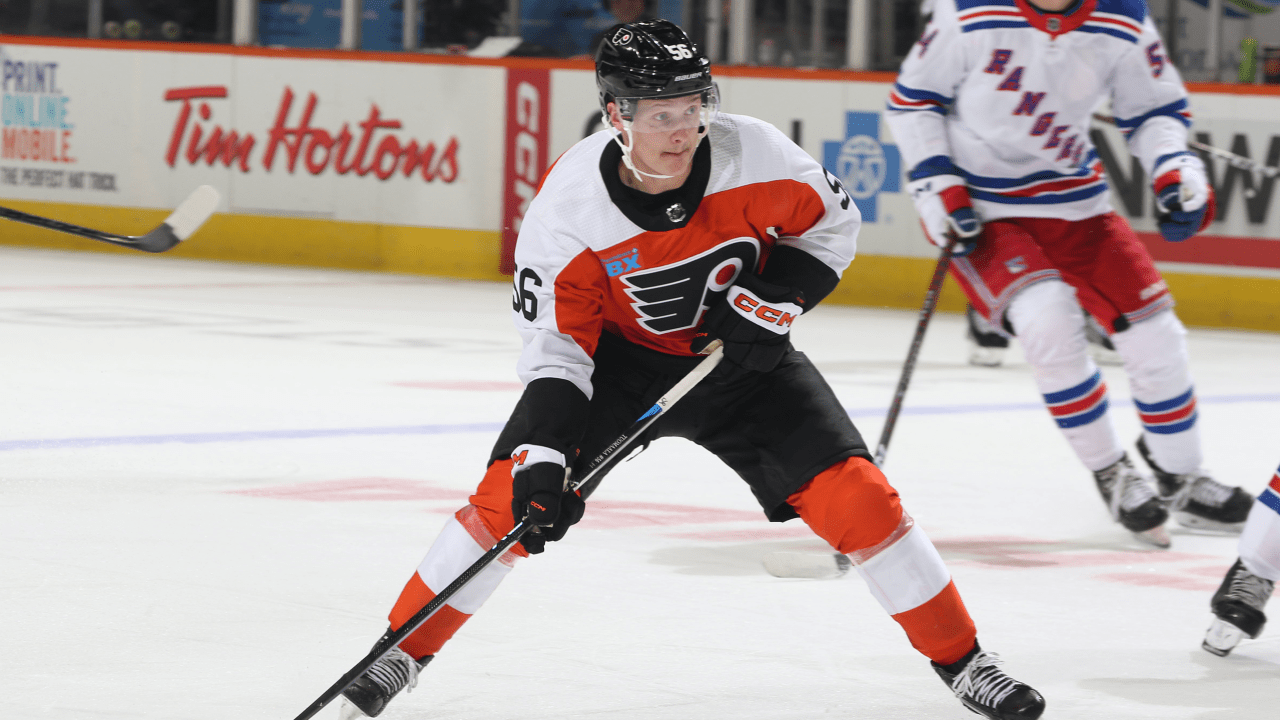 Matt Brown (power play) and Alex Ciernik scored for the Flyers Rookies in a losing cause. Karl Henriksson (power play), Dylan Roobroeck, Ryder Korczak and Matt Robertson (empty net) tallied for New York.
Rangers goaltender Dylan Garand earned the win in net with 32 saves on 34 shots. Nolan Maier, who split last season between the ECHL's Reading Royals and the AHL's Lehigh Valley Phantoms, stopped 22 of 25 shots in a losing cause.
Friday's game also featured Phantoms power forward Zayde Wisdom gamely dropping the gloves and fighting gargantuan (6-foot-8, 240 pound) Rangers forward Matt Rempe. Wisdom had taken exception to a hit Rempe laid on him and made a beeline to confront the opposing player.
FLYERS OUTLOOK
Carson Bjarnason, for whom the Flyers traded up in order to be able to select in the second round of the 2023 NHL Entry Draft, will get the start in goal for Saturday's game, He is slated to go the distance.
There are likely to be some personnel changes on the blueline for Sunday's rematch. On Friday, none among top blueline prospect Emil Andrae, countryman Helge Grans, Sam Sedley or Matteo Mann dressed for the game. All four may slot in for Saturday, possibly replacing the Wll Zmolek/ Ethan Samson and Mason Millman/Carter Sotheran pairings from the first game.
Incoming first-year pro J.R. Avon is nursing a lower-body injury. He has not been on the ice for either of the first two practices at Rookie Camp and did not play in Friday's match. He's unlikely to play in the rematch.
After Friday's game, Phantoms head coach Ian Laperriere said that he was pleased with the overall effort of the Flyers Rookies squad. The sloppiness and lack of structure evident at times by both teams was to be expected in an exhibition game played after only a couple days on the ice.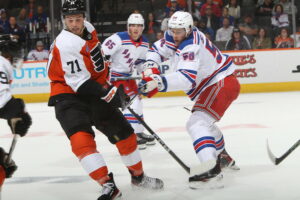 Laperriere said that the likes of Tyson Foerster (three shots on goal), Elliot Desnoyers (two shots, a couple of good keeps and plays along the walls) and Bobby Brink (power play assist) are capable of better shift-in and shift-out execution than they had in Friday's game. He expects that Saturday's game will be a little better for the returning young players as well as the squad as a whole.
Laperriere praised the Game 1 performances of several players including Wisdom, goal-scorers Brown and Ciernik, Samu Tuomaala, Denver Barkey (power play assist), Alexei Gendron, defensemen Adam Ginning and partner Oliver Bonk.
Below is a potential but unconfirmed lineup for Saturday's game. It is based on Friday's forward combinations and possible switches to get into the lineup the four defensemen who were not featured in the first game.
82 Alexis Gendron – 73 Elliot Desnoyers – 71 Tyson Foerster
91 Brendan Furry – 52 Denver Barkey – 46 Bobby Brink
38 Matt Brown- 87 Jonathan Fauchon – 56 Samu Tuomaala
45 Alex Ciernik – 78 Jacob Gaucher – 60 Zayde Wisdom
36 Emil Andrae – 3 Helge Grans
50 Adam Ginning – 59 Oliver Bonk
67 Sam Sedley – 76 Matteo Mann
34 Carson Bjarnason
[35 Nolan Maier)
Available: 63 Mason Millman, 65 Carter Sotheran, 80 Will Smith, 75 Ethan Samson.
RANGERS OUTLOOK
Top Rangers prospect Brennan Othmann chipped in an assist in Friday's game. However, he's capable of a more impactful overall performance in the rematch. Likewise, center Bryce McConnell-Barker has the ability to take over a game at this level.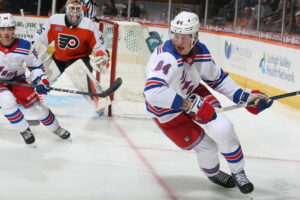 Second-year pro Garand was outstanding in net for the Rangers Rookies in Friday's game. For Saturday's rematch, ECHL goalie Olof Lindbom (who backed up Garand in the first tilt) and 6-foot-7 Talyn Boyko are available for duty.
Hartford Wolfpack defenseman Robertson, who also scored a goal in the first game of last year's Rookie Series, finished Friday's game with a goal and assist. He also generally played well in tandem with fellow Hartford blueliner Ty Emerbeson.
Left winger Adam Sykora had several strong shifts on the Rangers' top line in conjunction with AHL forward Karl Henriksson and Othmann. Both the 19-year-old Sykora and 22-year-old Henriksson were originally second-round picks by New York.
In Friday's game, defenseman Joe Arnsten and forwards Max McCue and Luke McNamara did not dress for the game. Some or all may be part of the rematch.