Grosenick returns while Attard and Brooks Score in 3-2 Loss
February 14, 2023
Charlotte, NC – The Lehigh Valley Phantoms showed a lot of heart with an improvised and shorthanded lineup in a 3-2 decision at the Charlotte Checkers on Valentine's Day. Ronnie Attard (8th) and Adam Brooks (5th) scored for the Phantoms while goalie Troy Grosenick played his first game since October 29 in his return from injury.
Lehigh Valley (24-18-5) had several key absences for this game but fought hard against a solid Checkers team in the tightly played contest. The Phantoms had their three-game win streak come to a close as well as their six-game road win streak. It was Lehigh Valley's first regulation loss on the road in nine games dating back to December 30 at Utica. Since that final road game of 2022, the Phantoms had gone 7-0-1 away from home until this one.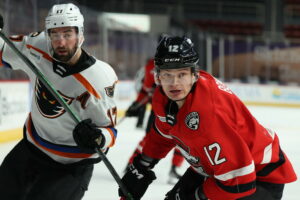 Charlotte (27-16-4) picked up its seventh win in its last eight games with former Phantoms' netminder Alex Lyon leading the way in a 20-save performance against his ex-team.
Zac Dalpe (13th) opened the scoring for the Checkers late in the first period on a goal from Cam Morrison at 17:14 of the first period.
The Checkers boosted their lead early in the second when Dalpe picked off the puck behind the Phantoms goal and set up Morrison (3rd) out in front who beat Grosenick at 2:35 into the second for a 2-0 lead.
The Phantoms were quick to answer less than two minutes later on Ronnie Attard's bomb from the right point low to the short post past Lyon's left skate to get the Phantoms on the board at 4:23 into the second period. Attard's eighth of the season was assisted by Elliot Desnoyers and Cooper Marody.
Lehigh Valley carried the play for much of the second period with a 10-6 shots advantage in the frame. But a 5-on-3 shortly after Attard's goal didn't pan out for the Phantoms recently red-hot power-play attack thus allowing Charlotte to preserve the one-goal margin at the second intermission.
The Checkers boosted their lead to 3-1 early in the third period on the rebound of a Zac Dalpe breakaway. Grosenick made a strong glove save on the Charlotte captain but Henry Bowlby (7th) hustled in as the trailer to punch home the rebound at 4:30 into the third period.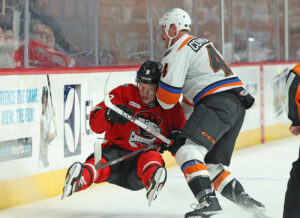 The Phantoms pushed through three tough penalty kills in the third period to stay within two goals. That included a one-minute 5-on-3 for the Checkers that Lehigh Valley expertly thwarted.
Adam Brooks deflected an Attard shot/pass from the left of the cage with just 1:11 left for a 6-on-5 goal to cut the score to 3-2. The goal was also assisted by Tyson Foerster. It was the third goal out of his five total which Adam Brooks has scored in Charlotte. Brooks has one goal in each game the Phantoms have played in North Carolina also including tallies on December 2 and December 3. But after the Brooks goal gave the Phantoms a chance at the end, they were unable to come up with the tying tally as Alex Lyon and the Checkers hung on.
Grosenick was solid in net in his first game in three-and-a-half months and just his fourth game of the seson. The 33-year-old veteran made several strong stops in his 296th career pro game and 292nd in the AHL.
Charlotte outshot the Phantoms 27-22.  Lehigh Valley was held to 0-for-4 on the power play while limiting the Checkers to 0-for-5.
The Phantoms and Checkers will rematch on Wednesday night at Bojangles' Coliseum and then the Phantoms will return to PPL Center for home games on Saturday against Wilkes-Barre/Scranton and Sunday at 5:05 against the Hartford Wolf Pack.
SCORING SUMMARY
1st 17:14 – CLT, Z. Dalpe (13) (C. Morrison) 0-1
2nd 2:35 – CLT, C. Morrison (3) (Z. Dalpe, L. Hutsko) 0-2
2nd 4:23 – LV, R. Attard (8) (E. Desnoyers, C. Marody) 1-2
3rd 4:30 – CLT, H. Bowlby (7) (R. Nash, A. Heponiemi) 1-3
3rd 18:49 – LV, A. Brooks (5) (R. Attard, T. Foerster) (6×5) 2-3
Shots:
CLT 27 – LV 22
PP:
CLT 0/4, LV 0/5
Goalies:
CLT – A. Lyon (W) (20/22) (11-8-1)
LV – T. Grosenick (L) (24/27) (2-2-0)
Records:
Charlotte (27-16-4)
Lehigh Valley (24-18-5)
Phantoms Tickets are available HERE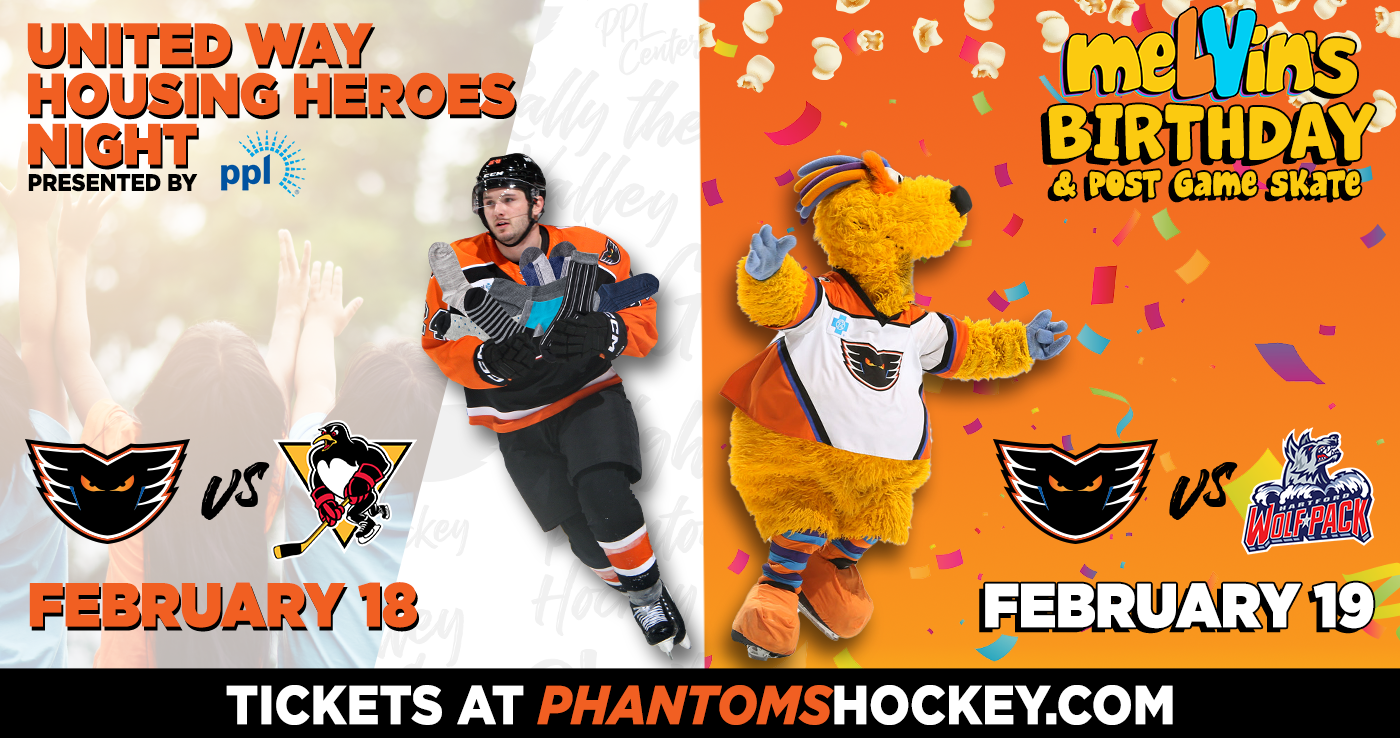 UPCOMING SCHEDULE
Wednesday, February 15 (7:00) at Charlotte Checkers
Saturday, February 18 (7:05) vs. WILKES-BARRE/SCRANTON PENGUINS
Sunday, February 19 (5:05) vs. HARTFORD WOLF PACK
UPCOMING PROMOTIONS
Saturday, February 18 (7:05) vs. Wilkes-Barre/Scranton Penguins – United Way Housing Heroes presented by PPL with sock donation drive. Whiteout Weekend!!
Sunday, February 19 (5:05) vs. Hartford Wolf Pack – meLVin's Birthday with his Mascot Friends! Postgame Skate with the Phantoms Players. Whiteout Weekend!!
Saturday, March 4 (7:05) vs. Toronto Marlies – Slap Shot Night with Dave Hanson!