Wednesday, February 15, 2023 at 7:00 p.m.
Lehigh Valley Phantoms (24-18-5) at Charlotte Checkers (27-16-4)
Bojangles' Coliseum, Charlotte, NC
TONIGHT
The Lehigh Valley Phantoms look for the mid-week split as they conclude their two-game series at the third-place Charlotte Checkers.
Lehigh Valley (24-18-5) is tied with Springfield for fourth place in the Atlantic Division and trails third-place Charlotte by five points. The Phantoms had a three-game win streak and six-game road streak snapped yesterday in a 3-2 loss to the Checkers.
Charlotte (27-16-4) recently had a six-game win streak and has now won seven of its last eight.
There are just 25 games remaining in the 2022-23 regular season which concludes in exactly two months on April 15.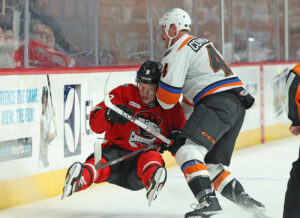 LAST TIME
Tuesday, February 14, 2023
Checkers 3 – Phantoms 2
Troy Grosenick returned for the first time in three-and-a-half months and put forth a strong 24-save performance but the Checkers hung on for a 3-2 decision on Valentine's Day at Bojangles' Coliseum. Ronnie Attard (8th) and had a goal and an assist while Adam Brooks (5th) scored with 1:11 left to pull the Phantoms to within a goal. Lehigh Valley had a 5-on-3 in the second period with a chance to even the score but the recently red-hot power play this time was stymied. The Phantoms' penalty kill went a perfect 5-for-5 including three consecutive kills in the third period to stay in contention.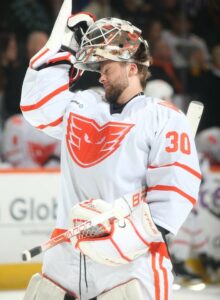 TRANSACTIONS
On Monday, the Philadelphia Flyers recalled goaltender Sam Ersson and forward Kieffer Bellows from the Lehigh Valley Phantoms.
On Tuesday, the Lehigh Valley Phantoms received defenseman Mason Millman and forward Charlie Gerard from the Reading Royals of the ECHL. Millman was reassigned by the Philadelphia Flyers and played in Tuesday's game at Charlotte.
Ersson, 23, recorded his first career AHL shutout on Saturday with 15 saves in a 3-0 win against the Bridgeport Islanders. He is 15-10-1, 2.58, .911 with the Phantoms this season. With the Philadelphia Flyers this year, Ersson is 5-0-0, 2.37, .918 in a stint that included his first NHL win on December 31, 2022 at the Los Angeles Kings and also his first NHL shutout on January 9, 2023 at Buffalo.
Bellows, 24, has played in 12 games including one game in his recent assignment this past Saturday. He has scored three goals with seven assists for 10 points with Lehigh Valley. He has 137 career AHL games over two seasons with Bridgeport and Lehigh Valley, recording 37 goals with 23 assists for 60 points and he also has 83 career NHL games scoring 12-14-26.
POWER SURGE
The Phantoms have moved all the way up to third in the AHL on the power play at 24.0% after going 6-for-13 in the previous five games before an 0-for-4 night on Tuesday at Charlotte. Tyson Foerster (6-7-13) and Olle Lycksell (4-8-12) pace the team's power-play attack.
Amazingly, 11 players have scored two or more power-play goals for the Phantoms:
Foerster (6), Anisimov (5), Lycksell (4), Desnoyers (4), Attard (2), Brink (2), Brooks (2), Marody (2), O'Reilly (2), Wilson (2), York (2)
14 total players have scored at least one power-play goal for the Phantoms including Bellows, Cates and MacEwen who have one each.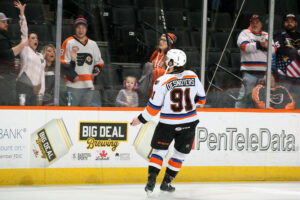 DESTROYING A RECORD
Elliott "The Destroyer" Desnoyers is on pace to establish a new Lehigh Valley record for most goals by a rookie. He only needs three more to equal the record of 20 goals held by Danick Martel in 2015-16.
Kyle Greentree holds the Phantoms franchise record for goals by a rookie with 24.
LEHIGH VALLEY RECORD BOOK – GOALS BY ROOKIE
20 – Danick Martel (2015-16)
19 – Connor Bunnaman (2018-19)
17 – Elliot Desnoyers (2022-23)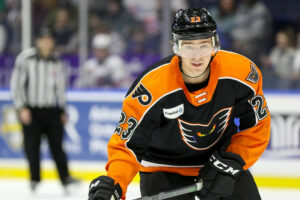 PHANTASTIC!
– Bobby Brink had his five-game point streak ended on Tuesday. He has scored 2-6-8 since February 1.
– The Phantoms are….
18-5-4 when scoring 3 or more goals
20-1-1 when allowing 2 goals or fewer
13-4-5 in one-goal games
13-1-5 when scoring the first goal
17-0-4 when leading after two periods
4-3 in overtime and 2-2 in shootouts
ABOUT THE CHECKERS
Charlotte (27-16-4) stands just three points directly ahead of the Phantoms entering this critical midweek showdown series. Former Phantoms netminder Alex Lyon (11-8-1, 2.53, .909) has returned to the Checkers following a successful NHL stretch with the Florida Panthers with three wins in six starts. 33-year-old NHL veteran of 627 games Riley Nash (16-22-38) paces the offense. Former Phantoms Gerry Mayhew (11-12-23) and Connor Bunnaman (10-4-14) have also come on strong. The Checkers just had their six-game win streak come to a halt in a 4-3 loss to Toronto on Saturday. Head coach Geordie Kinner's team has points in 10 of its last 12 games going 9-2-1 in the stretch.
The Phantoms are 3-2-0 against Charlotte including wins by scores of 2-1 and 6-1 when the teams met in a pair of games at PPL Center December 9-10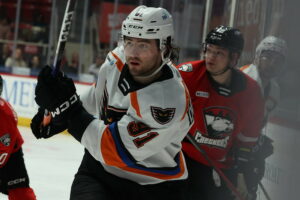 Phantoms Scoring Leaders
x Olle Lycksell 9-25-34
Tyson Foerster 17-16-33
Elliot Desnoyers 17-13-30
Artem Anisimov 13-9-22
Ronnie Attard 8-13-21
Jackson Cates 10-10-20
Charlotte Scoring Leaders
Riley Nash 16-22-38
Aleksi Heponiemi 9-19-28
Lucas Carlsson 9-17-26
Gerry Mayhew 11-12-23
Zac Dalpe 13-10-23
Phantoms Tickets are available HERE
SPECIAL TEAMS 
Lehigh Valley Power Play – 24.0%, 3rd (vs. CLT 8/22, 36.4%)
Lehigh Valley Penalty Kill – 74.7%, 31st
Charlotte Power Play – 17.9%, 18th (vs. LV 3/24, 12.5%)
Charlotte Penalty Kill – 84.5%, 3rd
UP NEXT
The Phantoms return to PPL Center on Saturday, February 18 and Sunday, February 19 hosting the Wilkes-Barre/Scranton Penguins and Hartford Wolf Pack.
Phantoms Tickets are available HERE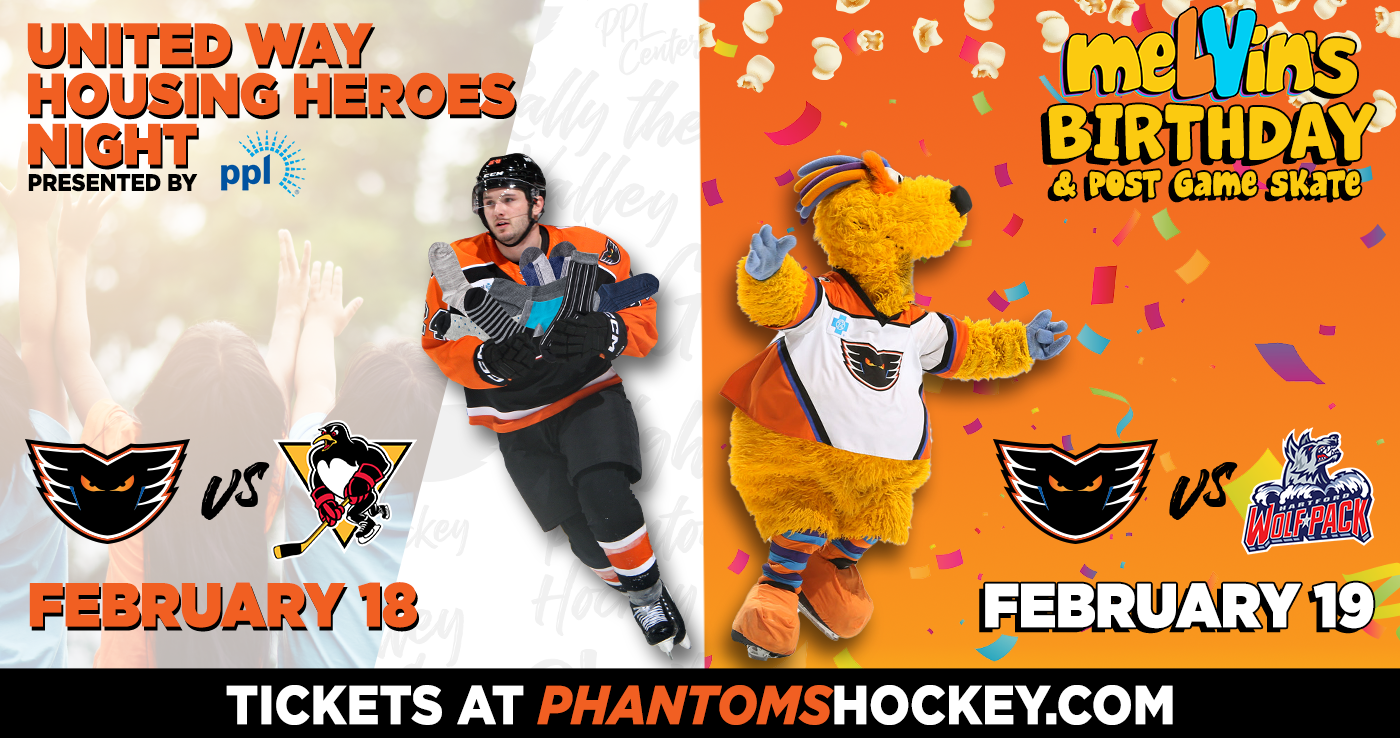 UPCOMING SCHEDULE
Wednesday, February 15 (7:00) at Charlotte Checkers
Saturday, February 18 (7:05) vs. WILKES-BARRE/SCRANTON PENGUINS
Sunday, February 19 (5:05) vs. HARTFORD WOLF PACK
Wednesday, February 22 (7:05) at Wilkes-Barre/Scranton Penguins
Saturday, February 25 (7:00) at Hershey Bears
UPCOMING PROMOTIONS
Saturday, February 18 (7:05) vs. Wilkes-Barre/Scranton Penguins – United Way Housing Heroes presented by PPL with sock donation drive
Sunday, February 19 (5:05) vs. Hartford Wolf Pack – meLVin's Birthday with his Mascot Friends! Postgame Skate with the Phantoms Players
Saturday, March 4 (7:05) vs. Toronto Marlies – Slap Shot Night with Dave Hanson!
Sunday, March 5 (7:05) vs. Providence Bruins – Team Poster Giveaway and Postgame Autographs
Broadcast coverage of all Phantoms games with Bob Rotruck is available on the Phantoms 365 app and on Real Oldies 1470-AM in Allentown. Also available on the Listen Live button at phantomshockey.com
Fans can also watch the games on AHLTV.com or can listen on their Smart Speakers at: "Play Phantoms Radio 24/7."
Service Electric Network again provides exclusive television coverage of all Phantoms home games with veteran announcer Steve Degler and Phantoms' alum Steven Swavely on the call from the booth. Kristi Fulkerson reports from ice level and also from the Chickie's and Pete's studio with Dan Fremuth for pregame, intermission and postgame show analysis.