Sharp Returns to Flyers and Phantoms Organization as Special Advisor to Hockey Ops
June 13, 2023
by Bill Meltzer and @NHLFlyers
Patrick Sharp is coming back to where his professional hockey career started: The Philadelphia Flyers organization. The Flyers announced on Tuesday that Sharp has been hired as a Special Advisor to the Hockey Operations department.
Sharp will report directly to Flyers General Manager Danny Briere and will be involved in all aspects of the club's hockey operations department with a strong focus on player development with Flyers prospects which includes the bevy of young talents on the Lehigh Valley Phantoms.
"Patrick is a well-established veteran on-and-off the ice and his incomparable hockey knowledge will be a valuable asset to our organization and young prospects," Briere said.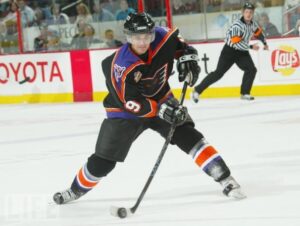 The Flyers' President of Hockey Operations, Keith Jones, was also involved in the decision to hire Sharp. As with Jones, Sharp has followed a path of playing collegiate hockey, playing in the NHL, establishing a broadcasting career and then moving into the NHL hockey operations side of the business.
"In adding Patrick Sharp to our group, we are gaining an individual who has a wealth of knowledge when it comes to building an environment of winning at all levels. Patrick knows what it takes to win, he understands how to convey that to our players and is a relationship-maker. He will be a vital component as we continue to build the foundation of the Philadelphia Flyers," Jones said.
Sharp, 41, was originally drafted by the Flyers in the 3rd round of the 2001 NHL Entry Draft, primarily on the recommendation of longtime amateur scout Simon Nolet, who crossed over from his Quebec home base and saw Sharp play for the University of Vermont Catamounts.
He broke into the pro ranks with the Philadelphia Phantoms and the Flyers. Sharp played 160 games with the Phantoms over parts of three seasons from 2002-03 through 2004-05 scoring 52 goals with 62 assists for 114 points. As a member of the Phantoms in 2004-05, Sharp scored eight postseason goals and posted 21 points in 21 playoff games (second only to Jeff Carter) as the Phantoms won the Calder Cup championship with the NHL season canceled due to a year-long lockout.
After the lockout ended, Sharp rejoined the Flyers for the 2005-06 season. He continued to receive sparing ice time (7:43 TOI average) under Hitchcock but dressed in 22 games (5g, 3a). On December 5, 2005, the Flyers traded Sharp to the Chicago Blackhawks in an ill-fated deal that sent forward Matt Ellison to Philadelphia.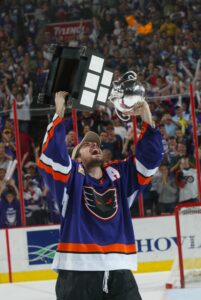 Sharp's primary highlights of his Flyers playing tenure were a two-goal game in a 6-2 home win against the New York Rangers on Valentine's Day of 2004 and a fight with Ottawa's Jason Spezza in the infamous March 5, 2004, game that saw the Flyers and Senators combine for an NHL record 419 penalty minutes.
The idea of his trade to Chicago was that both Sharp and Ellison (who was yo-yoing between the NHL and AHL after starring in junior hockey for the Red Deer Rebels) might benefit from a change of scenery. In Chicago, there was more ice time available for Sharp on a rebuilding Blackhawks team.
As Flyers fans remember all too well, the trade turned out to be one of the most negatively lopsided deals in franchise history. Things didn't click right away for Sharp, but he started to come into his own in the NHL in 2006-07, as he posted a 20-goal season. Ellison, meanwhile, failed to stake down an NHL roster spot for the Flyers. He later moved on the KHL as an import player and had two All-Star seasons in Russia.
Sharp's true breakout season was 2007-08. Now a top-six forward on a rapidly improving Chicago club, he enjoyed the first of his four career 30-plus goal seasons (34 goals, 71 points), and perennially became a mid-20s to mid-30s goal scorer for much of his career, while also becoming a key penalty killer.
Internationally, he represented Canada at the 2008 and 2012 IIHF World Championships and won a gold medal at the 2014 Winter Olympics in Sochi. Sharp collected 620 points (287-333=620) in 939 career NHL games in 15 seasons (2002-18) with Philadelphia, Chicago and Dallas. The former winger tallied 87 points (47-40=87) in 142 career Stanley Cup Playoff games.
Sharp won the Stanley Cup championship three times with Chicago. In 2010, the Hawks ended a 49-year championship drought at the expense of the Flyers in a six-game Cup Final. Chicago went on to a run of three Cups in six seasons. Sharp also played in the 2010-11 NHL All-Star Game and took MVP honors. In 2014, he was a member of the gold medalist Team Canada squad at the Winter Olympics in Sochi, Russia.
After two years with the Dallas Stars, he finished his career back in Chicago for the 2017-18 campaign.
After his playing days ended, Sharp launched a TV broadcasting career. In 2021-22, he lent a hand to his alma mater as an advisor to the Catamounts coaching staff at the University of Vermont. Now, he brings his NHL ties full circle with a return to the Flyers in an advisory capacity to hockey ops.