June 14, 2023
AHL Hall of Famer and former Phantoms great John Stevens is again a Stanley Cup winner as an assistant coach with the Vegas Golden Knights. This is the third Stanley Cup for the former captain and later head coach of the Philadelphia Phantoms having also won it as an assistant coach with the Los Angeles Kings in 2012 and 2014.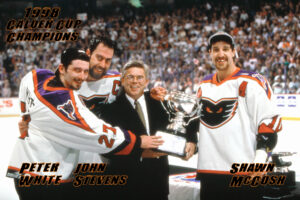 Stevens won two Calder Cups with the Philadelphia Phantoms. He was the first captain of the Philadelphia Phantoms at the beginning of the franchise in 1996 and led the team to the title in 1998. After an eye-injury ended his career, Stevens went into coaching with the Phantoms and was head coach for the Phantoms' Calder Cup in 2005. He is one of 16 men in AHL history to win Calder Cups as both a player and a head coach.
The Campbellton, New Brunswick native had also won the Calder Cup with Hershey in 1998 and Springfield in 1991. So this season with the Vegas Golden Knights represents the SEVENTH time that John Stevens has won the Calder Cup or Stanley Cup as a player or coach.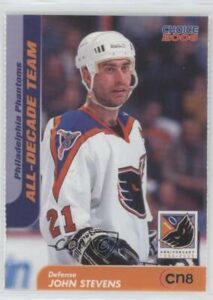 Stevens played the last three seasons of his Hall of Fame career with the Philadelphia Phantoms from 1996-97 through 1998-99. He was assistant coach and head coach with the Philadelphia Phantoms for eight seasons and also was head coach of the Philadelphia Flyers for parts of four seasons.
His career began with the Philadelphia Flyers organization having been drafted by the Flyers in 1984 and making his professional debut with the Hershey bears who were the affiliate for the Flyers prior to the start of the Phantoms in 1996. His first four pro seasons were split between Hershey and Philadelphia before joining Hartford in 1990.
The tough defensive defenseman only had 21 goals in his entire AHL career encompassing 834 games but was a valuable leader everywhere he played. He has participated in over 1,400 regular-season AHL games as a player, assistant coach and head coach.
With the Philadelphia Phantoms, Stevens played in 149 games and was at the bench as a coach with the Phantoms for over 600 more followed by 432 games as an NHL coach with the Philadelphia Flyers. Including the time at the beginning of his playing career with the Hershey Bears, he spent almost 1,500 total games with the Philadelphia Flyers' organization.