First-Place Phantoms on Four Game Win Streak with Points in 12 of Last 13
March 4, 2018
Hershey, Pa. – Misha Vorobyev sparked the Lehigh Valley Phantoms to a comeback victory at the Hershey Bears on Sunday evening with a winning goal in the fifth round of the shootout after previously notching the tying goal late in the second period. The win capped a perfect 3-for-3 weekend for the Phantoms.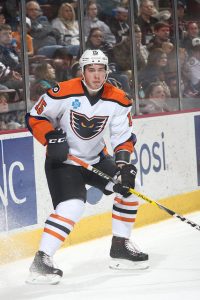 The Lehigh Valley Phantoms won their fourth consecutive game and also extended their latest hot streak of points in 12 out of their last 13 games going 11-1-1 in that stretch. Lehigh Valley also has points in 16 of the last 18 games dating back to January 20th sporting an impressive mark of 14-2-2.
The highest scoring team in the American Hockey League improved their overall record to 38-15-7 and leads the AHL with 83 standings points.
The Phantoms dominated the season series against the Hershey Bears going 10-2-0 against their Keystone rivals including a stretch of six consecutive wins to conclude the rivalry.
Vorobyev earned #1 Star of the Game honors with his tying goal and winning shootout strike. The 21-year-old Russian rookie has goals in consecutive games and also a three-game point streak with two goals and two assists for four points.
"There's been bits and pieces coming for him," Gordon said of the rising talent. "He's not making the same mistakes as before. He's a smart player and makes plays. His skill level with passing is probably the best on our team."
The Lehigh Valley Phantoms opened the scoring with a shorthanded breakaway beauty for Corban Knight (13th) in the opening eight minutes of the game on a pick-off in the neutral zone for Cole Bardreau who had two helpers on the game. Knight's shortie past the glove of Hershey goalie Pheonix Copley was his second man-down marker of the season and the team's eighth shorthanded goal of the season. The Phantoms first strike and subsequent victory improved the team's record when scoring the opening tally to 23-3-4.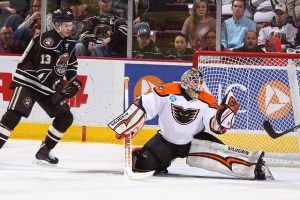 Hershey equalized on a breakaway of their own with Riley Barber's home-run pass connecting with Joe Whitney who converted on the blocker side of his former Boston College teammate John Muse to forge a 1-1 tie at the first intermission.
The Bears took their first lead of the game on a quick-entry power-play rush into the zone with Wayne Simpson notching his 12th of the season on a blast in the low slot after a center pass from call-up Tim McGauley who registered his first career AHL point. The power-play strike for Hershey ended Lehigh Valley's streak of 24 consecutive penalty kills.
But Lehigh Valley turned on the pressure after that with Phil Myers working the puck smartly around the Hershey zone eventually setting Mike Vecchione to the side of the net to tip back to Bardreau who quickly offered his own backwards flick to Vorobyev who offered a laser to the upper-left corner for a 2-2 tie.
The Phantoms had to buckle down in the rest of the season period with Hershey offering the next seven shots on goal in a row while hemming in the Phantoms for some longer-than-comfortable stretches but "Moose" held strong to keep the game tied.
Lehigh Valley came out firing in the third period and out shot the Bears 13-4 in a final period that included a power play at the very end. Corban Knight from point-blank offered a backhander that just missed connecting top shelf and then Hershey held on through the carry-over 4-on-3 power play in the overtime as well.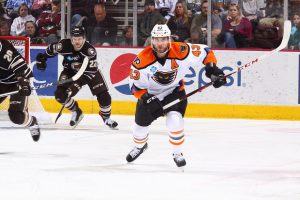 At the end of the exciting overtime session, Vorobyev launched a long pass perfectly to Phil Varone who was in the clear for a potentially game-winning breakaway with 10 seconds left in overtime but Copley came through with the right-pad save to extend the game to a shootout.
Corban Knight struck in the third round in a do-or-die conversion to keep the Phantom alive. And then Vorobyev secured the win with his fifth round success going five-hole on Copley to cap the triumph. John Muse turned aside four of five Hershey efforts in the shootout round.
The Phantoms improved to 18-3-7 in one-goal games and are now 6-7 in games decided after regulation including 2-4 in shootouts. Both of the Phantoms shootout wins this season have come at Giant Center; Chris Conner scored a shootout winner at Hershey on October 15th. The Phantoms are 32-1-7 when leading or tied after two periods.
The Phantoms out shot Hershey 36-24 . Lehigh Valley finished 0-for-2 on the power play while the Bears were 1-for-3.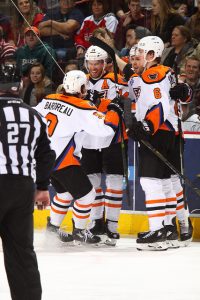 The Lehigh Valley Phantoms return to action on Friday evening at PPL Center against the Bridgeport Sound Tigers on Community Day.
Family 3-Packs are available for select games in March including three tickets, three hot dogs and three sodas with souvenir cups. The package is available for $67.50 and fans can add extra tickets to their group for $22.50 each. The Family 3-Packs are valid for games on March 9th, March 11th and March 18th. Secure your Family 3-Pack by calling the Lehigh Valley Phantoms at (610) 224-GOAL [4625].
Reserve your group outings for the 2017-2018 season of Phantoms hockey. For more information on how to reserve your seat at PPL Center to the hottest ticket in town, call the Phantoms front office today at 610-224-GOAL [4625]!
Lehigh Valley Phantoms 3 (SO) at Hershey Bears 2 – Status: Final SO
Sunday, March 4, 2018 – Giant Center
Lehigh Valley 1 1 0 0 – 3
Hershey 1 1 0 0 – 2
1st Period-1, Lehigh Valley, Knight 13 (Bardreau), 7:54 (SH). 2, Hershey, Whitney 12 (Barber), 16:09. Penalties-Myers Lv (delay of game), 7:31; O'Brien Her (hooking), 18:07; Brennan Lv (fighting), 20:00; Lewington Her (fighting), 20:00.
2nd Period-3, Hershey, Simpson 12 (McGauley, Gazley), 4:51 (PP). 4, Lehigh Valley, Vorobyev 7 (Bardreau, Vecchione), 13:56. Penalties-Goulbourne Lv (hooking), 3:04; Martel Lv (roughing), 7:40; Langlois Her (tripping), 7:40.
3rd Period- No Scoring.Penalties-Martel Lv (tripping), 6:48; Barber Her (tripping), 18:53.
OT Period- No Scoring.Penalties-No Penalties
Shootout – Lehigh Valley 2 (Conner NG, Brennan NG, Knight G, Varone NG, Vorobyev G), Hershey 1 (Simpson NG, Bourque NG, Whitney G, Gazley NG, Barber NG).
Shots on Goal-Lehigh Valley 8-11-13-3-1-36. Hershey 7-11-4-2-0-24.
Power Play Opportunities-Lehigh Valley 0 / 2; Hershey 1 / 3.
Goalies-Lehigh Valley, Muse 8-1-0 (24 shots-22 saves). Hershey, Copley 12-14-6 (35 shots-33 saves).
A-9,653
Referees-Brandon Blandina (20), Andrew Wilk (57).
Linesmen-Colin Gates (3), Bill Lyons (27).
And for the latest Phantoms news, visit www.phantomshockey.com or follow the team on Facebook (www.facebook.com/lehighvalleyphantoms), Twitter (@lvphantoms) and Instagram (@lehighvalleyphantoms).