31 Different Players Have Already Suited up for Lehigh Valley
By: Ryan Sharp
Just a quarter of the way into the season, the Lehigh Valley Phantoms have had to deal with a plethora of roster moves typically not encountered until later on in the year, even by American Hockey League standards. Key players, including Joel Farabee, Morgan Frost and Philippe Myers have all been called up to play for the Flyers. Connor Bunnaman, Carsen Twarynski, German Rubtsov, Mikhail Vorobyev and Andy Andreoff have also spent time in the NHL with Philadelphia this season before returning to the Phantoms, leaving Head Coach Scott Gordon with a lot of decisions to make when it comes to who will take the ice on a given night.
"The biggest challenge was at the start of the year we didn't play a lot of games. So when we had a full roster we couldn't capitalize on having a full roster," Gordon said. "All of a sudden when we started playing, then the combination of the players getting called up and the injuries… We thinned out pretty quickly. It was a tough time for it to happen with all the games we had to play."
The Phantoms entered the season with nine defensemen, a position Gordon considered a strength, but only five ended up on the initial roster.
With new players constantly entering and leaving the locker room, it is important for veteran players to enter a leadership role, something Gordon commends captains Cal O'Reilly and Nate Prosser for doing.
"They're a real good voice of reason for our younger players to understand that there's an expectation on what it takes to be a pro," Gordon said. "A lot of the stuff that we talk to them (about) as coaches, for a lot of them it's the first time they've heard what we're asking them to do. And so there's a lot of experience with those two guys to be able to take our message and support within the room."
"That's really important with any American League team because you have so many young players," he added. "Especially this year because we had such a turnover of prospects and veterans. I think it was really important that we had the quality of people of Cal and Nate to support us."
O'Reilly took on an immediate leadership role in his first season with the Phantoms, after spending the last two seasons in the Minnesota Wild organization.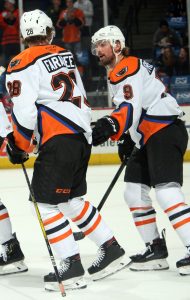 "A big part of it, especially early, is developing relationships with each other, especially the young guys — getting to know them and them getting to know us and feel comfortable with us," O'Reilly said. "We're there to help them get better and they're pushing us to get better as well."
When it comes to the all the roster moves this early in the season, O'Reilly said he thinks it can be a good thing for the team.
"I think it's kind of good it's happening to us so early, because it can help our team develop and go through some adversity early," he said.
He also added that the depth the Flyers organization has created has been very helpful, even with all the movement, as the talent allows the team a chance to win no matter who is in the lineup.
"(Gordon) is good," he said. "He plays four lines, so when guys come up it's not like they're going to sit on the bench all night. He trusts them and gives them an opportunity to play minutes."
Moving forward, O'Reilly said he wants to see the team continue to build relationships with each other and develop.
"The more we play as a team, everybody is going to look better and we'll win more hockey games," he said. "Ultimately, we want to win."