Phantoms 46 Shots as Andrew Hammond Snags Belleville Victory
November 15, 2017
Belleville, ON – Mike Vecchione (3rd and 4th) struck for a pair of goals in a second-period comeback effort on the road but eventually the host Belleville Senators pulled away for a 6-2 win over the Lehigh Valley Phantoms on Wednesday night at Yardmen Arena. Vecchione's conversions pulled the Phantoms to within 3-2 and the team appeared to be on the verge of equalizing but Senators goalie Andrew Hammond had the answer every time in a dazzling 44-save effort to push the Sens to victory.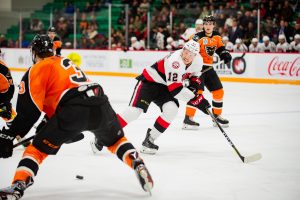 Gabriel Gagne (6th and 7th) led the Belleville offensive attack while recent reinforcements Jack Rodewald (4th) and Ben Harpur (1st) also lit the lamp for the early advantage.
Alex Lyon started for Lehigh Valley but a rebound goal that was chipped in on the doorstep early in the second period brought on a change when he made way for Dustin Tokarski who contributed some stellar relief work to keep the Phantoms close until the late goals sealed the result.
It was one close-range opportunity after another for the Phantoms who continually generated quality chances only to be repeatedly thwarted by "The Hamburglar." Hammond made one sensational save after another in holding the Phantoms out. Well, all but one of the Phantoms at least.
Mike Vecchione's pair of goals came three minutes apart in the second period and he had a couple other close calls to recording his first pro hat trick. The 24-year-old rookie hailing from Union College moved into a tie for the league leadership in rookie points with 15 on four goals and 11 helpers. Vecchione joins Tucson's Dylan Strome as the only AHL first-year standouts to reach the 15-point mark.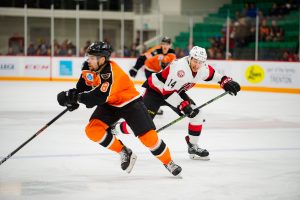 It was only the sixth time in four season that Lehigh Valley had registered 46 shots or more in a game. The last time was March 15, 2017 when the Phantoms had 48 shots against Syracuse. The previous season-high for shots on goal for the Phantoms was 40 on November 3rd against Wilkes-Barre/Scranton.
Hammond's 44 saves ties the most in the AHL this season. Charlie Lindgren of Laval on October 27 and Linus Ullmark of Rochester on November 1 have also recorded 44-save efforts.
Lehigh Valley took consecutive regulation losses for the first time this season to fall to 9-5-2 overall. The Phantoms are now halfway through their season-long six game road-trip which continues on Friday night in Laval, Quebec. The surging Belleville Senators have won three of their last four and improved their mark to 8-7-1 via the only Canadian meeting between the two clubs this season.
Big blueliner prospects Samuel Morin and Philippe Myers both returned to the lineup from short-term absences. Morin had missed the last five games and had not played since October 28. Myers sat out the most recent four games and had not played since November 3.
Ben Harpur opened the scoring at 3:29 into the game in his first game from Ottawa when his seeing-eye shot from the point found the upper-left corner.
The teams traded chances for the rest of the first period until Jack Rodewald collected the rebound of a Harpur shot with 41 seconds to go before the break. His fourth of the season also came in his first game back since returning from the NHL and allowed Belleville to enjoy a 2-0 advantage at the intermission.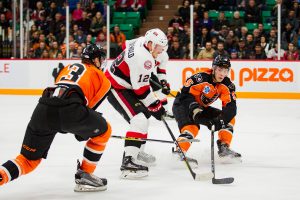 Eric Burgdorfer's shot from the left point appeared to glance off the leg of Phantoms defenseman Reece Willcox and off Lyon in the crease where Garbirel Gagne was available to finish the pinballing action for his first of the game at just 44 seconds into the period and at that point Lyon made way for Tokarski.
The Phantoms had some of their best chances throughout the second period including 10 straight shots on net after the Gagne goal. Eventually their perseverance paid off when Vecchione smartly anticipated a D-to-D pass thus generating his own breakaway which he buried on the glove-side of Hammond to cut the deficit to 3-1 at 12:33 into the second period.
The Phantoms almost converted again just a minute later when Misha Vorobyev chopped and redirected a T.J. Brennan point shot right off the right post and out. And the puck seemed to be bouncing that way for much the night for Lehigh Valley.
Vecchione would strike again 183 seconds later when linemate Nicolas Aube-Kubel stole the puck in the corner and offered a rapid-fire centering pass that appeared to go between the legs of Belleville's Ben Harpur for a nifty and quick chip to the far post by Vecchione and suddenly the Phantoms were within a goal at 3-2 with 4:24 remaining in the second period.
The pressure continued but eventually Belleville broke through with a two-on-one in the opening minutes of the third with Gagne burying his try on the give-and-go with Max McCormick. The goal at 3:39 into the third was the first Tokarski had allowed after 15 straight saves to begin his relief appearance.
Belleville built on their 4-2 lead in the closing minutes with a pair of strikes 31 seconds apart when the Phantoms were forced to step up and take additional risks and chances.
Jim O'Brien deposited a power-play goal at 14:37 on a loose puck in the crease. And Colin White's second of the season was scored on an assist by Jack Rodewald with 4:52 left to complete the scoring.
The Phantoms out shot Belleville 46-35. Lehigh Valley was 0-for-3 on the power play while the Senators were 1-for-1.
Lehigh Valley travels to Laval, Quebec on Friday for a 7:30 engagement against the Rocket in Game 4 of the six-game road swing. The Phantoms next home game is Saturday, November 25 against the Bridgeport Sound Tigers on Legends of Wrestling Night featuring Whitehall's very own "Nasty Boys." Tickets are available at PPLCenter.com
Lehigh Valley Records – Most Shots
50 – Dec 7, 2016 at SYR
48 – Mar 15, 2017 vs. SYR
48 – Dec 9, 2016 vs. RCH
47 – Feb 8, 2017 vs. BNG
46 – Nov 15, 2017 at BEL
46 – Feb 12, 2016 vs. POR
AHL Highs This Season – Most Saves
44 – Andrew Hammond, Nov 15, Belleville vs. Lehigh Valley
44 – Charlie Lindgren, Oct 27, Laval vs. Rochester
44 – Linus Ullmark, Nov 1, Rochester vs. Utica
Lehigh Valley Phantoms 2 at Belleville Senators 6
Wednesday, November 15, 2017 – Yardmen Arena
Lehigh Valley 0 2 0 – 2
Belleville 2 1 3 – 6
1st Period-1, Belleville, Harpur 1 (White), 3:29. 2, Belleville, Rodewald 4 (Harpur), 19:19. Penalties-Werek Bel (roughing), 8:30.
2nd Period-3, Belleville, Gagne 6 (Burgdoerfer, McCormick), 0:44. 4, Lehigh Valley, Vecchione 3 12:33. 5, Lehigh Valley, Vecchione 4 (Aube-Kubel), 15:36. Penalties-Chabot Bel (holding), 5:06.
3rd Period-6, Belleville, Gagne 7 (McCormick, Chabot), 3:39. 7, Belleville, O'Brien 5 (Chabot, McCormick), 14:37 (PP). 8, Belleville, White 2 (Rodewald), 15:08. Penalties-McCormick Bel (boarding), 11:54; Carey Lv (high-sticking), 13:31; Friedman Lv (roughing), 17:28; McCormick Bel (roughing), 17:28.
Shots on Goal-Lehigh Valley 14-16-16-46. Belleville 11-15-9-35.
Power Play Opportunities-Lehigh Valley 0 / 3; Belleville 1 / 1.
Goalies-Lehigh Valley, Lyon 6-3-1 (12 shots-9 saves); Tokarski 3-1-1 (23 shots-20 saves). Belleville, Hammond 4-2-1 (46 shots-44 saves).
A-3,101
Referees-Nick Gill (65), Dave Lewis (11).
Linesmen-Francois Dussureault (60), Brandon Bourgeois (7).
Reserve your group outings for the 2017-2018 season of Phantoms hockey. For more information on how to reserve your seat at PPL Center to the hottest ticket in town, call the Phantoms front office today at 610-224-GOAL [4625]!
And for the latest Phantoms news, visit www.phantomshockey.com or follow the team on Facebook (www.facebook.com/lehighvalleyphantoms), Twitter (@lvphantoms) and Instagram (@lehighvalleyphantoms).