Rochester Prevails 3-1 in Cole Bardreau's Homecoming
March 16, 2016
Rochester, NY – Sometimes a hot goalie makes all the difference in the world. Big Swedish netminder Linus Ullmark dove and scrambled his way from one spectacular save to another in the process denying the relentless Phantoms attack and leading the host Rochester Americans to a 3-1 victory on Wednesday evening at Blue Cross Arena. In so doing, the Americans garnered belated revenge for their humiliating 7-1 pounding they sustained to the hands of the Phantoms at PPL Center on November 13 as the two teams ended up splitting the season series.
In a strange quirk to the stellar goaltenders' duel between Anthony Stolarz and Linus Ullmark, both teams benefited from weirdly bouncing pucks that the opposing team inadvertently knocked into their own net.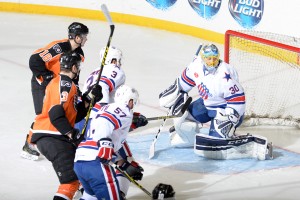 Ullmark's 39 stops were enough to save the day for the Amerks when Lehigh Valley appeared to be on the verge on several occasions of breaking through. Aaron Palushaj (11th) scored late in the first period for the lone Phantoms conversion of the evening on a strangely bouncing puck that hit off the stick and leg of Rochester defender Brady Austin before bounding in.
Rochester goals were scored by new acquisition Cole Schneider (19th) as well as rookie Justin Bailey (13th) and Chad Ruhwedel (3rd). The third-period goal by Ruhwedel that helped Rochester extend their lead was somewhat similar to Palushaj's earlier strike in that a defenseman inadvertently helped guide the puck into their own net. The relatively routine shot that was repelled by Stolarz was batted in mid-air on the left hand of Samuel Morin who knocked it into the net off his fingertips instead of over to the corner as he had clearly intended.
The acrobatics of Ullmark somewhat spoiled the homecoming of nearby Fairport native Cole Bardreau who was twice denied on breakaways and was also rejected on a point-blank blast in the low slot. Bardreau was playing inside Blue Cross Arena for only his second occasion with his first coming as a sophomore at Fairport High School. With several relatives and high school friends gathered together, the rookie from Cornell University provided some additional entertainment for his own personal Fan Club when he dropped the gloves in the third period with Rochester's Alex Guptill in a spirited bout in which both undersized combatants landed squarely on several punches.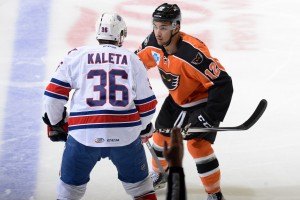 Schneider opened the scoring just past the midway point of the opening period when his one-timer from the right circle on a cross-ice feed by Eric O'Dell that was good for a power-play strike.
Palushaj's toss from the right corner that went off Austin on it's way towards the back of the net would tie the game at 1-1 with 2:36 to go in the first period. His goal was assisted by Colin McDonald.
Bardreau raced away from the neutral zone with a shorthanded breakaway against a team that has allowed a league-worst 12 shorties this year. But Bardreau's backhander towards the left post found Ullmark's blocker and was deflected away.
A pinballing puck across the slot would be deposited by Justin Bailey at 8:34 of the second for the eventual game-winner. One drive that Stolarz knocked away was picked up in the right circle for another blast by Carrier that was again rejected. But Bailey with his back turned to the goal was able to detect that Stolarz was unable to return to the crease from whence he departed and a quick little backhand slip was all it took for the tie-breaking tally. Former Phantom (2009-10) and Flyers draft selection (2002) Joey Mormina was credited with the secondary assist on the play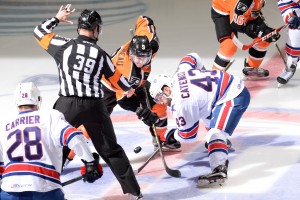 The Phantoms turned up the pressure and peppered away on Ullmark with one big blast after another stemming from a long series of offensive-zone faceoff wins. Ullmark was barely equal to the task and then Ruhwedel's fortunate bouncer would turn out to be the late difference-maker.
Lehigh Valley finished 0-for-5 on the power play while the Americans were 1-for-4. Lehigh Valley out shot Rochester 40-31.
The Phantoms conclude their five-game road-trip on Friday night against the AHL-leading Toronto Marlies at 7:05. Be sure to catch all the action on FOX 1470-AM, online at www.fox1470.com or via the iHeartRadio app with "Countdown to Faceoff" commencing the broadcasting festivities at 6:20 p.m.
The Phantoms return home on Sunday, March 20 at 5:05 p.m. against the Portland Pirates in the opener of a four-game homestand at PPL Center. That game will also feature a fun-filled post-game autograph session with all the Phantoms players!
RISE UP! Reserve your season tickets for the 2016-2017 season of Lehigh Valley Phantoms hockey. For more information on how to reserve your seat at PPL Center to the hottest ticket in town, call the Phantoms front office today at 610-224-GOAL (4625)!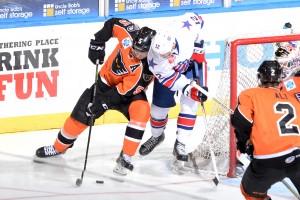 Lehigh Valley Phantoms 1 at Rochester Americans 3 – Status: Final
Wednesday, March 16, 2016 – Blue Cross Arena
Lehigh Valley 1 0 0 – 1
Rochester 1 1 1 – 3
1st Period-1, Rochester, Schneider 19 (O'Dell, Donovan), 11:01 (PP). 2, Lehigh Valley, Palushaj 11 (McDonald), 17:24. Penalties-Goulbourne Lv (interference), 3:21; Kaleta Rch (diving/embellishment), 3:21; Carrier Rch (holding), 3:56; Rodrigues Rch (tripping), 6:19; Alt Lv (high-sticking), 9:50; Smith Lv (roughing), 14:24; Kaleta Rch (roughing), 14:24.
2nd Period-3, Rochester, Bailey 13 (Carrier, Mormina), 8:34. Penalties-Conner Lv (holding), 1:31; Carrier Rch (hooking), 9:15; Schneider Rch (interference), 16:20; Brent Lv (holding the stick), 18:36.
3rd Period-4, Rochester, Ruhwedel 8 12:49. Penalties-Austin Rch (delay of game), 1:42; Bardreau Lv (fighting), 12:52; Guptill Rch (fighting), 12:52; Hagg Lv (high-sticking), 17:37.
Shots on Goal-Lehigh Valley 14-13-13-40. Rochester 11-10-10-31.
Power Play Opportunities-Lehigh Valley 0 / 5; Rochester 1 / 4.
Goalies-Lehigh Valley, Stolarz 19-15-3 (31 shots-28 saves). Rochester, Ullmark 10-8-0 (40 shots-39 saves).
A-3,368
Referees-Pierre Lambert (39), Furman South (55).
Linesmen-Derek Sylvester (76), Tim Kotyra (53).
Upcoming Home Games:
Sunday, March 20, 2016, Portland Pirates vs. Lehigh Valley Phantoms, 5:05 p.m.
(Post-Game Autographs with Phantoms Players.)
Wednesday, March 23, 2016, Hershey Bears vs. Lehigh Valley Phantoms, 7:05 p.m.
(Health Care Workers Appreciation Night. Non-Profit Awareness Night.)
Friday, March 25, 2016, Providence Bruins vs. Lehigh Valley Phantoms, 7:05 p.m.
Saturday, March 26, 2016, Hartford Wolf Pack vs. Lehigh Valley Phantoms, 7:05 p.m.
(Fan Appreciation Night.)
In the midst of their 20th season of operation, the Phantoms are coming off their Inaugural Season as the Lehigh Valley Phantoms playing at the brand-new PPL Center. Established in 1996, the Phantoms spent their first 13 seasons at the Spectrum in Philadelphia before re-locating to Glens Falls, New York in 2009 where the team spent the next five seasons as the Adirondack Phantoms. A new era of Phantoms hockey began in the fall of 2014 when the Lehigh Valley Phantoms began play at the state-of-the-art PPL Center. Through 19 incredibly successful campaigns, the Phantoms have captured two Calder Cup Championships (1998, 2005), two Conference Championships (1998, 2005), two Regular Season Titles (1996-97, 1997-98) and four Division Championships (1996-97, 1997-98, 1998-99, 2003-04).