Toronto Marlies Rally for 3-2 Overtime Final
March 18, 2016
Toronto, ON – Anthony Stolarz had another spectacular performance between the pipes for the Lehigh Valley Phantoms who took the top team in the American Hockey League to a 2-2 draw through 60 regulation minutes. But ultimately the Toronto Marlies would prevail for the bonus standings point on Colin Smith's game-winner in the extra session in a 3-2 decision at Ricoh Coliseum on Friday night.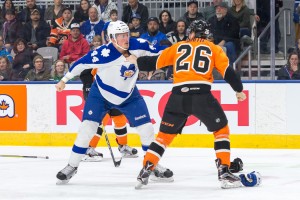 Lehigh Valley carried a 2-0 advantage into the final minutes of their five-game road-trip finale on goals by Tim Brent (6th) and Petr Straka (19th) while Stolarz held the highest scoring team in the league off the board through the first 54+ minutes of the contest. But goals by Sam Carrick (12th), Brendan Leipsic (18th) and then the game-winner from Colin Smith (18th) concluded the night's scoring.
The overtime win almost went to the Phantoms' side. Chris Conner, Taylor Leier and Adam Comrie all had close calls in the opening seconds of the overtime but newly acquired netminder Alex Stalock was able to barely reject their attempts as he hung on for his first win in a Marlies uniform for the former San Jose Sharks backup.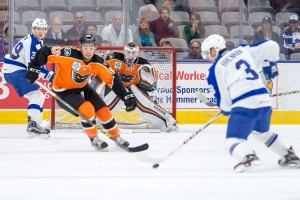 Both teams were tagged for penalties in the first period in which Stolarz was tested early to the tune of 10 first period denials in keeping the game scoreless.
The Phantoms converted on their next power-play opportunity early in the second period when former Toronto Marlie and Maple Leaf Tim Brent would chip upstairs the second rebound of Chris Conner's close-range attempts. Brent's sixth of the season was his first in over two months and his first since returning from 19 games on the sideline with an injury.
The former Toronto St. Michael's Majors standout had over 60 friends and family on hand to cheer in person for his game-opening lamp-lighter.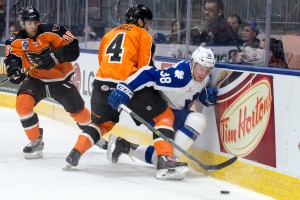 The Phantoms looked to be in control when Petr Straka's breakaway goal after a fine feed through center by Aaron Palushaj staked the visitors to a 2-0 margin with just 5:54 remaining in the third. All of that hard work by Stolarz keeping the hosts out of the net appeared to be on the verge of paying off in an exciting road victory.
But shortly after the Straka goal came another Toronto power play and they quickly converted on their sixth opportunity of the game with Sam Carrick's deposit of a rebound off Stolarz leg bringing the Marlies back to within one a mere 24 seconds after the Straka goal.
Another penalty called against the Phantoms would help enable the Marlies to the equalizer. The Phantoms had technically killed off the critical power play but Mark Alt had barely returned from the penalty box and had not even made it back to the Phantoms zone when Toronto's Brendan Leipsic curled around to the right dot for a short-post low wrister just beneath the glove of Stolarz.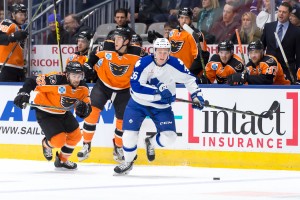 After Conner, Leier and Comrie almost scored a winner for Lehigh Valley, it would be Colin Skmith racing away for the Marlies up the left wing. Anthony Stolarz made one of his most spectacular saves of the night with the right toe to deny the former Colorado Avalanche farmhand. But just a few moments later it would be Smith again but this time from the top of the right circle to convert top shelf.
The Marlies victory was their 45th win of the year, most in the American Hockey League.
The Marlies out shot Lehigh Valley 37-25 in the game. Toronto was officially held to 1-for-7 on the power play while the Phantoms were 1-for-5.
The Phantoms return home on Sunday, March 20 at 5:05 p.m. against the Portland Pirates in the opener of a four-game homestand at PPL Center. That game is the opener of a four-game homestand over a seven-day stretch for the Phantoms and will also feature a fun-filled post-game autograph session with all the Phantoms players!
RISE UP! Reserve your season tickets for the 2016-2017 season of Lehigh Valley Phantoms hockey. For more information on how to reserve your seat at PPL Center to the hottest ticket in town, call the Phantoms front office today at 610-224-GOAL (4625)!
Lehigh Valley Phantoms 2 at Toronto Marlies 3 (OT) – Status: Final
Friday, March 18, 2016 – Ricoh Coliseum
Lehigh Valley 0 1 1 0 – 2
Toronto 0 0 2 1 – 3
1st Period- No Scoring.Penalties-served by Martin Tor (bench minor – too many men), 5:41; Hagg Lv (holding), 14:38; served by Conner Lv (bench minor – too many men), 17:45; served by Palushaj Lv (bench minor – too many men), 19:51.
2nd Period-1, Lehigh Valley, Brent 6 (Conner, Comrie), 4:44 (PP). Penalties-Doherty Tor (tripping), 4:06; Smith Lv (fighting), 9:58; Doherty Tor (fighting), 9:58; Percy Tor (interference), 16:33; Frattin Tor (hooking), 16:55; DeSimone Lv (cross-checking), 19:10.
3rd Period-2, Lehigh Valley, Straka 19 (Drewiske, Palushaj), 14:07. 3, Toronto, Carrick 12 (Arcobello, Leipsic), 14:31 (PP). 4, Toronto, Leipsic 18 (Brennan, Lindberg), 17:24. Penalties-Arcobello Tor (slashing), 9:30; DeSimone Lv (slashing), 11:03; Comrie Lv (cross-checking), 14:23; Alt Lv (hooking), 15:22.
OT Period-5, Toronto, Smith 18 (Brennan, Lindberg), 2:32. Penalties-No Penalties
Shots on Goal-Lehigh Valley 3-14-5-3-25. Toronto 10-10-16-1-37.
Power Play Opportunities-Lehigh Valley 1 / 5; Toronto 1 / 7.
Goalies-Lehigh Valley, Stolarz 19-15-3 (37 shots-34 saves). Toronto, Stalock 2-2-0 (25 shots-23 saves).
A-4,714
Referees-Kendrick Nicholson (44), Brett Iverson (51).
Linesmen-Jordan Browne (67), Mark McLean (73).
Upcoming Home Games:
Sunday, March 20, 2016, Portland Pirates vs. Lehigh Valley Phantoms, 5:05 p.m.
(Post-Game Autographs with Phantoms Players.)
Wednesday, March 23, 2016, Hershey Bears vs. Lehigh Valley Phantoms, 7:05 p.m.
(Health Care Workers Appreciation Night. Non-Profit Awareness Night.)
Friday, March 25, 2016, Providence Bruins vs. Lehigh Valley Phantoms, 7:05 p.m.
Saturday, March 26, 2016, Hartford Wolf Pack vs. Lehigh Valley Phantoms, 7:05 p.m.
(Fan Appreciation Night.)
In the midst of their 20th season of operation, the Phantoms are coming off their Inaugural Season as the Lehigh Valley Phantoms playing at the brand-new PPL Center. Established in 1996, the Phantoms spent their first 13 seasons at the Spectrum in Philadelphia before re-locating to Glens Falls, New York in 2009 where the team spent the next five seasons as the Adirondack Phantoms. A new era of Phantoms hockey began in the fall of 2014 when the Lehigh Valley Phantoms began play at the state-of-the-art PPL Center. Through 19 incredibly successful campaigns, the Phantoms have captured two Calder Cup Championships (1998, 2005), two Conference Championships (1998, 2005), two Regular Season Titles (1996-97, 1997-98) and four Division Championships (1996-97, 1997-98, 1998-99, 2003-04).