Connauton and Hodgson Involved in Provorov Deal
June 6, 2023
PHILADELPHIA FLYERS PARTICIPATE IN THREE-TEAM TRADE WITH COLUMBUS BLUE JACKETS AND LOS ANGELES KINGS
Philadelphia Flyers General Manager Daniel Briere today announced the club has acquired goaltender Cal Petersen, defensemen Sean Walker and Helge Grans and a second-round pick in the 2024 NHL Draft from the Los Angeles Kings. The Flyers also acquired a first-round pick (22nd overall) in the 2023 NHL Draft and a conditional second-round pick in the 2024 NHL Draft from the Columbus Blue Jackets in exchange for defenseman Ivan Provorov. Los Angeles will retain 30 percent of Provorov's salary and receive defenseman Kevin Connauton and forward Hayden Hodgson from the Flyers.
Kevin Connauton and Hayden Hodgson both played for the Lehigh Valley Phantoms in the 2022-23 season.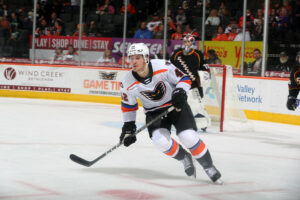 Petersen, 28 (10/19/94), spent majority of the 2022-23 season with the Ontario Reign of the American Hockey League (AHL) and went 16-20-4 with a 2.88 GAA, a .904 SV% and two shutouts in 40 games. The 6-foot-1, 180-pound native of Waterloo, Iowa, recorded a season-high four-game win streak, Jan. 8-17, and tallied his first AHL assist on Jan. 28 at San Diego. The right-glove netminder went 5-3-2 with a 3.75 GAA and a .868 SV% in 10 games with Los Angeles last season. He is 44-42-10 with a 2.92 GAA, a .905 SV% and four shutouts in 101 career NHL games in five seasons with the Kings (2018-23). Petersen was selected by Buffalo in the fifth round (129th overall) of the 2013 NHL Draft and made his NHL debut with Los Angeles on Nov. 13, 2018 vs. TOR and earned his first NHL win in his first NHL start on Nov. 16, 2018 at Chicago.
Walker, 28 (11/13/94), collected 13 points (3-10=13) and 36 penalty minutes (PIM) in 70 games during the 2022-23 season with the Los Angeles Kings. The 5-foot-11, 195-pound native of Keswick, Ontario, ranked third among team defensemen in PIM, fourth in shots (94) and fifth in games played. He scored his first career game-winning goal Feb. 13 vs. Buffalo. The right-shot defenseman owns 67 points (16-51=67) and 92 PIM in 232 career NHL games in five seasons with the Kings (2018-23). Walker registered 80 points (22-58=80) and 250 PIM in 160 games in four seasons (2013-17) with Bowling Green State University and served as team captain during his junior and senior seasons (2015-17). He signed as a free agent with Los Angeles on July 3, 2018.
Grans, 21 (5/10/02), selected by the Kings in the second round (35th overall) of the 2020 NHL Draft, totaled nine points (2-7=9) and 22 PIM in 59 games last season with the Ontario Reign (AHL). The 6-foot-3, 205-pound native of Ljungby, Sweden, opened the season with his fourth career multi-point game, including his first AHL game-winning goal, Oct. 14 vs. Abbotsford. The right-shot blueliner owns 33 points (9-24=33) and 30 PIM in 115 career AHL contests in two seasons with the Reign (2021-23). He represented Sweden at the 2022 U20 World Junior Championships and tallied four assists in seven games.
The Philadelphia Flyers currently own 10 picks in the 2023 NHL Draft, including two first-round selections (7th & 22nd overall), two third-round selections, two fourth-round selections, one fifth-round selection, two sixth-round selections and one seventh-round selection.
Provorov recorded 217 points (65-152=217) and 196 PIM in 532 career games with Philadelphia. He is the all-time franchise leader in blocked shots (1,035), ranks second among all-time Flyers defensemen in even-strength goals (55) and overtime goals (4), third in shots (1,070), fourth in goals, sixth in points, T-9th in assists and 10th in games played. He was selected by Philadelphia in the first round (7th overall) of the 2015 NHL Draft.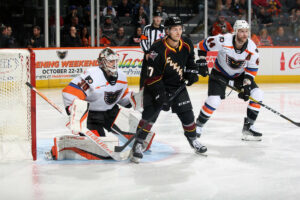 Connauton spent the 2022-23 season with Lehigh Valley where he served as an alternate captain and registered 15 points (3-12=15) and 49 PIM in 63 games. He skated in 26 contests with Philadelphia during the 2021-22 season and made his Flyers debut Dec. 10 at Vegas. The defenseman owns 80 points (28-52=80) and 188 PIM in 360 career NHL games in parts of nine seasons with Dallas, Columbus, Arizona, Colorado, Florida and Philadelphia (2013-22). The Flyers claimed Connauton off waivers from the Panthers on Dec. 7, 2021.
Hodgson tallied eight points (3-5=8) and 83 PIM in 44 contests with Lehigh Valley during the 2022-23 campaign. He also skated in the season opener Oct. 13 against New Jersey with Philadelphia. He owns three points (1-2=3) in seven career NHL games with the Flyers (2021-23) and 39 points (22-17=39) in 90 games with Lehigh Valley. Hodgson finished second on the Phantoms with 19 goals in his breakout 2021-22 season in which he earned an NHL contract. He signed as a free agent with Philadelphia on Aug. 29, 2022.