by Bill Meltzer @BillMeltzer / philadelphiaflyers.com
Here's a look at where both contracted and unsigned players ages 25 and younger in the Flyers' farm system from the 2017-2002 NHL Entry Drafts are slated to play in 2023-24.
Young NHL roster players who have already surpassed the NHL games threshold for rookie eligibility are not listed below, This includes Wade Allison, Kieffer Bellows (a potential restricted or unrestricted free agent this summer depending on whether he received a qualifying offer), Noah Cates, Joel Farabee, Morgan Frost, Tanner Laczynski, Owen Tippett and Cam York. An exception is made below for defenseman Egor Zamula.
CURRENT PHANTOMS AND ROYALS PLAYERS UNDER NHL CONTRACT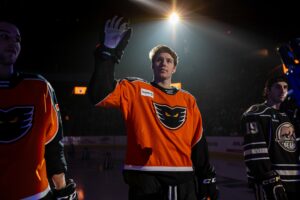 Ronnie Attard (D, 2019 Draft, 3/72)
The offensive-minded, large-framed defenseman showed progress in the all-around game as a Lehigh Valley Phantoms rookie in 2022-23. He is still working on aspects of his defensive game but Attard trended the right way this season. Offensively, the hard-shooting blueliner compiled 12 goals and 32 points.Attard earned a spot in the AHL All-Star Game as well as a roster spot for Team USA at the 2023 IIHF World Championships in Finland and Latvia. He also got a two-game cup of coffee in the NHL with the Flyers after appearing in 15 NHL games (2g, 2a) late in the 2021-22 campaign.
Attard turned 24 on March 20, 2023. He will vie for an NHL spot next season. He is a restricted free agent this summer.
Evan Barratt (C, Acquired via trade with Chicago)
The Flyers organization acquired the Bristol, PA, native, USNTDP and Penn State alum on Oct. 26, 2022, in a swap of minor league players. Cooper Zech went to the Blackhawks organization, while Barratt came into the Flyers' farm system. Barratt, who turned 24 on Feb. 18, primarily spent the 2022-23 season at the ECHL level with the Reading Royals (50 points in 46 regular season games, 14 points in 11 playoff games). He appeared in two games in the AHL for the Phantoms (0g, 1a). Barratt, who was originally drafted by the Blackhawks in the third round (90th overall) of the 2017 Entry Draft) is a restricted free agent this summer. If the Flyers do not tender a qualifying offer, he becomes an unrestricted free agent.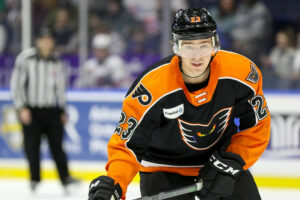 Bobby Brink (RW, 2019 Draft, 2/34)
A Hobey Baker Award finalist who led the NCAA with 57 points (14g, 43a in 41 games) in 2021-23, Brink finished the season in the NHL with the Flyers (0g, 4a in 10 games played). Unfortunately, an off-season injury resulted in hip surgery and cost Brink the first half of the 2022-23 season. He returned in January and spent the second half of the regular season (12g, 16a for 28 points 41 games played) and three-game playoff run (0g, 1a) in the AHL with the Phantoms.
Unsurprisingly, it took a couple months for Brink to get close to 100 percent recovery of his game on a more consistent basis. The crafty and shifty 5-foot-8 winger lacks blazing speed but makes up for it with anticipation, creativity and competitive drive. Brink, who turns 22 on July 8, will play the final season of his entry-level contract come the 2023-24 season.
Jackson Cates (C/W, 2021 free agent signing)
The older Cates brother is a Group 6 unrestricted free agent this summer unless he is re-signed. In 2022-23, he dressed in 65 regular season (11g, 12a, 23 points) and one playoff game for the Phantoms. He also appeared in five NHL games for the Flyers (0 points) this season to bring his career total to 20 NHL games (1g, 1a). if re-signed by the Flyers, he would vie for a bottom-six role for Lehigh Valley and a potential fill-in role for the parent club.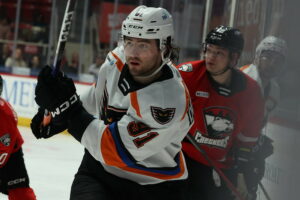 Elliot Desnoyers (C/W, 2020 Draft, 5/135)
Two-way forward Desnoyers surpassed offensive expectations in his American Hockey League rookie season with the Phantoms in 2022-23. He led all Lehigh Valley players with 23 regular season goals and ranked fourth on the team with 44 points in 65 games. He added one goal in the Phantoms' three-game playoff series with Charlotte. Desnoyers held his own in four NHL games with the Flyers, although he did not record a point.
The player, who turned 21 on Jan. 21, 2023, will enter the second season of his three-year entry-level contract in 2023-24. In training camp, he will vie for an NHL opening night roster spot. If that does not happen, an in-season recall is a distinct possibility.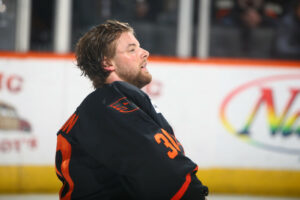 Sam Ersson (G, 2018 Draft, 5/143)
Overall, Ersson enjoyed a very strong 2022-23 season as a workhorse starter for the AHL's Lehigh Valley Phantoms. He also had some impressive NHL games in 11 appearances for the Flyers. Between the AHL (2,512 regular season minutes, 194 playoff minutes) and the NHL (645 minutes), Ersson's combined 3,351 minutes played across 57 games played shattered his previous minutes played high in pro hockey of 2,356 in the SHL with Brynäs IF Gävle in 2020-21. He seemed to run out of gas late this past season, and his stats suffered accordingly but Ersson's overall body of work was solid.
The goalie, who will turn 24 on Oct. 20, will vie for the backup NHL job in training camp. Ersson will enter the final season of his entry-level contract in 2023-24.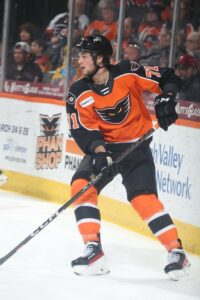 Tyson Foerster (RW, 2020 Draft, 1/23)
Foerster made a very strong return in 2022-23 from shoulder surgery that cost him most of the previous season and resulted in him returning to the Ontario Hockey League to finish the season. Foerster led the Phantoms in scoring (48 points in 60) and earned a selection to the American Hockey League All-Star Game. He also impressed in his first NHL recall late in the season (3g, 4a in eight games played).
Foerster turned 21 on January 18, 2023. He will aim for an opening night NHL roster spot on the Flyers to start the 2023-24 campaign. In 2023-24, Foerster will play the second season of his three-year entry level contract.
Adam Ginning (D, 2018 Draft, 2/50)
The defensive-minded defenseman was a pleasant surprise as an AHL rookie for the Phantoms in 2022-23. He matched a Lehigh Valley Phantoms franchise record with a traditional plus-24 rating, and chipped in 19 points (3g, 6a) in 68 games. He was rewarded with a recall to the Flyers to make his NHL debut in the season's home finale.
Ginning has some physicality to his game and has worked hard to improve his first-pass execution, although his game with the puck on his stick is still something of a work in progress. He has a shot at another NHL recall at some point next season, and will be a training camp dark horse for an opening night spot. Ginning turned 23 on January 13, 2023.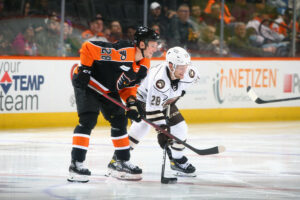 Olle Lycksell (RW, 2017 Draft, 6/168)
Lycksell came over to North America in 2022-23 and had a strong AHL rookie season for the Phantoms. The 23-year-old Swedish forward led the Phantoms in assists (31) and ranked second in overall scoring with 45 points in 53 games played. He also appeared in eight NHL games with the Flyers (0g, 1a).
Lycksell is a restricted free agent this summer. He will turn 24 on August 24.
Mason Millman (D, 2019 Draft, 4/103)
The mobile and offensive-minded blueliner has mostly played at the ECHL level thus far in his career. He dressed in 63 games for Reading this season (eight goals. 37 assists, 45 points) plus 11 playoff games (1g, 6a, 7 points) and one for Lehigh Valley. Overall. he's appeared in a total of 26 AHL games over parts of three seasons. He's been a work in progress in terms of the defensive side of his game as well as adding strength. Millman, who will turn 22 on July 18, has one season remaining on his entry-level contract.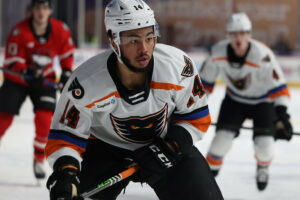 Zayde Wisdom (RW, 2020 Draft, 4/94)
The power forward split the 2022-23 season between the AHL with the Phantoms (45 GP, 3g, 7a, 10 points) in mostly a fourth-line role and the ECHL with the Reading Royals, where he played higher in the lineup. Wisdom posted five points in six regular season games with the Royals and then eight points (4g, 4a) in 11 playoff games.
Wisdom impressed in a watered-down AHL during the pandemic-shortened 2020-21 season until a bout with COVID slowed him down. In 2021-22, he returned to the Ontario Hockey League after missing most of the first half of the campaign due to offseason shoulder surgery. Wisdom finished strong, particularly in the playoffs.
In 2022-23, he struggled conditioning-wise during John Tortorella's ultra-grueling training camp.The organization remains encouraged by his competitiveness and desire to improve. Wisdom will enter the second season of his three-year entry level contact come the 2023-24 season. He'll turn 21 on July 7.
.
Wyatte Wylie (D, 2018 Draft, 5/127)
Wylie played his third professional season for the Phantoms in 2022-23. He primarily played on the Phantoms' third pairing. Wylie was in and out of the lineup at various junctures this season, playing in 45 games (offensively, he chipped in three goals and 10 points). He dressed in all three Phantoms playoff games against Charlotte but received somewhat limited ice time.
Overall, Wylie had a better 2021-22 season than his 2022-23 campaign. Wylie, who will turn 24 on Nov. 2, 2023, is a restricted free agent this summer (subject to receiving a qualifying offer).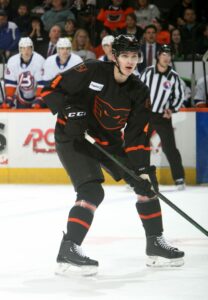 Egor Zamula (D, 2018 free agent signing)
The physically gifted Zamula had an uneven 2022-23 season for both the Phantoms in 44 games (1g, 18a, 19 points, minus-4) and the Flyers in 14 games (0g, 4a). He worked hard less summer to add strength to his frame. Unfortunately, a late-season shoulder injury resulted in surgery. He is already in the rehab process and is expected to be ready to go for the start of next season. However, it could take a couple months for the Russian defenseman to fully recover his game.
The Flyers are still high on his mobility, puck-moving upside and innate poise. He still needs greater consistency but his better NHL games were often more impressive overall than his median AHL performances. I made an exception by including Zamula in the roundup even though he has 26 career NHL games played to date and, technically, is no longer considered an NHL rookie.
The Flyers re-signed Zamula on May 2, 2023, to a one-year, one-way contract extension. He is no longer exempt from clearing waivers come next season if he does not make the NHL roster. Zamula turned 23 on March 30, 2023.
TURNING PRO IN 2023-24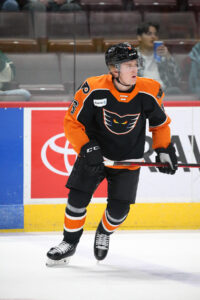 Emil Andrae (D, 2020 Draft, 2/54)
Andrae impressed in Swedish pro hockey over the last two seasons at both the Allsvenskan (minor league) and SHL levels for HV71 Jönköping. The offensive-minded defenseman was a fixture on the Swedish national junior team, and had an outstanding 2022 World Junior Championships as the captain of the "Junior Crowns".
Before the Flyers signed the 5-foot-9 defenseman to an entry-level contract that kicks in for the 2023-24 season, he signed a tryout AHL deal with the Phantoms that enabled him to play the final 10 games of the regular season (2g, 4a, 6 points) and all three playoff games (0 points) in the Atlantic Division first round series against Charlotte. Andrae has adjustments to make to be ready for the NHL, but he is already a skilled power play performer and quite adept on breakouts.
JR Avon (C. 2021 free agent signing)
If not for the cancellation of the entire 2020-21 Ontario Hockey League season due to the pandemic, Avon would likely have been at least a middle round selection in the 2021 NHL Entry Draft. Instead, he was unselected and was ultimately signed by the Flyers after impressing in Rookie Camp. Since then, the speedy center has averaged slightly north of a point-per-game for his hometown Peterborough Petes (Ontario Hockey League) in each of the last two seasons.
Apart from Flyers-affiliated players currently playing in the IIHF World Championships, Avon and teammate Brian Zanetti are the only players in the Flyers organization who has not yet finished his 2022-23 campaign. Peterborough is currently playing in the championship round of the OHL playoffs and, as of this writing, is one victory away from capturing the championship and advancing to the Memorial Cup. Avon was the big star of Game Four of the final series against the London Knights, tallying his eighth and ninth goals of the OHL playoff.
Avon, who is the stepson of retired NHL star Steve Larmer, will turn 20 on July 4. He is expected to vie for a spot with the Phantoms next season and will try to work his way into the farm team's top nine over the course of his first pro year or two. The 2023-24 season will mark the start of his three-year entry-level contract.
Ethan Samson (D, 2021 Draft, 6/174)
The offensive-minded and lanky blueliner developed considerably from an offensive standpoint at the Western Hockey League level the past two seasons. Adept at jumping into the attack or manning a power play point, Samson posted 60 points (18 goals, 42 assists) in 62 games for the Prince George Cougars in 2022-23.
The Flyers signed Samson to an entry-level contract on Dec. 31, 2022. He is still working on his 200-foot game and needs a strong offseason in the gym. He is not considered a fast-track NHL prospect but the belief is, with proper development and added strength, he has a chance to eventually work his way up to challenge for an NHL spot.
Come 2023-24, Samson will either play for the Phantoms or the Royals. The British Columbia native will turn 20 on Aug. 23, 2023.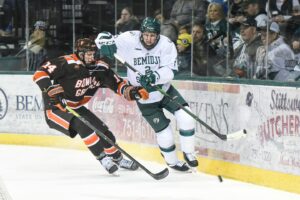 Will Zmolek (D, 2023 free agent signing)
The 24-year-old blueliner completed his four-year college career for Bemidji State University in 2022-23 and was signed to an entry-level contract by the Flyers as a free agent on March 7, 2023. The Minnesota native dressed in three AHL regular season games and one playoff game for the Phantoms on a tryout contract. His one-year entry-level contract kicks in for the 2023-24 season. As a senior for Bemidji State this season, Zmolek posted 21 points (4g, 17a) in 36 games played.
A steady defender with emerging first-pass ability, Zmolek has a well-knit 6-foot-4 frame and brings promise of physical competitiveness. He will vie for a starting spot on the Phantoms next season.
PLAYING IN EUROPE
Alexei Kolosov (G, 2021 Draft, 3/78)
Kolosov already has three seasons (two full years, one partial season) of KHL experience under his belt despite being just 21 years old. The Belarusian netminder has emerged as one of the league's top young goalies while playing for Dinamo Minsk (who are not a powerhouse club in the league). Kolosov is currently unsigned by the Flyers but there is organizational interest in doing so when he's available to come to North America.
With players in Russia and satellite ally Belarus. player transfers are very much case-by-case in the current political climate. The NHL canceled its memorandum of understanding (MOU) with the Russian Hockey Federation after the invasion of Ukraine. Drafted players' NHL rights are held indefinitely but the logistics of signing and bringing players over can be complicated. In terms of credentials, Kolosov is a fine prospect with NHL potential.
Santeri Sulku (W/C, 2022 Draft, 7/197)
The Finnish born, Finnish and Swedish trained teenager was selected by the Flyers with their final pick of the 2022 NHL Entry Draft. Slated to play in Sweden this season for Modo's J20 team, Sulku missed the entire season due to injury. He showed some promise the previous year at the Finnish junior level for Jokerit's J20 team.He will turn 19 on June 13, 2023.
Samu Tuomaala (RW, 2021 Draft, 2/46)
The Flyers signed their 2021 second-round pick — the organization's first pick in that year's Draft due to the club's first-round selection being traded to Buffalo in the Rasmus Ristolainen deal — to an entry-level contract on Aug. 14, 2021.
He opened the 2021-22 season in the AHL with the Phantoms but struggled. Tuomaala then returned home to play in Finland's Liiga (he also could have played in the Ontario Hockey League) but received very sparing ice time and did not produce.
Tuomaala had a strong 2022 offseason in terms of his conditioning and adding some much-needed strength. However, he once again failed to impress in Liiga. A major standout at the Under-18 World Championships in 2021, he did not earn a roster spot on Finland's national Under-20 team for the 2022-23 World Junior Championships.
One ray of hope: After being moved down from Liiga to Mestis (minor league) level, Tuomaala racked up a total of 27 goals and 48 points in 31 games for two clubs. The player, who will turn 21 on Jan. 8. 2024, is no longer slide-rule eligible come the 2023-24 season. That means the first season of his three-year NHL entry level contract will be used even if he's on loan in Finland. Tuomaala is an outstanding skater with a natural finishing touch but his game is very much a work in progress.
Brian Zanetti (D, 2021 Draft, 4/110)
Drafted out of HC Lugano's junior system in his native Switzerland, Zanetti's exclusive NHL signing rights are held by the Flyers until June 1, 2025. The smooth-skating puck mover spent the 2021-22 and 2022-23 seasons in the Ontario Hockey League with the Peterborough Petes. The team is currently one win away from the OHL championship and a trip to the Memorial Cup.
Zanetti, who represented Switzerland at both the 2022 and 2022-23 World Junior Championships, plans to continue his development next season back home in Switzerland at the pro level. He turned 20 on March 15, 2023.
CHL (OHL, QMJHL, WHL)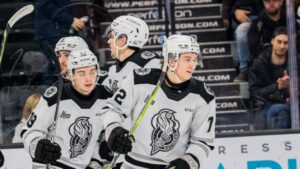 Alexis Gendron (RW, 2022 Draft, 7/220)
A late-year birthday player (born Dec. 30, 2003), Gendron was selected by the Flyers with their final pick of the 2023 NHL Entry Draft. The son of Flyers Quebec-based scout and former NHL player Martin Gendron had a breakout offensive season at the QMJHL level in 2022-23, especially after a midseason trade from the Blainville-Boisbriand Armand (29 GP, 22 goals, 12 assists, 34 points) to the Gatineau Olympiques.
After the transfer to Gatineau, Gendron racked up 33 goals 14 assists, and 47 points in 34 regular season games and then 14 more goals among 19 points in 13 playoff games. All totaled, Gendron compiled 69 goals and 100 points in 76 regular season and playoff games.
Despite his gaudy goal-scoring stats in the Q, Gendron likely has further overall development to go before he's ready for the pro game. Ineligible to play in the American Hockey League in 2023-23 due the AHL's age rules for CHL-affiliated players, Gendron is eligible for a draft-plus-two season in the Quebec League. Currently unsigned by the Flyers, the organization has until June 1, 2024, to sign him to an entry-level deal before they'd lose his exclusive NHL rights.
NCAA PLAYERS
Alex Bump (LW, 2022 Draft, 5/133)
The offensively talented former Minnesota high school standout had a productive 2022-23 season in the USHL for the Omaha Lancers (32 GP, 26 points) and Tri-City Storm (16 GP, 13 points in the regular season, three goals and four points in four playoff games). He will be a freshman player next season for the University of Vermont.
Bump's ice vision and hands have never been in doubt. He's still working on his two-way game and skating explosiveness. He will turn 20 on Nov. 20, 2023.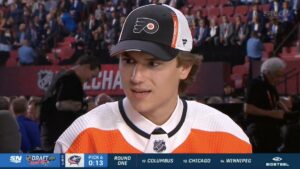 Cutter Gauthier (C/LW, 2022 Draft, 1/5)
The highly touted forward enjoyed a promising freshman collegiate season at Boston College in 2022-23. Offensively, Gauthier posted 37 points (16g, 21a) in 32 games. He also made strides toward adapting to a transition from left wing to center.
Gauthier skated on Team USA's top line at the 2022-23 World Junior Championships, skating on left wing, and posting four goals and 10 points in seven games. Currently, Gauthier is playing (on left wing) for Team USA at the 2023 IIHF World Championships. He scored in each of the first two games of the preliminary round and then led all players with seven shots on goal (despite not getting on the scoresheet) in his third game.
There's still room for more consistency in aspects of Gauthier's game. There's long-term 200-foot upside in his game and the player has outstanding physical tools but there's room to expand his abilities as he continues to develop.
Gauthier will return to BC to play a sophomore season in 2023-24. He may play on the same line as incoming freshmen and top 2023 NHL Draft prospects Will Smith and Ryan Leonard. Gauthier also remains eligible to play at the 2023-24 World Junior Championships.
Devin Kaplan (RW, 2022 Draft, 3/69)
The Flyers are pleased with the power forward's progress through his Draft-plus-one season. Kaplan brings a high-energy north-south style game, a physical element, and some offensive upside. He posted 10 goals, 13 assists, 23 points, 49 penalty minutes and a traditional plus-15 rating in 40 freshman games for Boston University.
Kaplan will return to BU for his sophomore season in 2023-24. Long term, the Flyers organizations believes he can become an effective bottom-six (possibly top nine, with the right linemates) forward at the professional level. There is still significant development to go between now and that point, but he's trended in a positive direction in his first year since being drafted.
Hunter McDonald (D, 2022 Draft, 6/165)
Drafted by the Flyers last year from the USHL's Chicago Steel, the late-blooming defensive defenseman played a shutdown role for Northeastern University as a freshman this season. McDonald was one of the top shot-blocking defensemen across the entire NCAA in 2022-23. He was a traditional plus-21 in 35 games played, threw his weight around and chipped in 14 points (1g, 13a). He played particularly well in the annual Beanpot tournament, won by Northeastern.
McDonald is a physically sturdy player, packing 207 pounds on a 6-foot-4 frame. He turned 21 years old on May11, 2023. The Fairport, NY, native will return to Northeastern for his sophomore season in 2023-24.
Ty Murchison (D, 2021 Draft, 5/158)
The USNTDP product plays an aggressive, physical style and is an above-average skater. He played his sophomore collegiate season at Arizona State in 2022-23 (36 GP, 2g, 3a, 5 points, 93 PIM). Murchison has a combined 169 penalty minutes in 71 collegiate games to date. The 6-foot-2, 198-pound blueliner has chipped in a combined six goals and 12 points across his two seasons of college hockey.
Murchison, who turned 20 on Feb. 2, 2023, will return to Arizona State next season for his junior season.
Owen McLaughlin (C, 2021 Draft, 7/206)
A regular offensive producer at the prep school and USHL (Sioux CIty Musketeers) levels, McLaughlin was a freshman college player this season for the University of North Dakota. Still working on various aspects of the details in his game, McLaughlin did not see nearly as much overall time as a freshman that he did at lower levels but nevertheless dressed in 37 games (2g, 13a, 15 points).
The Chester County native and former Valley Forge Minutemen player celebrated his 20th birthday on March 25, 2023. He will play his collegiate sophomore season in 2023-24.
Other collegiate player notes:
1) In 2021, the NCAA granted college hockey players who competed during the pandemic-affected 2020-21 season in Division both an additional season of competition eligibility and an additional year in which to complete it (in other words, a total of six years to play four seasons).
2) The Flyers have elected not to tender a contract offer to 2017 first-round pick Jay O'Brien, who was a senior at Boston University in 2022-23. Philadelphia will receive a compensatory second-round pick in the 2024 NHL Entry Draft.
3) Gavin Hain, a 2018 sixth-round pick, accepted the offered extra NCAA season, and played a fifth collegiate campaign for North Dakota in 2022-23. On August 15, 2023, 23-year-old forward can become an unrestricted free agent.
4) 2019 seventh-round pick Bryce Brodzinski, whose University of Minnesota team reached the NCAA championship game in 2022-23, has not yet declared his intentions for next season. He has the option of either playing a fifth season for the Gophers or becoming an unrestricted free agent (unless signed by the Flyers to an entry-level contract) on Aug, 15, 2023.
UNDETERMINED STATUS (EUROPE)
Goaltender Ivan Fedotov (drafted in the seventh round of the 2015 Entry Draft) has aged out of consideration for this prospect list. He will turn 27 on Nov. 28, 2023.
Fedotov signed a one-year entry-level contract with the Flyers last summer but was unable to fulfill it, as he was conscripted into the Russian military. He did not play organized hockey in 2022-23.
Recently, the general manager of CSKA Moscow told the Russian media that Fedotov would be discharged from active military service and would sign a multi-year contract to return to the former Red Army team (which is still technically affiliated loosely with Russia's Department of Defense). However, as of this writing, no contract has been announced. Fedotov's KHL contract ran out after the 2021-22 season.
For NHL purposes, Fedotov is considered a 10.2 (c) restricted free agent. This means that, subject to a qualifying offer from the Flyers, Philadelphia will retain his NHL rights and the player would be ineligible to receive an offer sheet from any other NHL club.
2023 NHL ENTRY DRAFT
At present, unless the team adds or trades picks in the 2023 NHL Entry Draft, the Flyers are slated to add nine prospects to the farm system at the Draft in Nashville on June 28 and 29.
The Flyers currently own the following picks in the 2023 Draft: 1st round (7th overall), 3rd round (87th overall via the New York Rangers and 93rd overall via the Florida Panthers), 4th round (103rd overall, 121st overall from Edmonton), fifth round (135th overall), sixth round (167th overall, 172nd overall from Ottawa) seventh round (199th overall). The team does not currently own a second-round pick.