Playoff Push Continues This Weekend at PPL Center
April 3, 2023
Lehigh Valley, PA – The Philadelphia Flyers have announced that defenseman Ronnie Attard has been recalled from the Lehigh Valley Phantoms, according to interim general manager Daniel Briere.
Additionally, the Phantoms have signed forward Brendan Furry to a two-year AHL contract. Furry joins the Phantoms an a try-out for the remainder of the 2022-23 season. Also, forward Alex Kile has been returned to the Maine Mariners of the ECHL.
Attard, 24, joins the Flyers for the first time this season to play in his first NHL games since the end of last year when he arrived from Western Michigan to play for Philadelphia scoring 2-2-4 in 15 games. Attard's first full season of professional hockey has included 64 games with the Phantoms scoring 11-19-30. Attard leads all Phantoms defensemen in goals, assists and points and also is second on the team with 150 shots on goal (Garrett Wilson has 157).
The 6'4″ right-shot defenseman was a Round 3 selection of the Flyers in the 2019 NHL Entry Draft. Attard earned a trip to the AHL All-Star Classic in Laval, Quebec this February.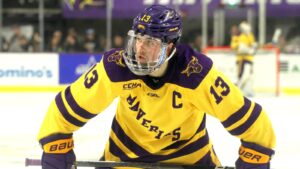 Furry, 24, completed his three-year career at Minnesota State (Mankato) scoring 9-18-28 this season in 39 games. The Toledo, Ohio native served as the Mavericks captain this season and played in 111 games in his NCAA career from 2020-23 scoring 27-58-85. Furry had previously played for the Omaha Lancers and Tri-City Storm of the USHL for two seasons from 2017-19 scoring 38-59-97 in 111 career games.
Furry registered 31 assists in 2021-22 to tie for third in NCAA hockey and his +30 rating rated him eighth in the nation. He was named to the Albany Regional All-Tournament Team at the NCAA Tournament in 2022 as the Minnesota State Mavericks advanced to the Frozen Four before falling to Bobby Brink and the Denver Pioneers in the NCAA Championship game in Boston.
Kile, 28, has scored 2-2-4 in 19 games with the Phantoms this season and also has 14-20-34 with Maine in just 31 games.
The former University of Michigan captain also played in 27 games with the Phantoms last season scoring 4-3-7 and has 106 career goals as a pro in 332 career games in the ECHL and AHL combined. Kile is the all-time leading scorer in the current incarnation of the Maine Mariners dating back to when he was the first player to sign with the new team in 2018.
The Phantoms are back at PPL Center this weekend with home games against the Charlotte Checkers and Springfield Thunderbirds on Friday and Saturday. Lehigh Valley's Magic Number to clinch a playoff spot is at seven points with five games remaining in the regular season.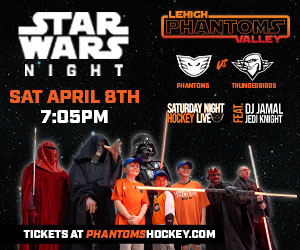 UPCOMING SCHEDULE
Friday, April 7 (7:05) vs. CHARLOTTE CHECKERS
Saturday, April 8 (7:05) vs. SPRINGFIELD THUNDERBIRDS
Wednesday, April 12 (7:00) at Bridgeport Islanders
Friday, April 14 (7:05) vs. CHARLOTTE CHECKERS
Saturday, April 15 (7:00) at Hershey Bears
UPCOMING PROMOTIONS
Friday, April 7 (7:05) vs. Charlotte Checkers – Berks $1 Hot Dogs
Saturday, April 8 (7:05) vs. Springfield Thunderbirds – Star Wars Night! SNHL with DJ Jamal "Jedi" Knight
Friday, April 14 (7:05) vs. Charlotte Checkers – Regular Season Home Finale. Berks $1 Hot Dogs
Calder Cup Playoffs! – Dates TBD