Lehigh Valley tops Bridgeport, lowers magic number to 7
April 2, 2023
Bridgeport, CT – The Lehigh Valley Phantoms closed a busy weekend on a high note by scoring an exciting 3-2 win over the Bridgeport Islanders on Sunday at Total Mortgage Arena. Artem Anisimov (19), Olle Lycksell (11) and Garrett Wilson (17) all led the Phantoms offense to cut their magic number to clinch the 2023 Calder Cup Playoffs down to 7 points. The Phantoms could punch their ticket to the postseason as early as next weekend at PPL Center.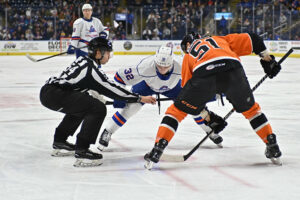 Tyson Foerster had a pair of primary assists and Olle Lycksell also had a multi-point game with a goal and ana assist. Emil Andrae registered a power-play assist and now has four points (1-3-4) in five games since joining the Phantoms two weeks ago.
In the opening 20 minutes, it was pure domination by the good guys in orange, who threw 16 shots on target against Isles goaltender Cory Schneider. Only Anisimov could solve Schneider in the first period by jabbing home a loose rebound after Tyson Foerster initially tested the Bridgeport backstop at 3:52. Olle Lycksell also earned his team-leading 30th assist on the play.
Early in the second period, the Phantoms went to work on their first power play of the game and soon hit pay-dirt. Moments after Foerster dented the cross-bar with a laser-beam shot, a pretty passing combination was buried by Olle Lycksell from the right circle at 3:25. Foerster faked a slap shot and fired a perfect pass across to the opposite wing to freeze the Islanders penalty killers as Lycksell beat Schneider sprawling across.
Foerster's helper gives him an impressive nine-game combined point streak including a four-game streak since returning to the team as well as a five-game streak with the Philadelphia Flyers prior to his departure.
Chris Terry solved Nolan Maier to cut his team's deficit to 2-1 at 7:08, but Lehigh Valley punched back with a razzle-dazzle transition.
The Phantoms showcased their best Harlem Globetrotters impersonation on a 3-on-2 odd-man rush with Garrett Wilson, Bobby Brink and Adam Brooks. Crisp passing turned Schenider inside-out, and Wilson buried the glorious chance into an open net from the left wing to restore Lehigh Valley's two-goal cushion. It was Wilson's 12th goal in the last 18 games and would eventually hold up as the game-winner.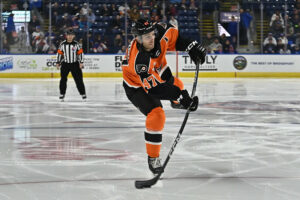 Bridgeport came in waves offensively and pressed hard in the final frame, but Maier was sensational in goal to keep the Isles at bay. Grant Hutton brought the Isles to within 3-2 at 7:55 by blasting home a center-point drive, but Maier stood tall and slammed the door shut to preserve the victory. His save in close quarters on former Phantom Cole Bardreau with 40 seconds left was the last of his several strong denials through a third period in which the Phantoms scrapped their way to the finish line while being outshot 13-3.
The Lehigh Valley Phantoms concluded a pivotal weekend by claiming a productive four out of six possible standings points and trimmed their magic number to single digits.
The Phantoms improved to 5-1-1 against Bridgeport and have won four of their last five overall to pull within striking distance of a Calder Cup Playoff berth.
The Phantoms return to action this weekend with hopes of another giant leap towards clinching a spot in the 2023 Calder Cup Playoffs. Lehigh Valley welcomes the Charlotte Checkers and Springfield Thunderbirds to PPL Center on Friday and Saturday in a pair of pivotal games against teams directly ahead of Lehigh Valley in the standings.
SCORING SUMMARY
1st 3:52 – LV A. Anisimov (19) (T. Foerster, O. Lycksell) 1-0
2nd 3:25 – LV O. Lycksell (11) (T. Foerster, E. Andrae) (PP) 2-0
2nd 7:08 – BRI C. Terry (22) (A. Durandeau, V. Sevigny) 2-1
2nd 9:43 – LV G. Wilson (17) (B. Brink, A. Brooks) 3-1
3rd 7:55 – BRI G. Hutton (4) (C. Bardreau, B. Jenkins) 3-2
Shots:
LV 25 – BRI 28
PP:
LV 1/1, BRI 0/3
Goalies:
LV – N. Maier (W) (5-2-2) (27/28)
BRI – C. Schneider (L) (18-10-3) (22/25)
Records:
Lehigh Valley (35-26-6)
Bridgeport (31-27-8)
UPCOMING SCHEDULE
Friday, April 7 (7:05) vs. CHARLOTTE CHECKERS
Saturday, April 8 (7:05) vs. SPRINGFIELD THUNDERBIRDS
Wednesday, April 12 (7:00) at Bridgeport Islanders
UPCOMING AT PPL CENTER
Friday, April 7 (7:05) vs. Charlotte Checkers – Berks $1 Hot Dogs
Saturday, April 8 (7:05) vs. Springfield Thunderbirds – Star Wars Night! SNHL with DJ Jamal "Jedi" Knight
Friday, April 14 (7:05) vs. Charlotte Checkers – Regular Season Home Finale. Berks $1 Hot Dogs