Sam Ersson Also Called to Backup Tonight
March 14, 2023
Lehigh Valley, PA – The Philadelphia Flyers have recalled forward Tyson Foerster and Sam Ersson on an emergency basis from the Lehigh Valley Phantoms, according to Flyers Interim General Manager, Daniel Briere.
Sam Ersson will serve as back-up goalie tonight vs. Vegas, as Carter Hart will not play due to the flu.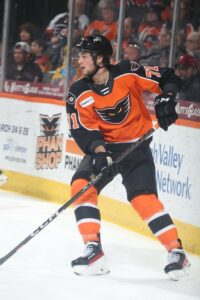 Foerster, 21, made his NHL debut last Thursday at the Carolina Hurricanes and became the fourth Lehigh Valley Phantom this season to make that jump joining Olle Lycksell, Sam Ersson and Elliot Desnoyers. Foerster played his second career NHL game on Saturday at Pittsburgh. He has scored 19-20-39 in 57 games with the Phantoms and was named to the AHL All-Star Classic in Laval last month.
Foerster also leads the Phantoms in power-play scoring with seven goals on the man advantage and nine power-play assists for 16 points. He is also tops on the team with 138 shots on goal.
While the Flyers'first-round selection in 2020 had played for the Phantoms prior to the 2022-23 season, he had never played a full 72-game season at the pro level. He had just 24 games in the abbreviated 2020-21 season that started in February scoring 10-7-17 in his first opportunity at the pro level. And last year, while still only 19 years old, Foerster only played in nine games with Lehigh Valley before a shoulder injury in November derailed his season.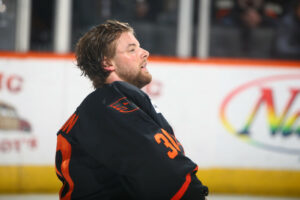 Ersson, 23, is 19-11-1, 2.61, .907 with the Phantoms this season. With the Philadelphia Flyers, he has gone 6-1-0, 3.07, .898.
Ersson is 7-1-0, 2.13. 911 with one shutout in his last eight games with the Phantoms since February 4. Since making his NHL debut on December 23, the rookie goaltender has gone 9-3-0 with the Phantoms and also 7-1-0 with the Flyers for a combined record of 16-4-0.
Ersson's first recall in December and January included his first NHL win on December 31, 2022 at the Los Angeles Kings and also his first NHL shutout on January 9, 2023 at Buffalo. He also became just the eighth goaltender in NHL history to begin a career with a 6-0-0 mark.
The Phantoms return to action at PPL Center on Wednesday and Friday with consecutive games against the rival Hershey Bears.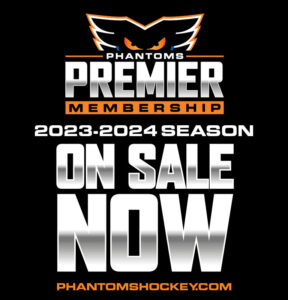 Phantoms Tickets are available HERE
UPCOMING SCHEDULE
Wednesday, March 15 (7:05) vs. HERSHEY BEARS
Friday, March 17 (7:05) vs. HERSHEY BEARS
Sunday, March 19 (4:05) vs. WILKES-BARRE/SCRANTON PENGUINS
Saturday, March 25 (7:05) at Wilkes-Barre/Scranton Penguins
Sunday, March 26 (5:00) at Hershey Bears
UPCOMING AT PPL CENTER
Wednesday, March 15 (7:05) vs. Hershey Bears – Truist Night. Chamber of Commerce Night. $2 Pregame Happy Hour Beers
Friday, March 17 (7:05) vs. Hershey Bears – St. Patrick's Day! Whiteout Night. $1 Hot Dogs
Sunday, March 19 (4:05) vs. Wilkes-Barre/Scranton Penguins – Prospect Pack Trading Card Sets for First 5,000 Fans
Friday, March 24 – NCAA Tournament Hockey Allentown Regional Doubleheader Hosted by Penn State
Sunday, March 26 – NCAA Tournament  Hockey Allentown Regional Final playing for Berth in the Frozen Four