Five-Game Win Streak
March 14, 2023
Lehigh Valley, PA – The Lehigh Valley Phantoms carry a five-game win streak as they continue a homestand with games at PPL Center on Wednesday, Friday and Sunday in a rivalry weekend that includes a pair of games against Hershey followed by a Sunday matinee finale against Wilkes-Barre/Scranton. Lehigh Valley impressively swept three straight games last weekend with a win at Wilkes-Barre/Scranton on Friday followed by home-ice victories over Belleville and Utica on Saturday and Sunday.
The Phantoms are tied with Springfield for fourth place in the Atlantic Division in a battle for a home-ice playoff advantage in the first round. The top six teams qualify for the Calder Cup Playoffs. There are 13 games remaining in the regular season with eight at home.
WEEKLY RECAP
Friday, March 10, 2023
Phantoms 4 – Penguins 1
Cooper Marody began his big weekend with a pair of goals while Ronnie Attard and Max Willman also contributed to the attack in a 4-1 win at Wilkes-Barre/Scranton on Friday. Sam Ersson made 25 saves including some key stops in the third to outduel Dustin Tokarski. The Phantoms were clinging to a one-goal lead before a pair of late empty-netters sealed the win.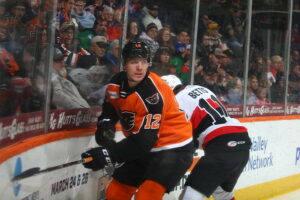 Saturday, March 11, 2023
Phantoms 4 – Senators 3 (OT) 
Cooper Marody's 6-on-5 hat-trick goal with just 48.5 seconds remaining brought the flying sombreros to open Hockey Fiesta Weekend and then Ronnie Attard scored the winner in overtime in a thrilling overtime triumph at PPL Center over the Belleville Senators. Each of Marody's goals pulled the Phantoms to even in a game in which they next led until the very end. It was Lehigh Valley's first overtime win at PPL Center this season following four road wins in extra-time for the team.
Sunday, March 12, 2023
Phantoms 5 – Comets 2
Tyson Foerster and Elliot Desnoyers impressively returned to the Phantoms from their quick stint with the Flyers y scoring consecutive goals just 79 seconds apart in the second period as part of a 5-2 win over the Utica Comets on Sunday evening at PPL Center. Garrett Wilson scored a key power-play goal with 5:59 left to put the Phantoms ahead 3-1 followed by Willman and Marody sealing the victory with empty-net tallies. Nolan Maier had a strong 27-save performance in the victory.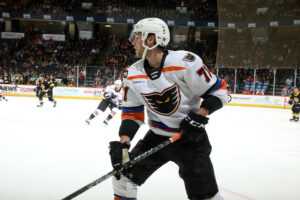 Tyson Debuts
21-year-old Tyson Foerster was recalled to the Philadelphia Flyers and made his NHL debut at Carolina last Thursday. The Flyers first-round selection in 2020 has scored 19-20-39 with the Phantoms to tie him for the team lead with Elliot Desnoyers (21-18-39) who was also recalled last week. Both were returned to the Phantoms on Saturday night to play in the game on Sunday but Foerster was again summoned to the Flyers for their Tuesday game against the Vegas Golden Knights in his first home game with Philadelphia.
Cooper Marody AHL Player of the Week
Cooper Marody was named AHL Player of the Week after scoring six goals with three assists for nine points in just three games last weekend. His hat trick on Saturday tied the game with 48.5 seconds remaining as part of a comeback overtime victory. Marody has scored 12-19-31 in 39 games with the Phantoms this season and has scored 79-127-206 in his AHL career encompassing 221 games with Lehigh Valley and Bakersfield. Marody is the fifth Lehigh Valley player to win AHL Player of the Week honors and it is the 20th time a Phantoms player has won the honor since the beginning of the Philadelphia Phantoms in 1996.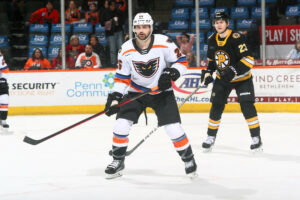 Lehigh Valley Phantoms to win AHL Player of the Week:
Cooper Marody – Mar 13, 2023
Max Willman – Feb 28, 2021
Colin McDonald – Jan 31, 2016
Nick Cousins – Mar 15, 2015
Scott Laughton – Oct 19, 2014 (Scored First Goal at PPL Center)
MOST GOALS BY ROOKIE WITH LEHIGH VALLEY
22 – Danick Martel (2015-16)
21 – Elliot Desnoyers (2022-23)
19 – Connor Bunnaman (2018-19)
PHANTASTIC!
– Lehigh Valley's five-game win streak is their second such stretch of the season. The Phantoms also won five straight from November 5-19. The last time the Phantoms won six in a row was in the 2017-18 season from October 14-27. Lehigh Valley's longest win streak was eight in a row in the 2016-17 season from November 2-18.
 Garrett Wilson has scored 7-8-15 in the last 11 games in a stretch that has included a five-game point streak as well as a hat trick on February 20 against Hartford.
– Adam Brooks has scored 2-7-9 in a four-game point streak
– Sam Ersson is 7-1-0, 2.13. 911 with one shutout in his last eight games with the Phantoms since February 4. Since making his NHL debut on December 23, the rookie goaltender has gone 9-3-0 with the Phantoms and also 7-1-0 with the Flyers for a combined record of 16-4-0.
– Elliot Desnoyers has scored 7-9-15 in his last 12 games since February 1. The 21-year-old center was named AHL Rookie of the Month for February scoring 5-9-14 in just eight games played last month while also making is NHL debut.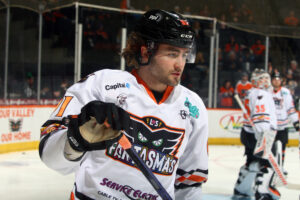 – The Phantoms are….
24-7-5 when scoring 3 or more goals
22-1-1 when allowing 2 goals or fewer
17-5-6 in one-goal games
15-3-6 when scoring the first goal
19-2-4 when leading after two periods
5-3 in overtime and 3-3 in shootouts
UPCOMING
Wednesday, March 15 and Friday, March 17
PPL Center
Phantoms vs. Hershey Bears
The Phantoms play back-to-back games against the Hershey Bears at PPL Center as the rivalry series continues. Hershey (34-16-7) has dropped three straight and fell out of first place in the Atlantic Division when they were swept at the Providence Bruins in a two-game series last weekend. Mike Sgarbossa (19-32-51) and former Phantom Mike Vechione (20-26-46) lead the way for the Bears and both top-line forwards have done very well against the Phantoms. Ethen Frank (25-17-42) tops all AHL rookies in goals. Hunter Shepard (13-6-5, 2.28, .911) is tops in the Eastern Conference in goals-against average while Hershey is surrendering a conference-best 2.60 goals per game. The Phantoms are 2-0-1 against Hershey in the last three meetings after Hershey prevailed in the first seven meetings of the season. This week represented Games 11 and 12 out of 14 in the season series.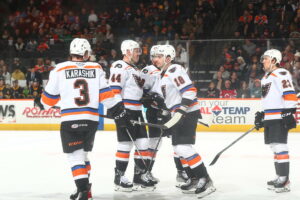 Sunday, March 19, 2023 (4:05)
PPL Center, Allentown, PA
Phantoms vs. Wilkes-Barre/Scranton Penguins
The five-game homestand concludes with another rivalry matchup against the Wilkes-Barre/Scranton Penguins. Lehigh Valley is 5-3-1 against the Baby Pens entering Game 10 out 12 in the season series. Wilkes-Barre/Scranton (23-26-9) has called further behind the playoff cut-line with a three-game win streak and with only two wins in the last 10. The Penguins have just 14 games remaining in the regular season and trail sixth-place Bridgeport by seven points for the final postseason spot. Leading scorer Alex Nylander (25-25-50) has been summoned to Pittsburgh. Valtteri Puustinen (21-26-47) and Drake Caggiula (14-26-40) provide the bulk of their scoring punch but that has definitely been lacking overall for a Penguins team that is last in the conference in total offense at just 2.66 goals per game and has been especially weak at 5-on-5 with just 14 such goals in the last 18 games. They are hoping veteran goalie Dustin Tokarski (10-11-5, 2.44, .917) can make up for their overall lack of offense.
Phantoms Scoring Leaders
Elliot Desnoyers 21-18-39
Tyson Foerster 19-20-39
Olle Lycksell 10-27-37
Garrett Wilson 12-21-33
Cooper Marody 12-19-31
Artem Anisimov 16-12-28
Phantoms Tickets are available HERE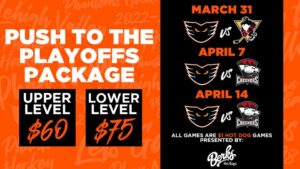 UPCOMING SCHEDULE
Wednesday, March 15 (7:05) vs. HERSHEY BEARS
Friday, March 17 (7:05) vs. HERSHEY BEARS
Sunday, March 19 (4:05) vs. WILKES-BARRE/SCRANTON PENGUINS
Saturday, March 25 (7:05) at Wilkes-Barre/Scranton Penguins
Sunday, March 26 (5:00) at Hershey Bears
UPCOMING AT PPL CENTER
Wednesday, March 15 (7:05) vs. Hershey Bears – Truist Night. Chamber of Commerce Night. $2 Pregame Happy Hour Beers
Friday, March 17 (7:05) vs. Hershey Bears – St. Patrick's Day! Whiteout Night. $1 Hot Dogs
Sunday, March 19 (4:05) vs. Wilkes-Barre/Scranton Penguins – Prospect Pack Trading Card Sets for First 5,000 Fans
Friday, March 24 – NCAA Tournament Hockey Allentown Regional Doubleheader Hosted by Penn State
Sunday, March 26 – NCAA Tournament  Hockey Allentown Regional Final playing for Berth in the Frozen Four

Broadcast coverage of all Phantoms games, home and away, is available on the Phantoms 365 app and on Real Oldies 1470-AM in Allentown. Fans can watch on AHLTV.com and can listen on their Smart Speakers at: "Play Phantoms Radio 24/7." Join the Voice of the Phantoms, Bob Rotruck, for all the action!
Service Electric Network again provides exclusive television coverage of all Phantoms home games with veteran announcer Steve Degler and Phantoms' alum Steven Swavely on the call from the booth. Kristi Fulkerson reports from ice level and also from the Chickie's and Pete's studio with Dan Fremuth for pregame, intermission and postgame show analysis.