Tyson Foerster Can Make NHL Debut Tonight!
March 9, 2023
Lehigh Valley, PA – The Philadelphia Flyers have recalled forwards Elliot Desnoyers and Tyson Foerster from the Lehigh Valley Phantoms. The pair of 21-year-old talents are tied for the team lead in scoring with 38 points apiece.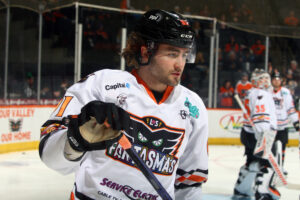 Desnoyers was named AHL Rookie of the Month for February scoring 5-9-14 in just eight games played. Philadelphia's Round 5 selection in 2020 leads the Phantoms scoring 20-18-38 this season and is three goals away from breaking the Lehigh Valley record for goals by a rookie held by Danick Martel with 22 in 2015-16. Desnoyers made his NHL debut on Saturday, February 25 for the Flyers at the New Jersey Devils and played his second NHL game on Wednesday, March 1 against the New York Rangers.
The St-Hyacinthe, Quebec resident and fifth-round selection of the Philadelphia Flyers in 2020 posted five multi-point games in February including his first career multi-goal game on February 11 against Bridgeport and a career-high four points with one goal and three assists on February 20 against Hartford.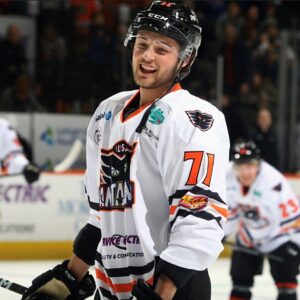 Foerster can make his NHL debut tonight when the Flyers play at Carolina and he would become the fourth Lehigh Valley Phantom this season to make that jump joining Olle Lycksell, Sam Ersson and Elliot Desnoyers. Foerster has scored 18-20-38 in the 2022-23 campaign and was named to the AHL All-Star Classic in Laval last month. The 2020 first-rounder.
The Alliston, Ontario native recently recorded a five-game point streak from February 22 through March 5 marking the second time he has produced such a streak this season. He notched a pair of two-goal games against the Wilkes-Barre/Scranton Penguins on consecutive Fridays with big nights on January 20 and January 27. Foerster also leads the Phantoms in power-play scoring with seven goals on the man advantage and nine power-play assists for 16 points. He is also tops on the team with 135 shots on goal.
While Foerster had played for the Phantoms prior to the 2022-23 season, he had never played a full 72-game season at the pro level. He had just 24 games in the abbreviated 2020-21 season that started in February scoring 10-7-17 in his first opportunity at the pro level. And last year, while still only 19 years old, Foerster only played in nine games with Lehigh Valley before a shoulder injury in November derailed his season.
The Philadelphia Flyers are in action tonight at the Carolina Hurricanes. The Lehigh Valley Phantoms play a Friday night away game at the Wilkes-Barre/Scranton Penguins and then return to PPL Center on "Hockey Fiesta" Weekend when Los Fantasmas will tangle with the Belleville Senators and Utica Comets on Saturday and Sunday.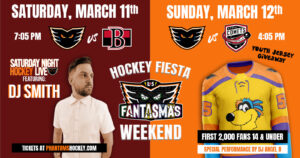 Phantoms Tickets are available HERE
UPCOMING SCHEDULE
Friday, March 10 (7:00) at Wilkes-Barre/Scranton Penguins
Saturday, March 11 (7:05) vs. BELLEVILLE SENATORS
Sunday, March 12 (4:05) vs. UTICA COMETS
Wednesday, March 15 (7:05) vs. HERSHEY BEARS
Friday, March 17 (7:05) vs. HERSHEY BEARS
UPCOMING PROMOTIONS
Saturday, March 11 (7:05) vs. Belleville Senators – Hockey Fiesta Weekend and Saturday Night Hockey Live
Sunday, March 12 (4:05) vs. Utica Comets – meLVin Youth Jersey Day (first 2,000 kids age 14 and younger) and Hockey Fiesta Weekend
Wednesday, March 15 (7:05) vs. Hershey Bears – Truist Night. Chamber of Commerce Night. $2 Pregame Happy Hour Beers
Friday, March 17 (7:05) vs. Hershey Bears – St. Patrick's Day! Whiteout Night. $1 Hot Dogs
Sunday, March 19 (4:05) vs. Wilkes-Barre/Scranton Penguins – Prospect Pack Trading Card Sets for First 5,000 Fans