Friday, March 10, 2023 at 7:05 p.m.
Lehigh Valley Phantoms (28-22-6) at Wilkes-Barre/Scranton Penguins (23-24-9)
Mohegan Sun Arena, Wilkes-Barre, PA
TODAY
The Lehigh Valley Phantoms head up the northeast extension for another rivalry matchup with the contingent from Wilkes-Barre/Scranton. The Phantoms are 4-3-1 entering Game 9 out of 12 in the season series.
Lehigh Valley (28-22-6) picked up consecutive wins over Toronto and Providence in a successful homestand last weekend. The Phantoms are in fifth place in the Atlantic Division but trail the fourth-place Springfield Thunderbirds by just two points for home-ice advantage in the first round of the Calder Cup Playoffs.
Wilkes-Barre/Scranton (23-24-9) is trying to climb out of the cellar in the Atlantic Division and currently trails the Bridgeport Islanders by five points at the playoff qualification cut-line.
There are 16 games remaining in the regular season including 10 at PPL Center.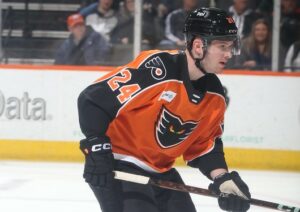 LAST TIME
Sunday, March 5, 2023
Phantoms 3 – Bruins 1
Adam Brooks (7th, 8th) recorded a three-point game, entirely in the third period, and the Lehigh Valley Phantoms won an exciting Sunday home game over visiting Providence 3-1. Rookie goalie Nolan Maier was outstanding with 25 saves on 26 shots. Bobby Brink (7th) added a goal on a setup by Brooks while Max Willman notched a pair of assists. A 0-0 goaltenders' duel between Brandon Bussi of Providence and Nolan Maier for Lehigh Valley opened up in the third after the P-ruins struck for a power-play goal to take a 1-0 lead.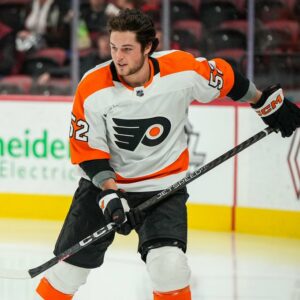 TYSON'S TIME
Tyson Foerster made his NHL debut for the Philadelphia Flyers on Thursday night at the Caroline Hurricanes. The 21-year-old rookie was recalled along with Elliot Desnoyers who played in his third NHL game. Foerster has scored 18-20-38 this season and is tied with Desnoyers for the team lead in points. The 2020 first-round selection of the Philadelphia Flyers becomes the fourth Lehigh Valley Phantom to receive a recall for his NHL debut joining Olle Lycksell, Sam Ersson and Elliot Desnoyers.
Foerster represented the Phantoms at the AHL All-Star Classic in Laval, Quebec along with defenseman Ronnie Attard.
While Foerster had played for the Phantoms prior to the 2022-23 season, the 2020 first-rounder has never played a full 72-game season at the pro level. He had just 24 games in the abbreviated 2020-21 season that started in February and last year, at 19, only played in nine games with Lehigh Valley before a shoulder injury in November derailed his season.
WELCOME, WILL!
The Philadelphia Flyers have signed defenseman Will Zmolek out of Bemidji State who now joins the Lehigh Valley Phantoms on an ATO for the remainder of the 2022-23 season. The 6-for-4 Zmolek scored 4-17-21 this season and led the Beavers with 64 blocked shots. He is the son of former NHL'er Doug Zmolek who played 467 NHL games in eight seasons (1992-2000) with San Jose, Dallas, Los Angeles and Chicago.
MANAGEMENT CHANGE
The Philadelphia Flyers have released Chuck Fletcher from his duties as General Manager and President of Hockey Operations. Daniel Brière, currently serving as Special Assistant to the General Manager, has been named Interim General Manager.
PHANTASTIC!
– Garrett Wilson has scored 6-5-11 in the last eight games in a stretch that has included a five-game point streak as well as a hat trick on February 20 against Hartford.
– Artem Anisimov had another three-game goal streak from February 27 through March 5. The 13-year NHL veteran of 771 games has had three such streaks for the Phantoms this season.
– Sam Ersson is 5-1-0, 2.19. 912 with one shutout in his last six games  with the Phantoms since February 4. Since making his NHL debut on December 23, the rookie goaltender has gone 8-3-0 with the Phantoms and also 6-1-0 with the Flyers for a combined record of 14-4-0.
– Elliot Desnoyers has scored 6-9-15 in his last 11 games since February 1. The 21-year-old center was named AHL Rookie of the Month for February scoring 5-9-14 in just eight games played last month while also making is NHL debut
– The Phantoms are….
21-7-5 when scoring 3 or more goals
20-1-1 when allowing 2 goals or fewer
16-5-6 in one-goal games
13-3-6 when scoring the first goal
17-2-4 when leading after two periods
4-3 in overtime and 3-3 in shootouts
ABOUT THE PENGUINS
Wilkes-Barre/Scranton (23-24-9) is still in playoff contention but the last-place Penguins need to get it moving as they trail sixth-place Bridgeport by five points. Veteran goalie Dustin Tokarski (10-10-5, 2.46, .917) has returned from Pittsburgh backup duty to lead the playoff push and leading scorer Alex Nylander (25-25-50) has also returned to NEPA after a quick recall to the big club. Valtteri Puustinen (21-26-47) remains dangerous as does NHL veteran Drake Caggiula (14-26-40) but the Baby Pens are last in the conference in offense at 2.7 goals per game. The Phantoms are 4-3-1 against Wilkes-Barre/Scranton entering Game 9 out of 12 in the season series but the Penguins took the last matchup in a 4-3 decision in the last meeting on February 22 in northeast Pennsylvania.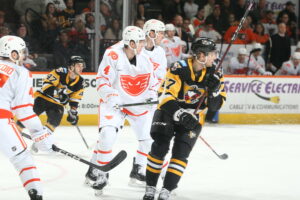 SEASON SERIES
Wilkes-Barre/Scranton Penguins: (4-3-1)
10/15/22                    Away         W             3-2 (OT)
10/28/22                    Home        L              1-3
11/25/22                    Away         SOL           2-3 (SO)
12/31/22                    Home        L              1-4
1/20/22                      Away         W             5-2
1/27/22                      Home        W             4-2
2/18/22                      Home        W             4-3 (SO)
2/22/22                      Away         L              3-4
3/10/22                      Away
3/19/22                      Home
3/25/22                      Away
3/31/22                      Home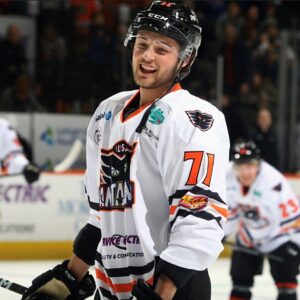 Phantoms Scoring Leaders
x Elliot Desnoyers 20-18-38
x Tyson Foerster 18-20-38
Olle Lycksell 10-26-36
Garrett Wilson 11-18-29
Artem Anisimov 16-12-28
Ronnie Attard 8-17-25
Penguins Scoring Leaders
Alex Nylander 25-25-50
Valtteri Puustinen 21-26-47
Drake Caggiula 14-26-40
Filip Hallander 9-21-30
Tyler Sikura 7-18-25
Phantoms Tickets are available HERE
SPECIAL TEAMS 
Lehigh Valley Power Play – 21.7%, 8th (LV vs. WBS 5/31, 16.1%)
Lehigh Valley Penalty Kill – 72.5%, 32nd
Wilkes-Barre/Scranton Power Play – 20.5%, 12th  (WBS vs. LV 8/34, 23.5%)
Wilkes-Barre/Scranton Penalty Kill – 80.6%, 18th
UP NEXT
The Phantoms return to PPL Center on Saturday against the Belleville Senators and Sunday at 4:05 p.m. against the Utica Comets on Hockey Fiesta Weekend as Lehigh Valley opens a five-game homestand.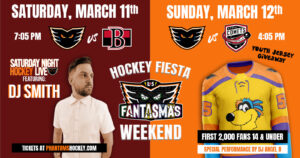 Phantoms Tickets are available HERE
UPCOMING SCHEDULE
Friday, March 10 (7:00) at Wilkes-Barre/Scranton Penguins
Saturday, March 11 (7:05) vs. BELLEVILLE SENATORS
Sunday, March 12 (4:05) vs. UTICA COMETS
Wednesday, March 15 (7:05) vs. HERSHEY BEARS
Friday, March 17 (7:05) vs. HERSHEY BEARS
UPCOMING PROMOTIONS
Sunday, March 5 (4:05) vs. Providence Bruins – Team Poster Giveaway and Postgame Autographs
Saturday, March 11 (7:05) vs. Belleville Senators – Hockey Fiesta Weekend and Saturday Night Hockey Live
Sunday, March 12 (4:05) vs. Utica Comets – meLVin Youth Jersey Day (first 2,000 kids age 14 and younger) and Hockey Fiesta Weekend
Wednesday, March 15 (7:05) vs. Hershey Bears – Truist Night. Chamber of Commerce Night. $2 Pregame Happy Hour Beers
Friday, March 17 (7:05) vs. Hershey Bears – St. Patrick's Day! Whiteout Night. $1 Hot Dogs
Sunday, March 19 (4:05) vs. Wilkes-Barre/Scranton Penguins – Prospect Pack Trading Card Sets for First 5,000 Fans
Broadcast coverage of all Phantoms games with Bob Rotruck is available on the Phantoms 365 app and on Real Oldies 1470-AM in Allentown. Also available on the Listen Live button at phantomshockey.com
Fans can also watch the games on AHLTV.com or can listen on their Smart Speakers at: "Play Phantoms Radio 24/7."
Service Electric Network again provides exclusive television coverage of all Phantoms home games with veteran announcer Steve Degler and Phantoms' alum Steven Swavely on the call from the booth. Kristi Fulkerson reports from ice level and also from the Chickie's and Pete's studio with Dan Fremuth for pregame, intermission and postgame show analysis.