Lehigh Valley Returns to PPL Center Thursday vs. Albany
January 27, 2015
Lehigh Valley, PA – The Philadelphia Flyers, parent club of the Lehigh Valley Phantoms, have recalled from loan forward Ryan White from Lehigh Valley.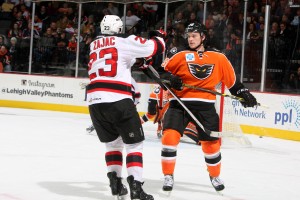 A 26-year-old center from Brandon, Manitoba, White registered a goal, two assists, three points and 39 penalty minutes in 11 games with the Phantoms this season. White made his Lehigh Valley debut in the team's New Year's Eve clash at the Binghamton Senators after working his way back from an upper-body injury sustained during the offseason.
A 6'0″, 200-pound forward, he spent last season with the Montreal Canadiens where he amassed two goals, four assists, six points and 50 penalty minutes in 52 games. All told, White has compiled five goals, 12 assists, 17 points and 232 penalty minutes in 141 career NHL games and has amassed 36 goals, 47 assists, 83 points and 383 penalty minutes in 181 career AHL outings.
The Phantoms return to PPL Center for a pair of games later this week. First, Lehigh Valley welcomes the Albany Devils to town for the final time this season on Thursday, January 29th. Then, the Phantoms welcome the rival Hershey Bears back to downtown Allentown on Friday, January 30th. Friday's game features a free youth jersey giveaway for the first 3,000 kids in attendance (ages 14 and under) and is also meLVin's Birthday Bash as everyone's favorite puck-nosed pladottle will celebrate with some of his craziest mascot friends.
Tickets for both highly-anticipated showdowns are available now at the Mealey's Furniture Box Office at PPL Center (701 Hamilton), by calling 610-347-TIXX (8499) or online at pplcenter.com.
Check it out! Group outings are a fun and affordable way to enjoy all the excitement of Phantoms hockey. For more information on group rates and fan experiences at PPL Center call the Phantoms front office today at 610-224-GOAL (4625)!
Upcoming Home Games:
Thursday, January 29, 2015 Albany Devils vs. Lehigh Valley Phantoms, 7:05 PM
Friday, January 30, 2015 Hershey Bears vs. Lehigh Valley Phantoms, 7:05 PM
(Youth Jersey Giveaway! FREE youth jersey for the first 3,000 kids in attendance (ages 14 and under). meLVin's Birthday Bash!)
Wednesday, February 4, 2015 Worcester Sharks vs. Lehigh Valley Phantoms, 7:05 PM
($2 Beer Night! $2 beers from the time doors open until the start of the 2nd period. Available behind Section 108. Please drink responsibly.)
Friday, February 13, 2015 Binghamton Senators vs. Lehigh Valley Phantoms, 7:05 PM
(Phantoms Hat Giveaway! FREE Phantoms hat for all fans in attendance.)
In their 19th season of operation, the Phantoms are currently in the midst of their Inaugural Season as the Lehigh Valley Phantoms playing at the brand-new PPL Center. Established in 1996, the Phantoms spent their first 13 seasons at the Spectrum before re-locating to Glens Falls, New York in 2009 where the team spent the next five seasons as the Adirondack Phantoms. A new era of Phantoms hockey began in the fall of 2014 when the Lehigh Valley Phantoms began play at the state-of-the-art PPL Center. Through 18 incredibly successful campaigns, the Phantoms have captured two Calder Cup Championships (1998, 2005), two Conference Championships (1998, 2005), two Regular Season Titles (1996-97, 1997-98) and four Division Championships (1996-97, 1997-98, 1998-99, 2003-04).