Lehigh Valley Kicks Off 5-Game Road Trip This Wednesday in Binghamton
December 29, 2014
Lehigh Valley, PA – The Philadelphia Flyers, parent club of the Lehigh Valley Phantoms, have returned on loan goaltender Rob Zepp to the Phantoms. A 33-year-old netminder from Newmarket, Ontario, Zepp was recalled on December 19 and made his NHL debut just two days later becoming the oldest goaltender to make his NHL debut since Ross Brooks of the Boston Bruins did so at age 34 during the 1972-73 season. With 25 saves, Zepp helped the Flyers capture a dramatic 4-3 overtime victory at the Winnipeg Jets as Zepp became the oldest netminder to win his NHL debut since Hugh Lehman of the Chicago Blackhawks in 1926.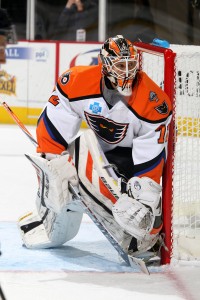 A 6'2″, 200-pound netminder, Zepp has produced an 8-5-4 overall record in 17 appearances with Lehigh Valley this season to go along with a 2.70 goals-against average and .918 save percentage. He spent each of the last seven seasons with the Berlin Polar Bears (Deutsche Liga) where he compiled an overall record of 182-96-0 to go along with a 2.53 goals-against average and .917 save percentage. During that time, Zepp was a five-time DEL champion (2008, 2009, 2011, 2012, 2013) and was named to the DEL All-Star Game during the 2008-09 campaign. In the midst of his 14th professional season, Zepp has enjoyed 139 career games between the AHL and ECHL but has yet to appear in an NHL tilt.
Lehigh Valley returns to action this Wednesday when the Phantoms head to Binghamton for a New Year's Eve showdown with the Senators. Wednesday's tilt kicks off a five-game road trip for Lehigh Valley which continues with weekend series in Norfolk and St. John's over the next two weeks.
Check it out! Group outings are a fun and affordable way to enjoy all the excitement of Phantoms hockey. For more information on group rates and fan experiences at PPL Center call the Phantoms front office today at 610-224-GOAL (4625)!
Upcoming Home Games:
Friday, January 16, 2015, Albany Devils vs. Lehigh Valley Phantoms, 7:05 PM
Saturday, January 17, 2015, Binghamton Senators Tigers vs. Lehigh Valley Phantoms, 7:05 PM
(Legends Night! Bobby Clarke, a two-time Stanley Cup champion, Hockey Hall of Famer and one of hockey's greatest legends, will be at the game! FREE Collector's Edition Poster for all fans!)
Wednesday, January 21, 2015 Hershey Bears vs. Lehigh Valley Phantoms, 7:05 PM
Saturday, January 24, 2015 St. John's IceCaps vs. Lehigh Valley Phantoms, 7:05 PM
(Free Shirt Giveaway for all fans in attendance! Specialty Jersey Night! Post-Game Jersey Auction! Inaugural Season Night!)
In their 19th season of operation, the Phantoms are currently in the midst of their Inaugural Season as the Lehigh Valley Phantoms playing at the brand-new PPL Center. Established in 1996, the Phantoms spent their first 13 seasons at the Spectrum before re-locating to Glens Falls, New York in 2009 where the team spent the next five seasons as the Adirondack Phantoms. A new era of Phantoms hockey began in the fall of 2014 when the Lehigh Valley Phantoms began play at the state-of-the-art PPL Center. Through 18 incredibly successful campaigns, the Phantoms have captured two Calder Cup Championships (1998, 2005), two Conference Championships (1998, 2005), two Regular Season Titles (1996-97, 1997-98) and four Division Championships (1996-97, 1997-98, 1998-99, 2003-04).