December 30, 2014
This Week
Wednesday, December 31 (6:05 PM) – Lehigh Valley Phantoms @ Binghamton Senators
Friday, January 2 (7:30 PM) – Lehigh Valley Phantoms @ Norfolk Admirals
Saturday, January 3 (7:15 PM) – Lehigh Valley Phantoms @ Norfolk Admirals
Upcoming
The Lehigh Valley Phantoms kick off a five-game road trip this week as the club closes out 2014 and rings in 2015 with a trio of games.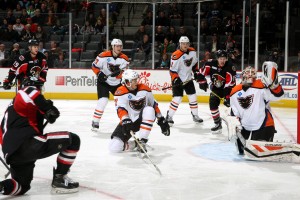 First, Lehigh Valley (14-11-4-1, 33 pts.) closes the book on 2014 this Wednesday when the Phantoms head up to Binghamton for a New Year's Eve clash with the Senators. Wednesday's tilt will be the fourth of 10 total meetings during the 2014-2015 regular season with Lehigh Valley holding a 2-1 record to date against Binghamton. The Phantoms kicked off the season series with a dramatic 5-4 overtime victory on the road back on October 25th and followed that up with a 5-3 triumph over the Senators at PPL Center on December 17th in the most recent get-together. Meanwhile, Binghamton (14-13-2-1, 31 pts.) claimed the middle game of the season set with a 3-1 win at Floyd L. Maines Veterans Memorial Arena on December 12th.
Lehigh Valley enters the week in sole possession of third place in the East Division. The Phantoms have won three of their last five outings and have garnered at least one standings point in six of their last seven tilts overall to move to within just two standings points of second-place Hershey and only six points back of division-leading Wilkes-Barre/Scranton. Lehigh Valley still possesses one game-in-hand on the Bears and three over the rival Penguins. Meanwhile, the Senators are presently fourth among the five teams in the East Division. Binghamton enters the week two points behind the Phantoms and six points clear of the fifth-place Norfolk Admirals following wins over Wilkes-Barre/Scranton and Hershey last weekend.
Lehigh Valley then rings in the new year this Friday and Saturday with a weekend series in Norfolk. The two showdowns this weekend will be the third and fourth meetings respectively of eight total collisions between the Phantoms and Admirals this season. Lehigh Valley is 2-0 against Norfolk this season after a pair of one-goal triumphs at PPL Center (4-3 on November 29, 3-2 (SO) last Saturday). The Admirals (12-18-0-1, 25 pts.) are currently last among the five teams in the East Division and trail the Phantoms by eight standings points coming into the week.
Phantoms By The Numbers
Lehigh Valley is 10-2-2-1 at PPL Center this season and has outscored its opposition 42-32 on home ice. The Phantoms are tied for the third-most home wins (10) in the Eastern Conference and boast the AHL's second-fewest regulation losses (two) at home.
The Phantoms have an opportunity Wednesday to complete their most productive month of the season on a high note. Lehigh Valley is 5-2-3-1 and has garnered 14 standings points in 11 December outings after posting a 5-6-1 mark (11 standings points) in 12 November outings.
The Phantoms are 8-2-4-1 in one-goal games this season. Lehigh Valley has already enjoyed 10 one-goal decisions at PPL Center (6-1-2-1) this season and is 5-5 overall in games decided in overtime/shootout.
Lehigh Valley is 12-1-1 when scoring three or more goals this season. Meanwhile, the Phantoms are 13-5-3-1 when limiting their opposition to three goals or fewer.
The Phantoms are 9-4-2-1 when scoring first this season and are 12-1-0-1 when leading after two periods of play.
Defenseman Brandon Manning leads all Phantoms in both assists (15) and total points (21). He's also first among all Lehigh Valley skaters in power play points (10), game-winning goals (three) and shots on goal (86).
Forward Jason Akeson has been on a tear lately for the Phantoms. The 24-year-old forward has produced 10 points (six goals, four assists) and three multi-point outings over his last nine games. With 64 career goals scored with the Phantoms, Akeson enters the week just three conversions shy of tying Boyd Kane for 10th place on the Phantoms' all-time list.
Last Week
Friday, December 26: Lehigh Valley Phantoms 2 – Hershey Bears 4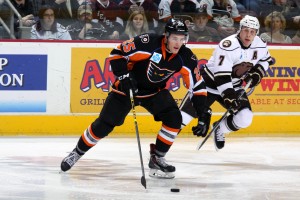 Blair Jones opened the scoring for Lehigh Valley with his third goal of the season and Jay Rosehill notched his first tally of the year but the Hershey Bears were able to rally past the Phantoms for a 4-2 win at Giant Center last Friday. Jason Akeson and Oliver Lauridsen garnered assists in the game for Lehigh Valley while Anthony Stolarz and Martin Ouellette combined for 38 saves in the setback.
The rivalry showdown was a particularly scrappy affair that featured four fights and 90 combined penalty minutes between the in-state rivals. Despite the setback, the Phantoms are still 3-2 against the Bears this season. The home team has now won each of the first five head-to-head meetings between Lehigh Valley and Hershey.
Saturday, December 27: Norfolk Admirals 2 – Lehigh Valley Phantoms 3 (SO)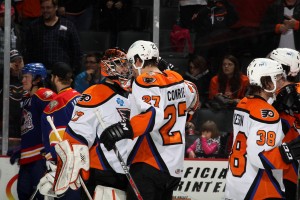 Less than 24 hours after being recalled from their loans to the Reading Royals, Adam Comrie and Martin Ouellette had an instant impact in Lehigh Valley as Comrie netted the shootout game-winner and Ouellette notched 33 saves in his first career AHL start as the Phantoms earned a dramatic 3-2 triumph in front of 8,918 fans at PPL Center. Saturday's crowd was the largest in Lehigh Valley Phantoms history and marked the seventh sellout of the season at PPL Center.
Nick Cousins and Jason Akeson both scored in regulation for Lehigh Valley while Zack Stortini chipped in a pair of assists. With the win, the Phantoms improved to 9-4-2-1 when scoring first this season and 10-4 when converting a man-advantage marker this year. Lehigh Valley's penalty kill was also a perfect 4-for-4 in the win.
Broadcast Coverage
Service Electric's TV2 Sports will be broadcasting live all of the Phantoms' 23 remaining regular season home games. If you can't make it out to the rink, be sure to catch all the exciting action in high definition with Steve Degler and former Flyers and Phantoms goaltender Brian Boucher! And don't miss "Phantoms – Breaking the Ice" every Monday from 7:00 – 8:00 PM throughout the season live at Chickie's & Pete's (701 Hamilton Street)!
Be sure to also catch each and every Phantoms game this season live on Fox Sports 1470 AM, online at Fox1470.com or via the iHeartRadio app! Join Voice of the Phantoms, Bob Rotruck, for all of the heart-pumping action of Lehigh Valley Phantoms hockey whether the team is at home or on the road. Nazareth Pallett Countdown to Faceoff begins 45 minutes prior to puck drop.
Ticket Information
Tickets for all of the Phantoms' 23 remaining regular season home games are available now at the Mealey's Furniture Box Office at PPL Center (7th & Hamilton), by calling 610-347-TIXX (8499) or online at pplcenter.com.
Check it out! Don't miss the action and fun of Lehigh Valley Phantoms hockey at PPL Center in downtown Allentown! Contact the Phantoms Front Office for information on group rates and fan experiences by calling 610-224-GOAL (4625).
In their 19th season of operation, the Phantoms are currently in the midst of their Inaugural Season as the Lehigh Valley Phantoms playing at the brand-new PPL Center. Established in 1996, the Philadelphia Phantoms spent their first 13 seasons at the Spectrum before re-locating to Glens Falls, New York in 2009 where the team spent the next five seasons as the Adirondack Phantoms. A new era of Phantoms hockey began in the fall of 2014 when the Lehigh Valley Phantoms began play at the state-of-the-art PPL Center. Through 18 incredibly successful campaigns, the Phantoms have captured two Calder Cup Championships (1998, 2005), two Conference Championships (1998, 2005), two Regular Season Titles (1996-97, 1997-98) and four Division Championships (1996-97, 1997-98, 1998-99, 2003-04).