by Bill Meltzer @BillMeltzer / philadelphiaflyers.com
August 30, 2022
The Flyers announced on Friday that they have re-signed 24-year-old restricted free agent (RFA) right wing Wade Allison and 23-year-old restricted free agent defenseman Linus Högberg to new contracts.
Allison's new contract is a two-year deal that pays a two-way NHL/AHL rate in year one and a one-way rate in the second year. At the NHL level, the contract carries a $785,000 average annual value (AAV). Högberg's contract is a two-way deal that would pay $750,000 at the NHL level. Allison will celebrate his 25th birthday on Oct. 14. Högberg will turn 24 on Sept. 4.
With the two signings, the Flyers now have all but one of their restricted free agents under contract for 2022-23. Only Hayden Hodgson remains.
Allison has had miserable luck with injuries dating back to a torn ACL suffered midway through his sophomore collegiate season at Western Michigan. If not for injuries, there's a good chance he'd already be an established NHL player by now rather than still qualifying as an NHL rookie under the Collective Bargaining Agreement (CBA).
Both of the power forward's two pro seasons to date have been delayed by preseason injuries. Allison was especially injury-plagued in 2021-22. It was not until the final month of the season that he was able to stay in the lineup for at least two consecutive weeks without suffering another injury.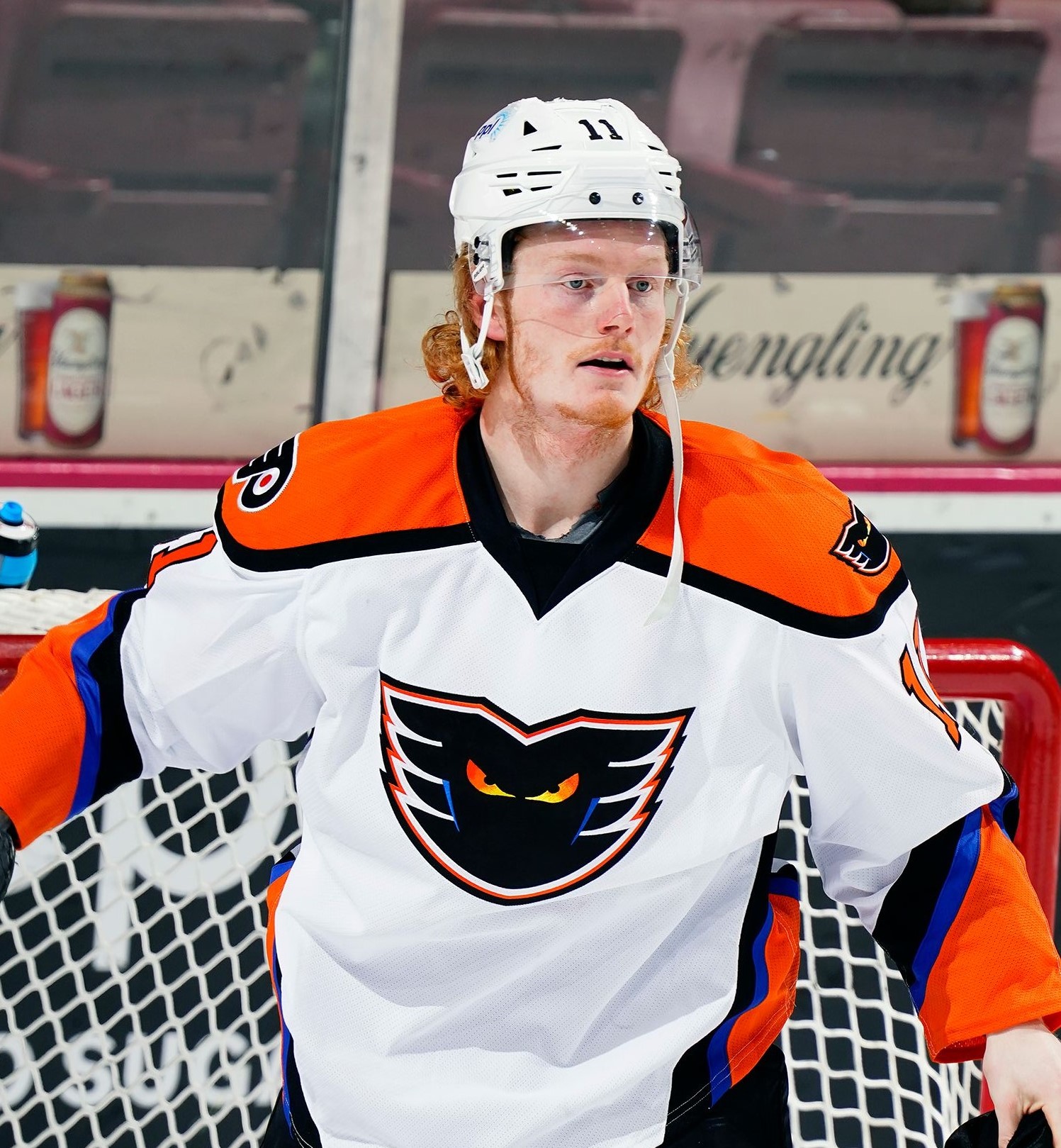 Allison suffered a high ankle sprain in September during the second of two Flyers' Rookies games against the New York Rangers Rookies. He was out of the lineup until joining the Phantoms on Dec. 11, 2021.
In the third game of his return, Allison suffered an arm/wrist injury on a check near the player bench. He was out until Jan. 14.
Once back in the Lehigh Valley lineup, the high-energy power forward may have been playing more from adrenaline than being in peak game-readiness. Nonetheless.it was impossible to ignore that Allison strung together a three-game goal scoring streak and had 12 shots on goal over his four-game stint with the Phantoms.
The Flyers recalled Allison to their NHL roster in time to play in the team's Jan. 23 road game against the Buffalo Sabres. Unfortunately, the winger did not make it through his first NHL game of the season unscathed. In the third period, Allison suffered a sprained MCL and found himself right back on injured reserve. He did not appear again in the NHL the remainder of the season.
The MCL sprain kept Allison out until March 11, when he returned to the Phantoms' lineup for a game against the Laval Rocket. On the bright side, Allison celebrated his return with a three-point game (1g, 2a). Unfortunately, Allison got nicked up even in this game.
Early in the first period, Allison dove for a puck near Laval net, Allison suffered a scapel-like skate cut to his right wrist and left the game for the rest of the first period to get repairs. This time, however, Allison was able to return to the game and ended up having a big night.
With the score knotted at 3-3 in the third period, Allison scored a power play goal that proved to be the game-winner. From his favorite shooting spot near the left faceoff dot, Allison ripped home a shot to put the Phantoms ahead to stay.
Even so, the cut was serious enough to keep Allison out for the rest of the week. He missed a game against the Hartford Wolf Pack and then returned on March 18 against Springfield. One day later, Allison posted his best statistical game of the season, scoring twice and assisting on two additional Phantoms goals for four points in a 7-4 victory.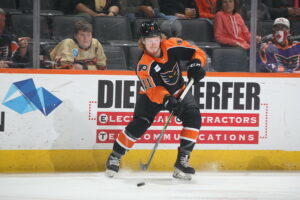 On April 3, Allison had to leave a game in Bridgeport after the first period due to back spasms. He missed the next game against Wilkes-Barre/Scranton. Thankfully, this was the final game Allison missed during the season. He dressed in all 12 of Lehigh Valley's remaining games.
On the negative side, Allison struggled mightily down the stretch drive. Once the usual first-game-back adrenaline rush wore off (one goal, one assist, four shots on goal on April 8 against Hershey), Allison scuffled the rest of the way.
After all the time he'd missed due to injury-related interruptions to his season, Allison struggled with his stamina, timing and confidence. He wasn't winning nearly as many puck battles on the forecheck as normal and he also wasn't finding open shooting lanes with the same regularity. Over the final 11 games, Allison posted only a single point (1g, 0a).
Overall, apart from his one game with the Flyers in 2021-22, Allison dressed in 28 games this season for the Phantoms. At the AHL level, he posted 10 goals, 17 points and four penalty minutes.
Moving forward, the No. 1 challenge for Allison will be to maintain his typical aggressiveness in his physical game and fearlessness in getting to scoring areas where he can use his heavy shot. Simultaneously, he will have to prove that he can stay healthy without altering his overall game.
Allison stayed healthy over the final month of 2021-22 to finish the season in the lineup. However, he was also less effective in his forechecking play and had a decreased volume of scoring chances compared to his typical performance.
In training camp, Allison will be in competition for an opening night NHL roster spot on the third or fourth line plus potential power play time. The likely competition for bottom six roster spots at forward includes the likes of Noah Cates, Tanner Laczynski, Isaac Ratcliffe, veteran checking forward Patrick Brown and returning rugged winger Zack MacEwen.
Allison remains waiver-exempt as does Laczynski; meaning that the Flyers could send either player to the AHL's Lehigh Valley Phantoms at the start of the season without the player having to first pass through waivers unclaimed by another NHL team. Fourth-year pro Ratcliffe would be subject to waivers before being sent to the AHL, as would be vets Brown and MacEwen.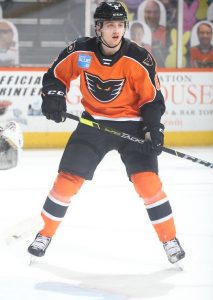 Högberg faces an uphill climb to earn an opening-night NHL roster spot in the top six of the Flyers' defense corps or as the team's No. 7 biueliner. He is still waivers exempt as he enters his third pro season in North America. He is clearly behind likely NHL roster defenseman Cam York and also likely behind third-year Phantoms defenseman Egor Zamula on the organizational depth chart.
A largely no-frills blueliner who is usually a reliable positional defender and still has some puck-moving upside, Högberg appeared in 58 games for the Phantoms in his second North American pro season (0g, 8a). He also dressed in five late season NHL games for the Flyers (two assists, eight blocks, three credited takeaways, four charged giveaways) and generally held his own despite unfavorable underlying puck-possession numbers (42.1 percent on-ice Corsi rating).