Zepp (28 Saves) Back in Goal for Phantoms
January 29, 2015
Lehigh Valley, PA – Zack Stortini netted a third-period power play conversion and Rob Zepp notched 28 saves in goal as the Lehigh Valley Phantoms were handed a 4-1 setback by the Albany Devils Thursday evening in front of 6,630 fans at PPL Center. The Phantoms nearly doubled up the Devils in shots on goal in the third period (13-7) in an attempt to erase Albany's advantage but Lehigh Valley's tenacious effort in the final frame of regulation wasn't enough in the series finale between the two Eastern Conference foes.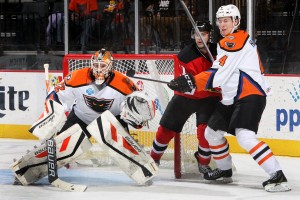 In his first appearance with the Phantoms after nearly three weeks with the Philadelphia Flyers, goaltender Rob Zepp was his usual rock-solid self turning in 28 saves on 31 total Albany shots. His performance marked the 17th time this season the 33-year-old netminder has allowed three goals-against or fewer in a game as Zepp moved to 11-6-4 overall on the year.
Stortini provided the offense for Lehigh Valley with his seventh goal of the season while All-Star blueliner Brandon Manning, fresh off an assist in Monday's 2015 AHL All-Star Classic, found his way back onto the score sheet with a helper in Thursday's tilt raising his total on the season to 27 points.
Brandon Burlon and Tom Sestito each registered multi-point efforts for Albany as the Devils received goals from four different skaters Thursday evening. Meanwhile, Scott Wedgewood backstopped Albany to the victory with 35 saves on 36 Lehigh Valley shots.
After a four-day hiatus for the All-Star break, the Phantoms wanted to establish a physical presence early on and did just that in the game's opening minutes. Stortini, Andrew Gordon, Austin Fyten and Brett Hextall all delivered bone-rattling collisions in their first shifts of the contest, which helped to create some early offensive zone time for Lehigh Valley.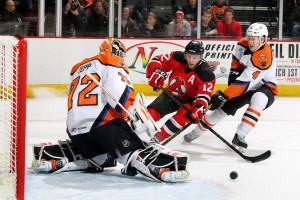 It was the Devils though that found a way to grab the game's opening marker when a transition breakout between Joe Whitney, Paul Thompson and Sestito resulted in Whitney's 17th tally of the season. Thompson and Sestito earned assists on the even strength strike netted 3:41 into the game's opening period. The goal marked just the third time over the last nine games that the Phantoms hadn't landed the game's first conversion.
Despite an early push from the Phantoms in the second period, Albany was able to double its advantage less than six minutes into the middle stanza when a set play off a faceoff win in the attacking zone produced an opportunity in the slot for Mike Sislo who was able to solve Zepp over the netminder's outstretched glove for his ninth goal of the season. Corbin McPherson and Burlon assisted on the five-on-five tally produced 5:40 into the second frame.
The Devils then claimed a 3-0 advantage just over a minute later on a fluky bounce at the front of the Phantoms net when a Darcy Zajac wrist shot from the half boards pinballed off Ben Thomson atop the goal crease before redirecting again off the skate of Robert Hagg and eventually rolling across the Lehigh Valley goal line. Zajac and Reece Scarlett assisted on Thomson's sixth conversion of the year which came 7:02 into the second period.
Despite the uphill climb, the Phantoms didn't back down and produced an impressive 16 shots on goal in the middle frame, including a pair of two-on-one opportunities. First, Nick Cousins broke out with Hextall leading to a Cousins wrister from the wing that was swallowed up by Wedgewood. Then, Lehigh Valley's leading scorer darted out on another odd-man rush as Jesper Pettersson escaped the penalty box leading to another scoring opportunity for Cousins that was answered by Albany's netminder.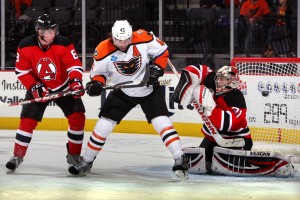 After a herculean effort on the penalty kill as the Phantoms were able to extinguish better than 100 seconds of five-on-three power play time for the Devils, Lehigh Valley received a two-man advantage of its own and cashed in almost instantly. Just 14 seconds into a five-on-three power play, Manning launched a slap shot from the high slot that was redirected at the front of the net by Stortini and into the back of the Devils cage. Jason Akeson earned the secondary assist on the man-advantage marker tallied 10:48 into the final period. Akeson's helper moved him into a tie with Jared Ross for sixth place on the Phantoms all-time scoring list with 191 total points.
Lehigh Valley continued to push for the equalizing markers but the Devils were able to hold on and added an empty net tally from Burlon 18:16 into the final period.
Several key statistical categories went the Phantoms way Thursday evening. Lehigh Valley out shot the Devils 36-30 while the Phantoms were the only ones to convert on the power play. Lehigh Valley finished the tilt 1-for-5 on the man-advantage while the Phantoms penalty kill was a perfect 5-for-5.
The Phantoms go right back to work on Friday as Lehigh Valley welcomes the rival Hershey Bears to PPL Center for a 7:05 PM showdown. Friday's game features a FREE youth jersey giveaway for the first 3,000 kids in attendance (ages 14 and under). It's also meLVin's Birthday Bash as everyone's favorite puck-nosed pladottle will be celebrating with some of his craziest mascot friends.
Check it out! Reserve your season tickets now for the 2015-2016 season of Lehigh Valley Phantoms hockey. For more information on how to reserve your seat at PPL Center to the hottest ticket in town call the Phantoms front office today at 610-224-GOAL (4625)!
Albany Devils 4 at Lehigh Valley Phantoms 1 – Status: Final
Thursday, January 29, 2015 – PPL Center
Albany 1 2 1 – 4
Lehigh Valley 0 0 1 – 1
1st Period-1, Albany, Whitney 17 (Thompson, Sestito), 3:41. Penalties-Flemming Lv (cross-checking), 4:53; K. Zajac Alb (high-sticking), 8:52; Kelly Alb (slashing), 11:42; Rosehill Lv (slashing), 11:42.
2nd Period-2, Albany, Sislo 9 (McPherson, Burlon), 5:40. 3, Albany, Thomson 6 (D. Zajac, Scarlett), 7:02. Penalties-Pettersson Lv (high-sticking), 10:46; Alderson Lv (high-sticking), 13:52; Burlon Alb (roughing), 17:17; D. Zajac Alb (interference), 17:17; Flemming Lv (roughing), 17:17.
3rd Period-4, Lehigh Valley, Stortini 7 (Manning, Akeson), 10:48 (PP). 5, Albany, Burlon 5 (Sestito), 18:16 (EN). Penalties-Pelley Alb (holding), 3:40; Rosehill Lv (cross-checking), 6:50; Akeson Lv (boarding), 7:07; Matteau Alb (tripping), 9:46; Burlon Alb (roughing), 10:34.
Shots on Goal-Albany 11-14-7-32. Lehigh Valley 7-16-13-36.
Power Play Opportunities-Albany 0 / 5; Lehigh Valley 1 / 5.
Goalies-Albany, Wedgewood 7-8-2 (36 shots-35 saves). Lehigh Valley, Zepp 11-6-1 (31 shots-28 saves).
A-6,630
Referees-Trevor Hanson (47), Dave Lewis (46).
Linesmen-Jud Ritter (34), Ryan Knapp (73).
Upcoming Home Games: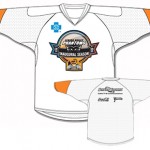 Friday, January 30, 2015 Hershey Bears vs. Lehigh Valley Phantoms, 7:05 PM
(Youth Jersey Giveaway! FREE youth jersey for the first 3,000 kids in attendance (ages 14 and under). meLVin's Birthday Bash!)
Wednesday, February 4, 2015 Worcester Sharks vs. Lehigh Valley Phantoms, 7:05 PM
(Post-Game Skate with the Phantoms! Bring your skates to the game and take to the ice with your favorite Phantoms players following the game!)
($2 Beer Night! $2 beers from the time doors open until the start of the 2nd period. Available behind Section 108. Please drink responsibly.)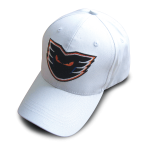 Friday, February 13, 2015 Binghamton Senators vs. Lehigh Valley Phantoms, 7:05 PM
(Phantoms Hat Giveaway! FREE Phantoms hat for all fans in attendance.)
In their 19th season of operation, the Phantoms are currently in the midst of their Inaugural Season as the Lehigh Valley Phantoms playing at the brand-new PPL Center. Established in 1996, the Phantoms spent their first 13 seasons at the Spectrum before re-locating to Glens Falls, New York in 2009 where the team spent the next five seasons as the Adirondack Phantoms. A new era of Phantoms hockey began in the fall of 2014 when the Lehigh Valley Phantoms began play at the state-of-the-art PPL Center. Through 18 incredibly successful campaigns, the Phantoms have captured two Calder Cup Championships (1998, 2005), two Conference Championships (1998, 2005), two Regular Season Titles (1996-97, 1997-98) and four Division Championships (1996-97, 1997-98, 1998-99, 2003-04).