Norfolk Win vs. Phantoms is First in Seven Tries
April 11, 2015
Lehigh Valley, PA – The Phantoms' 21st sellout crowd of the season on Fan Appreciation Night paid witness to a wild, see-saw finish in which the hosts dramatically came back not once, but twice, in the closing moments of regulation. Max Friberg eventually scored the winning goal for the visiting Norfolk Admirals who successfully stole a 3-2 decision in their first ever triumph over Lehigh Valley in seven tries.
The Phantoms and Admirals battled to back-to-back exciting extra-time contests in their weekend series with Lehigh Valley prevailing 2-1 in a shootout on Friday before the Admirals' turn to finally come out victorious in the rematch.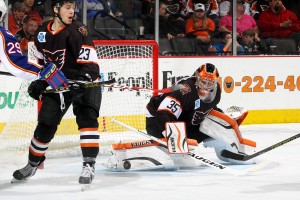 The 8,649 person contingent who jammed into PPL Center on yet another Sold-Out Saturday in downtown Allentown enjoyed the hundreds of prizes and gifts that were distributed to lucky members of the crowd as well as the late-game excitement.
Trailing 1-0 for most of the night, the Phantoms would rally twice in the final three minutes of the third period to forge yet another overtime frame. It was the 13th overtime affair at PPL Center in 36 outings. Kevin Goumas was pushing a slot-rebound wide of the cage but his offering perfectly caromed off the skate of Norfolk captain Dave Steckel and straight through rookie goalie Ryan Faragher for the 1-1 deadlock with 2:58 remaining.
After Norfolk's Brandon Montour scored a disputed go-ahead goal just 28 seconds later, the Phantoms were forced to play comeback kids again this time with an empty-net and extra attacker. Former Norfolk Admiral Blair Jones opportunely poked home a barely still-loose puck in a slot-scramble with 45 seconds remaining to again even the score thus sending the huge crowd into an uproarious and deafening celebration. Deadlocked at 2-2, the Phantoms and Admirals would incredibly extend the game past regulation for a fifth time in seven total encounters between the two division rivals.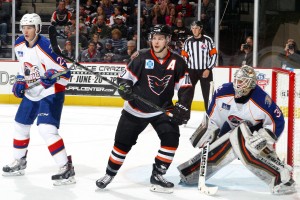 The late tying tallies were the reward for a long and arduous night in which the team had been blasting away over and over again on Norfolk goalie Ryan Faragher without cashing in. The Phantoms had been finding it a frustrating endeavor to light the lamp but head coach Terry Murray's skaters kept pressuring and eventually found the success for which they were striving.
"A lot of energy, a lot of heart, a lot of dig in to do what they did right at the very end and tie it up," Murray said. "It's exciting. (We) score a big goal, they come back and score a goal. Then we score a goal. It's terrific."
Rookie goalie Anthony Stolarz made a number of dazzling saves to keep the Phantoms within striking distance of the opposition. It was "Stolie's" first start in the last 10 games and also the first PPL Center starting nod for the 21-year-old rookie backstop since February 28. After allowing an early power-play tip-in goal to Stefan Noessen in the opening six minutes, Stolarz's talents were on display including a point-blank stop right at the beginning of the third after an unlucky bounce in front of the net off the end-boards stanchion. He also denied Noessen's breakaway in the opening moments of the overtime neatly flashing out the left pad.
"When you haven't played in three-and-a-half or four weeks it's kind of hard to get back in there," Stolarz said. "The early power play didn't help but after that I kind of settled in a little bit and kind of found my comfort zone."
Early in the overtime, Scott Laughton almost scored his second overtime winner of the year but his drive from the right circle off the glove of Faragher that tumbled up in the air would land on the TOP of the cage behind him instead of falling in.
Max Friberg had been denied on Friday in the third round of the shootout by Rob Zepp that sealed the Phantoms series-opening victory. But the young Swede would get his revenge in the form of an overtime winner in the Saturday finale with his rush up to the right circle and subsequent drive over the glove shoulder of Stolarz.
All seven games of the highly competitive series between the Phantoms and the Admirals have been decided by one goal and this was the fifth time the two teams have battled to overtime. Norfolk had been bested in all six previous encounters before finally securing their first win against Lehigh Valley in Round 7. The two teams will meet again on Friday night in the last-ever AHL game at Norfolk Scope. The Admirals' 15th season in the American Hockey League will be their last. Norfolk will have a franchise in the ECHL next year while the Anaheim Ducks move their AHL affiliate to San Diego in the league's new Pacific Division.
The Phantoms have played 22 overtime or shootout games this season and now stand at 7-7 in overtimes and 7-1 in shootouts for a combined mark of 14-8.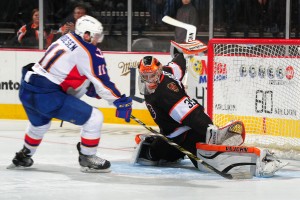 Newcomer Danick Martel made his professional debut in the game centering the Phantoms' third line. The 20-year-old arrived to the Flyers organization after posting some gaudy numbers in the Quebec Major Junior Hockey League in the form of a 108-point campaign that included 48 goals and 54 assists.
"It's the pros. It's not even close to juniors," Martel said. "I was just excited to come here and I just appreciate my moment here. (The players) are bigger and faster but I'm a hard worker so if I need to work against a big guy then I'll work."
Martel had barely just met his new teammates before he went to work in the game.
"(His) first day. He didn't get in until about 10:30," Terry Murray said. "He showed some speed, some quickness, some offensive flair. It's going to take him a few games to get settled in and get comfortable. But overall for his first game he was good."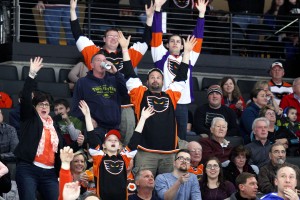 Norfolk out shot the Phantoms 34-31. Lehigh Valley finished 0-for-1 on the power play while the Admirals concluded at 1-for-2. The Phantoms now lead the season series over Norfolk 6-1 with one game left between the two teams.
The Phantoms wore specialty black jerseys that they had originally debuted on Wednesday during Law Enforcement Night. The uniforms were auctioned to the fans after the game with proceeds to benefit the Allentown Police Department and some of their various community ventures.
The Lehigh Valley Phantoms have just four games remaining in the regular season. They will wrap up their four-game homestand on Tuesday night entertaining the Hershey Bears in Game #11 of their rivalry series. Next Friday and Saturday the Phantoms will play their last away contests of the year with visitations to Norfolk and Hershey back-to-back. The team's season finale is on Sunday, April 19 and 5:05 hosting the Wilkes-Barre/Scranton Penguins at PPL Center.
A limited number of tickets for the last two home tilts of the season are available now at pplcenter.com, by calling 610-347-TIXX (8499) or in-person at the Mealey's Furniture Box Office at PPL Center (701 Hamilton).
Check it out! Reserve your season tickets now for the 2015-2016 season of Lehigh Valley Phantoms hockey. For more information on how to reserve your seat at PPL Center to the hottest ticket in town call the Phantoms front office today at 610-224-GOAL (4625)!
Norfolk Admirals 3 (OT) at Lehigh Valley Phantoms 2
Saturday, April 11, 2015 – PPL Center
Norfolk 1 0 1 1 – 3
Lehigh Valley 0 0 2 0 – 2
1st Period-1, Norfolk, Noesen 6 (Theodore, Montour), 5:48 (PP). Penalties-Kurtz Nor (fighting), 5:39; McIver Nor (fighting), 5:39; Mathers Lv (fighting), 5:39; Rosehill Lv (cross-checking, fighting), 5:39.
2nd Period- No Scoring.Penalties-Leblanc Nor (slashing), 9:41; served by Johnston Lv (bench minor – too many men), 19:11.
3rd Period-2, Lehigh Valley, Goumas 6 (Hagg, Lauridsen), 17:02. 3, Norfolk, Montour 1 (Sgarbossa, Noesen), 17:30. 4, Lehigh Valley, Jones 9 (Bardreau, Laughton), 19:15. Penalties-No Penalties
OT Period-5, Norfolk, Friberg 15 (Montour, Theodore), 3:45. Penalties-No Penalties
Shots on Goal-Norfolk 10-12-7-5-34. Lehigh Valley 7-12-9-3-31.
Power Play Opportunities-Norfolk 1 / 2; Lehigh Valley 0 / 1.
Goalies-Norfolk, Faragher 3-8-1 (31 shots-29 saves). Lehigh Valley, Stolarz 9-12-0 (34 shots-31 saves).
A-8,649
Referees-Dave Lewis (46).
Linesmen-Tom George (61), Jud Ritter (34).
Upcoming Home Games:
Tuesday, April 14, 2015 Hershey Bears at Lehigh Valley Phantoms, 7:05 PM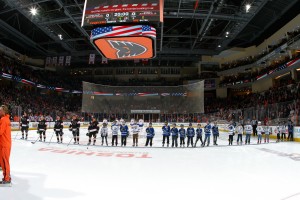 Sunday, April 19, 2015 Wilkes-Barre/Scranton Penguins at Lehigh Valley Phantoms, 5:05 PM
(Giant Canned Food Drive! All donations will be collected by the Volunteer Center and distributed to Second Harvest.)
In their 19th season of operation, the Phantoms are currently in the midst of their Inaugural Season as the Lehigh Valley Phantoms playing at the brand-new PPL Center. Established in 1996, the Phantoms spent their first 13 seasons at the Spectrum before re-locating to Glens Falls, New York in 2009 where the team spent the next five seasons as the Adirondack Phantoms. A new era of Phantoms hockey began in the fall of 2014 when the Lehigh Valley Phantoms began play at the state-of-the-art PPL Center. Through 18 incredibly successful campaigns, the Phantoms have captured two Calder Cup Championships (1998, 2005), two Conference Championships (1998, 2005), two Regular Season Titles (1996-97, 1997-98) and four Division Championships (1996-97, 1997-98, 1998-99, 2003-04).