Brett Flemming Scores First Goal at PPL Center
September 27, 2014
Lehigh Valley, PA – Team Orange outlasted Team White 5-3 Saturday evening in the Battle on Hamilton in front of a sold-out PPL Center crowd of 7,800. The game was a mixed-squad contest involving the Lehigh Valley Phantoms and Philadelphia Flyers and was the first hockey event ever at the brand-new, state-of-the-art PPL Center.
"I think this is a hockey place, it's a hockey city," Phantoms head coach Terry Murray said. "I'm not surprised at all that the crowd was as energetic and full as it was today. They're telling us they want more of it and we're ready to get going."
Team White defenseman Brett Flemming opened the scoring with the first goal ever to be scored at PPL Center when a right-point shot deflected inside the left post and past Team Orange starting goaltender Connor Knapp. Mark Alt and Zac Rinaldo assisted on the history-making even strength tally notched 3:29 into the first period.
Team Orange leveled the contest just over a minute into the second period though when Michael Raffl split the Team White defense before solving goaltender Anthony Stolarz on the glove side. Jason Akeson garnered the only assist at 1:14 into the middle frame. Team Orange then grabbed its first lead of the night just 18 seconds later when Akeson converted a back-hand attempt inside the left post at 1:32 from Scott Laughton and Michael Del Zotto. Taylor Leier capped the three-goal middle stanza for Team Orange with an even-strength strike at 15:49 from Brandon Alderson and Nick Cousins.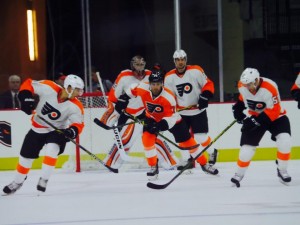 Alderson landed the eventual game-winning goal just over four minutes into the final period when he converted at 4:06 of the frame from Cousins and Leier. Team White clawed back to within a single tally with a pair of goals just over 10 minutes apart. First, a Team Orange turnover in the defensive end led to a Petr Straka strike from Brayden Schenn and Zac Rinaldo at 7:23 before Flemming landed his second goal of the game with an even-strength strike at 18:00 from Marcel Noebels and Andrew Gordon. Team White regained its two-goal lead with just under 10 seconds to play though when Chris VandeVelde converted an empty-net goal at 19:51 from Knapp.
Team Orange outshot Team White 36-35 in the tilt with Team White goaltenders Knapp and Martin Ouellette combining for 32 saves while Stolarz recorded 31 denials.
Up next, the Lehigh Valley Phantoms welcome the Hershey Bears to PPL Center this Wednesday, October 1 for a 7:05 PM preseason showdown. To purchase tickets please visit the PPL Center Box Office at 701 Hamilton Street, call 610-347-TIXX (8499) or log on to pplcenter.com/tickets.
Opening Night for the inaugural regular season of Lehigh Valley Phantoms hockey at the spectacular, new PPL Center is Friday, October 17 against the Adirondack Flames!
Check it out! Don't miss the action and fun of Lehigh Valley Phantoms hockey at PPL Center in downtown Allentown! Contact the Phantoms Front Office for information on season tickets and affordable partial-season plans by calling 610-224-GOAL (4625).
Team Orange 4 at Team White 2 – Status: Final
Saturday, September 27, 2014 – PPL Center – Allentown, PA
Team Orange 0, 3, 2 – 5
Team White 1, 0, 2 – 3
Scoring –
1st Period- Team White, Flemming (Alt, Rinaldo), 3:29.
2nd Period – Team Orange, Raffl (Laughton), 1:14. Team Orange, Akeson (Laughton, Del Zotto), 1:32. Team Orange, Leier (Alderson, Cousins) 15:49
3rd Period – Team Orange, Alderson (Cousins, Leier), 4:06. Team White, Straka (Schenn, Rinaldo), 7:23. Team White, Flemming (Noebels, Gordon), 18:00. Team Orange, VandeVelde EN (Knapp) 19:51.
Penalties –
1st Period – No Penalties.
2nd Period – Straka, WHI (Tripping), 4:01.
3rd Period – No Penalties.
Shots on Goal – Team Orange 10-14-12-36; Team White 11-11-13-35.
Power Play Opportunities – Team Orange 0 / 1; Team White 0 / 0.
Goalies- Team Orange, Knapp 0-0-0 (15 shots-14 saves), Ouellette 0-0-0 (20 shots, 18 saves).
Team White, Stolarz 0-0-0 (35 shots-31 saves).
Referees – Terry Koharski (10)
Linesmen – Jud Ritter (34), Bob Fryer (72)
Contact:
Dan Fremuth
dfremuth@phantomshockey.com
Cell: 406-672-0438
Meghan Carrigan
mcarrigan@Global-Spectrum.com
Office: 484-273-4459
Cell: 215-713-5281